The End of Summer | The Daily Peel | 8/31/22
Futures pointed higher first thing yesterday morning, while overseas markets rallied after a couple of days of getting crushed. Oil retreated in the morning hours, and eventually, WTI Crude closed down 5%.
At the end of the day, markets gave back any of their morning gains and then some. The Dow closed down 0.96%, the Nasdaq lost 1.12%, and the S&P was down 1.10%.
Are your MS Excel skills holding you back? Are you still using a mouse when you do your analysis? If you're looking to master the tools that will make you successful as a finance professional or technical communicator, look no further than WSO's Excel Modeling Course.
Let's get into it.
Yesterday - A man is trapped in a room. The room has only two possible exits: two doors. Through the first door, there is a room constructed from magnifying glass. The blazing hot sun instantly fries anything or anyone that enters. Through the second door, there is a fire-breathing dragon. How does the man escape?
He waits until nighttime and then goes through the first door.
Today - It's 50 bananas off our Excel Modeling Course for the first 15 correct respondents. LFG!
What do you toss out when you want to use it but take it back when you don't want to use it?
Shoot us your guesses at [email protected] with the subject line "Banana Brain Teaser" or simply click here to reply!
The Establishment Strikes Back - Let's hear your chorus again, CryptoBros. DeFi is the Future!
Well, it would appear that the future is suspect when you ask those with the power to shape a world in which DeFi struggles or thrives.
I'm talking about law enforcement here, Apes.
Recently, the FBI (yes, the Mar-a-Lago raiding, Hilary-exonerating, etc. FBI) is sounding the alarm about how insecure DeFi has been lately.
You mean to tell me that this public blockchain technology, one which underpins the likes of poocoin, a currency jokingly named after a dog, and cummies, that has been sold to us as uber-secure because of science is not actually robust from a cybersecurity standpoint? Go figure.
Crypto grew 200% in 2021. Jokes on them, because assets have stopped flowing into DeFi in 2022, all the while market cap is down 50% due to less than stellar performance.
The FBI's argument is that while billions of USD worth of assets exist, there is little backing from any public goodwill or insurance policies. If there is a hack, a ponzi scheme, or a "bank run," investors will lose their shirts without recourse.
That was the case earlier this year. In the first quarter, $1.3bn in DeFi assets were pillaged by nerds with computers.
"Investors" are literally just out the money with no hope of being made whole ever again without moving back in with their parents, further student loan forgiveness, or more stimmy checks from Joey B.
We know that DeFi is popular for laundering money. We know that many of these so-called exchanges are looking to skim from their user base and then sneak away in the night.
I wish I had a good analogy for wearing a jimmy hat with DeFi, but if you're actually trying to protect yourself here, the only way to limit your exposure is abstinence.
WSO Excel Modeling Course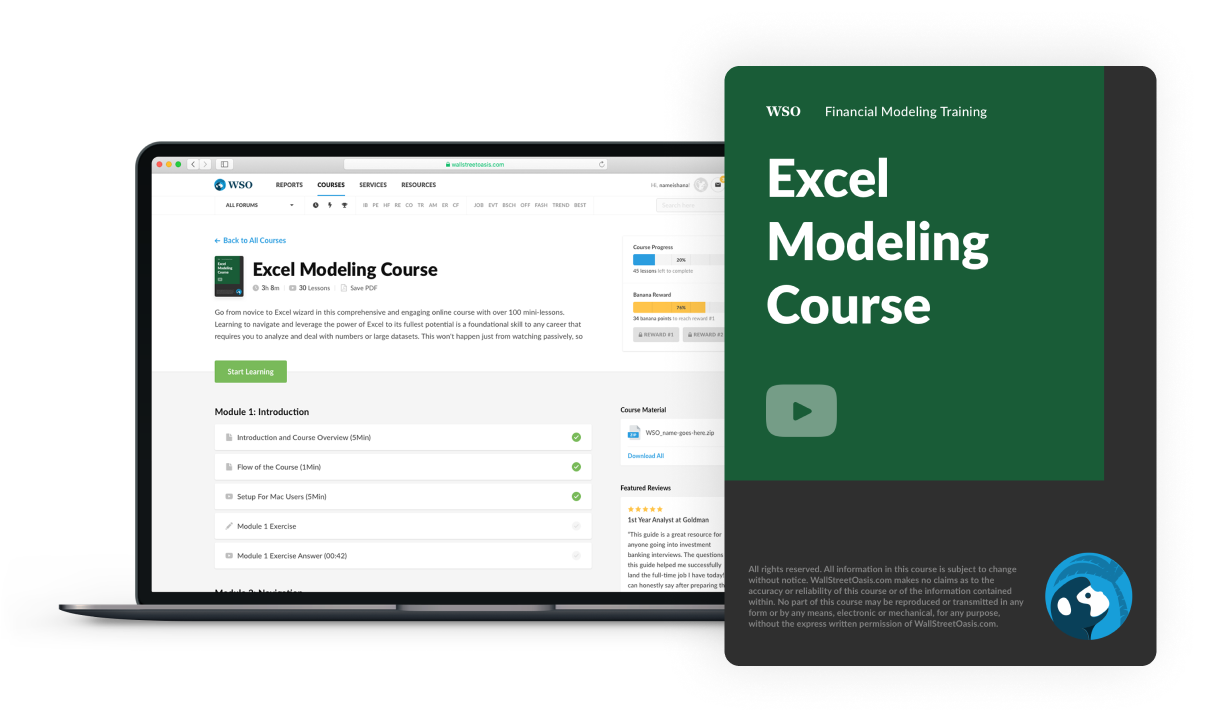 Being an MS Excel power user will separate you from your peers. In finance, we communicate through analyses and data, and Excel is ubiquitous across the industry.
With more than 105 lessons, hours of videos, and ten realistic modeling exercises, WSO's Excel Modeling Course will help you master the skills that you need in the most prestigious jobs in finance.
Sharpen your skills; from the basics of efficiently navigating a spreadsheet to logic or functions all the way to advanced analytics, our Excel Modeling Course will set you up for success.
Best Buy ($BBY) - Shares of Best Buy climbed ever so slightly yesterday after an earnings call where management announced better-than-expected revenues and EPS.
The WSJ even said that Best Buy has made the best of the worst.
Even as the number of customers has fallen, revenues and bottom line numbers have moved higher as prices have gone up.
At the closing bell, $BBY was up 1.68%.
Workday ($WDAY) - On a generally down day, shares of Workday were up a touch at the closing bell.
As its competitors flounder, Workday as a business is staying afloat. Customers are cutting back on software spend, and these types of CRMs are on the chopping block.
At the closing bell, $WDAY was up 2.10%.
Peloton ($PTON) - Shares of one of the ultimate lockdown stock names declined yesterday.
That's right, the company that brought you your mid-day spin on your IoT exercise bike declined 8.50% yesterday.
The reason for the pullback is some fear over a delayed 10-K filing. We will see where this goes.
Baidu ($BIDU) - Shares of the Chinese tech company fell yesterday after an earnings call where investors are somewhat spooked about the direction of the company.
Sure, $BIDU beat on earnings, but falling revenues are something that you can't really make up over time.
Shares of $BIDU dropped 6.54% yesterday.
More Elon for You - We can't get enough Elon this week, and here's why.
Musk is all about this most recent whistleblower internal to Twatter, and it's a little bit of a curveball.
You all know the drama. Musk thinks that Twitter's user account numbers are farcical, and Twitter stands by that less than a single digit percentage of accounts are bots.
But this most recent complaint might just demonstrate a breach of the merger agreement that was penned a few months ago.
Let me explain.
Lawyers in Camp Musk argue that Twitter's former Chief of Security's complaints were actually known to corporate leadership when they agreed to sell the company to Elon originally. This is in addition to further complaints by Team Elon over Twitter's account reporting.
If these complaints are valid and management did indeed know they existed before they agreed to sell, that is definitely a violation of some sort of good faith. IDK, I'm not that kind of doctor.
All the while, Twitter's shares and its shareholders are voluntarily in the crosshairs of this very public breakup. Not new: this is the Depp-Heard case round II.
Twitter's shares are down almost 40% in the last year. Frankly speaking, (personal opinion alert) they deserve to be. Their platform is really struggling, and they're more or less unable to monetize subscribers like any other platform with this level of reach.
What do you think, Apes? Where is this deal going?
"We buy things we don't need with money we don't have to impress people we don't like." - Dave Ramsey