The Good Zuck | The Daily Peel | 2/2/23

Feb 2, 2023 | Peel #391
Give your silver bananas to...

Happy Thursday, apes.
That was fun, huh? Markets were moving like mad yesterday as JPow dropped some heat, big tech names reported earnings, and other way-less-cool macro data dropped. Equities were feeling a little insecure in the AM, but JPow's spittin' on rates fueled the confidence we needed to finish the day strong. Meanwhile, the Dollar sank precipitously at the idea of less policy tightening, losing almost a full 1%, while treasury yields fell pretty hard as well.
Let's get into it.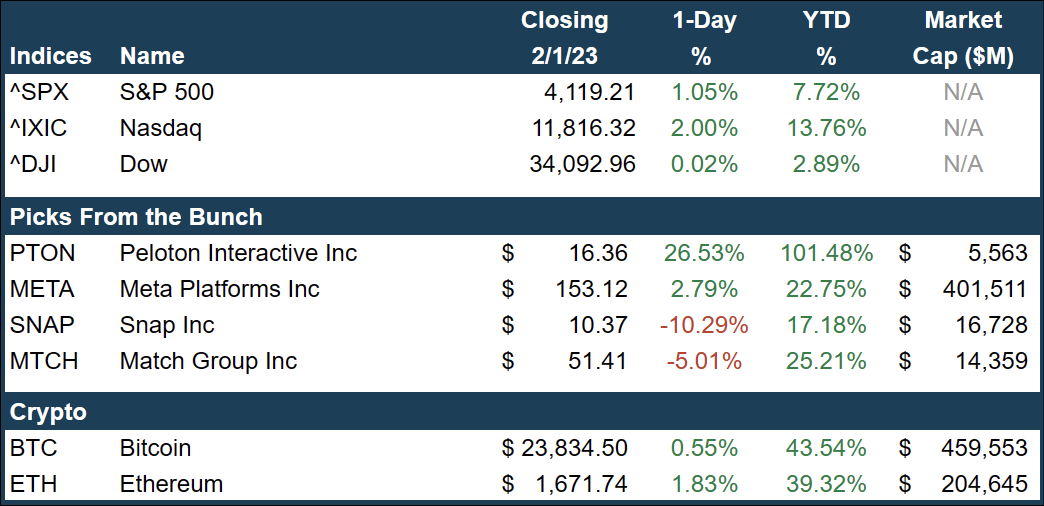 Watch Out, the New Study Drug Is Here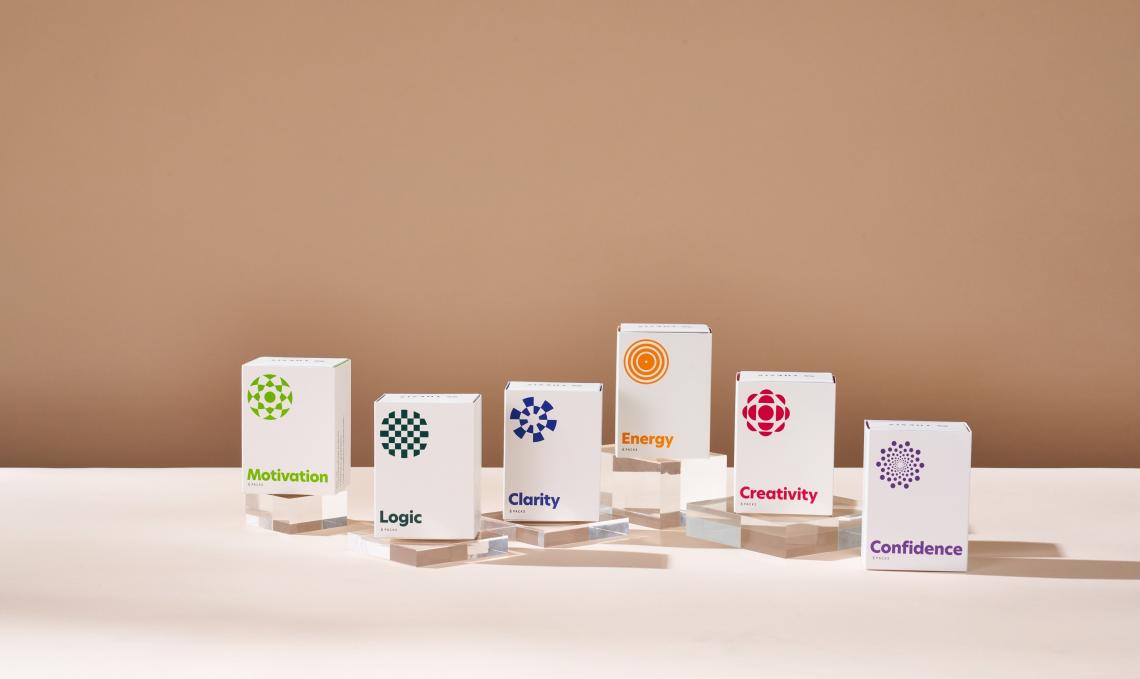 In the past, our options have either been pounding coffee/red bull or shamefully begging that one friend to part with some of their adderall supply. Thesis has finally blessed us all with a variety of supplements to help us all stay focused and energized.
What does Thesis feel like? If there was a spectrum, we like to think that it falls smack in the middle of coffee and adderall. The energy and focus levels are superior to coffee, but it won't give you that euphoric feeling the first time you ever take adderall. There's also no crash or jitters.
But that's not even the best part. Unlike other substances, the benefits of Thesis only increase over time. Warren Buffet said compound interest is the 8th miracle of the world, and Thesis gives you those same benefits of compounding, only this time it's for your brain power. Exactly.
Check out Thesis today because although it's not finals szn yet, you won't want to slack on unlocking mental benefits like this. If you thought you were an academic weapon before, just wait until you finally get with Thesis.
Take their 3 minutes quiz to see what nootropics are best for your needs. And enjoy 10% off on us with code WSO10 at checkout.
JPow Speaks
Hope everyone had a happy & healthy JPow Day yesterday. We know the stock market sure did.
The first FOMC Meeting of 2023 came and went, and you're damn right that it lived up to expectations…both literally and figuratively. Going into Wednesday, everyone expected Powell & Co. to raise by 25 bps, and that's exactly what they did.
The Federal Funds Rate has officially reached its highest level since late September 2007, entering a target range of 4.5% - 4.75%.
Everyone saw it coming, but it seems like Mr. Market did carry just a bit of worry that the hike might come in higher than expected. When they didn't, markets ripped right at 2 pm when the announcement was released, and the party kept going all the way to close.
But, as long-time apes know, the cryptic language of "Fedspeak" employed following the hike itself is arguably just as important. In addition to all its technical tools, the Fed's tool of "Forward Guidance" seems to have only increased in importance since Bernanke brought it into the mix during the GFC. Some of the most important quotes from Powell today include…
"Given our outlook, I don't see us cutting rates this year, if our outlook comes true"
"My base case is that there will be positive growth this year"
"We can now say I think for the first time that the disinflationary process has started."
"It would be very premature to declare victory, or to think that we've really got this."
"And it's our judgment that we're not yet at a sufficiently restrictive policy stance, which is why we say that we expect ongoing hikes."
Now, those are just some of my favs. While some of those statements may seem contradictory side-by-side, it's important to remember that the Central Bank Chair speaks extremely technically with well-rehearsed responses ready to go for the 2:30 pm press conference, so specificity matters. Let's make a (likely sad) attempt at a TLDR.
Powell basically had 3 important messages to get across. Those include:
The U.S. economy is seeing the beginning of a stable inflationary downtrend
The Central Bank is not yet convinced that rates and other monetary policy conditions are restrictive enough to promote sustained, long-term growth
Rate hikes could continue, and rate cuts are not yet on the table
One quote that didn't make the above list but is an honorable mention includes when JPow stated that "If we do see inflation coming down much more quickly, that will play into our policy setting, of course." If it isn't obvious yet, the Fed is essentially fighting itself.
Basically, they're saying more rate hikes are likely going to be necessary, but that going forward, they will consider cumulative policy tightening and react to data that gets released between now and March 22nd.
Am I getting the message across? It's complicated, and I'm not gonna sit here and pretend like I understand JPow's psyche. Just know things are getting better, but we're not out of the clear yet. We're just glad that instead of fighting with markets like they did all last year, the Fed is officially fighting itself.
Peloton Interactive ($PTON) ↑ 26.53% ↑
One small step for the company, one giant leap for the stock. Peloton is back, and its shares only have one goal: making you regret selling as much as humanly possible.
Following yesterday's earnings report, shares surged to a level not seen since last spring. They're still (very) unprofitable, losing $0.98/sh vs. $0.64/sh expected, but when you're down so bad, it doesn't take much to lift you up.
Revenue, on the complete opposite hand, smashed expectations clocking over $792mn vs. $710mn guesstimated. But even still, the driver of this coked-up day was primarily subscription revenue, which surged 22% for the year. Gross margins also improved to almost 30%, but by the time we realized that shares were already up 15%.
There's still a long way to go, but as CEO Barry McCarthy put it, this is a strong sign of a "turning point." Reports say that ex-CEO John Foley was hospitalized with a concussion after banging his head against a wall for the past 24 hrs straight.
Meta Platforms ($META) ↑ 19.64, AH ↑
Following Peloton's playbook of lowering expectations so much that even trash results don't look like a total dumpster fire, shares in Meta are absolutely popping off after hours.
Leading into last night's earnings call, shares rose a cute little 2.79%. When earnings numbers-especially buyback numbers-were announced, it was off to the races. The revenue beat didn't hurt either, raking in $32.2bn vs. the $31.5bn anticipated.
User and ARPU numbers fared well, coming in basically in line with expectations. But the real kicker was the $40bn (not a typo) in buybacks the firm has authorized. That's equivalent to ~10% of shares outstanding and earns the firm a spot in the Buyback Hall of Fame.
Snap Inc ($SNAP) ↓ 10.29% ↓
What a sh*tshow. No better way to describe it. I've been staring at this chart for 37 mins now, and I still can't believe it. Maybe I should've just taken a snap of the chart instead. After all, it'll last longer (and I could save it to Memories).
Safe to say investors were NOT pleased with Snap's Q4 numbers. Analysts at UBS didn't mince their words, saying risks to the top line were "accelerating." And that's not even to mention the revenue miss, but to be fair, EPS did beat estimates by 40% (aka by 4 cents).
When global ad spend catches a cold, Meta and Google sneeze, but Snap gets pneumonia, tuberculosis, and C-19 all at the same time. In addition to the insultingly-obvious "macroeconomic headwinds" the firm cites, engagement on the app for things like Stories is on the downtrend, too.
This report was worse than the god-forsaken Bitmoji Stories the firm shamelessly embarrasses itself by releasing. Radical idea here, but maybe turn the focus to making money rather than creating cringe, Spiegel.
Match Group ($MTCH) ↓ 5.01% ↓
Well, at least you were not the only one who went a whole year without any Likes on Tinder and Hinge. The company behind those apps did too.
The "maker" (more like acquirer) of popular dating apps like those above, along with pretty much every other one except Bumble, joined Snapchat in the garbage can yesterday. The firm's earnings missed by nearly 40%, while sales also came in lighter than expectations.
Just in case last quarter's numbers weren't masochistic enough, the firm also reported downbeat guidance for Q1 while announcing plans to finally launch a global ad campaign for Tinder, something analysts have widely anticipated.
Can't believe that the $500/month tier plan didn't save the firm. Who wouldn't want to pay half their weekly salary to still get swiped left on all day? Instead, traders simply swiped left on Match.
A Good Zuckin' Day
Bottles were poppin' at Mark Zuckerberg's Palo Alto home yesterday as Meta had its first good day since they stopped deciding to only use the app to rate how hot people were.
On top of a solid earnings report, Meta also happened to win a lawsuit against the FTC. Well, I guess I should say one of its many lawsuits, but as we always say, a win is a win.
Chair Lina Khan has steered the FTC towards some edgy lawsuits in her short tenure. She made clear the day she took the seat at the helm of the competition regulator that she would use her position to further the role of the FTC, particularly by expanding the agency's range to include going after emerging antitrust issues rather than just existing ones. In short, she's ballsy.
As a result of that ballsiness, she and the FTC have taken some high-profile L's of late. Yesterday's loss in the suit to block Meta from acquiring VR app developer Within Unlimited is just the latest of these fat L's.
The case began when the FTC made the claim that Meta was buying the firm with nothing more than the goal of "buying its way to the top." While that's not entirely a violation of existing antitrust law, it's one of those avenues that Khan was (maybe still is?) looking to expand into.
Within develops one of the most popular VR apps on the market today, called Supernatural, a fitness app. The FTC blocked the merger in July originally, but just yesterday, a California judge permitted the acquisition to go through.
That doesn't mean it's a done deal, however. Khan issued the corporate version of a restraining order, barring Meta from completing the acquisition until at least next week, so stay tuned.
The merger was permitted to go through by said California judge on the grounds that no actual antitrust laws were violated. Again, blocking mergers to prevent potential future problems is not yet burned into law. No law violated, no case, 'nuff said.
But this is far from the last you'll be hearing of this case. The FTC has until next week to appeal the decision or begin its own internal proceedings to block the merger, and it seems likely they'll go through with at least one of those options. The Khan vs. Zuckerberg battle is far from over.
The big question: Will Congress change antitrust legislation to apply to the alleged monopolies of today? If so, when and what will that look like?
Yesterday - Three envelopes are presented in front of you by an interviewer. One contains a job offer, and the other two contain rejection letters. You pick one of the envelopes. The interviewer then shows you the contents of one of the other envelopes, which is a rejection letter. The interviewer now gives you the opportunity to switch envelope choices. Should you switch?
Yes! Say, your original pick was envelope A. Originally, you had a 1/3 chance that envelope A contained the offer letter. There was a 2/3 chance that the offer letter was either in envelope B or C. If you stick with envelope A, you still have the same 1/3 chance. Now, the interviewer eliminated one of the envelopes (say, envelope B), which contained a rejection letter. So, by switching to envelope C, you now have a 2/3 chance of getting the offer, and you've doubled your chances.
Today - It's 100 bananas off the PE Master Package for the first 15 correct respondents. LFG!
You are given 12 balls, 11 of them identical, and one of them a little bit heavier. If you can only use a scale 3 times, how can you determine which ball is the heavier one?
Shoot us your guesses at [email protected] with the subject line "Banana Brain Teaser" or simply click here to reply!
"Go for a business that any idiot can run, because sooner or later, any idiot probably is going to run it" - Peter Lynch