The Primary Culprit | The Daily Peel | 4/14/22
There was a murder on Wall Street yesterday. Don't worry, Jamie Dimon and Bill Ackman are safe. It was just the 10-year yield absolutely bludgeoning Big Tech to death. Yields rose to pandemic-era records while equity markets broadly sold off in anticipation of the highly-anticipated economic data and earnings releases to come this week, including CPI today and bank earnings the rest of the week. 
The Nasdaq closed down 2.18%, while the S&P tumbled 1.69%, and the Dow finished 1.19% lower. 
Let's get into it.
Earnings Solstice - It's official, apes - as of yesterday, earnings season is certified back. After years of downpouring cash all earnings season, you might think the typical climate this time of year is high profit margins and higher stock prices. But not always, and in fact, meteorologists this time around expect a much drier season and have even begun to warn of potential wildfires.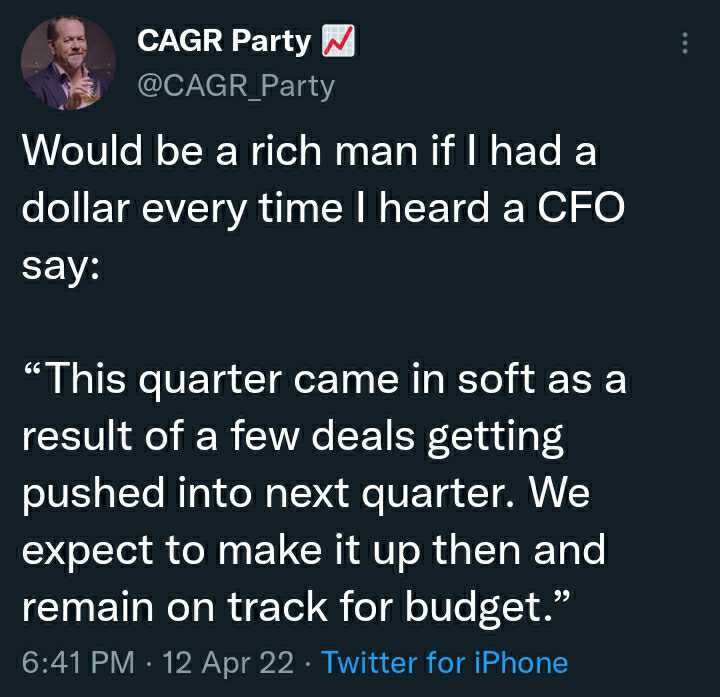 Of course, that's not what happened yesterday. Banks have some of the largest Napoleon complexes the world has ever seen, and as a result, they have to report first. 
Like the kid in elementary school who just had to be the line leader, JP Morgan rushed to the front of the pack early yesterday. Reporting for Q1'22 on Wednesday morning (holy sh*t, is Q1 over already??), the US's largest bank was swinging for the fences with a ~$100mn revenue beat, raking in $31.5bn, but it missed the cut on earnings, registering only $2.63/sh. vs. estimates of $2.74/sh.
That's a 42% decline in annual profit, not to mention the 5% revenue drop. But considering that the switch has been flipped hard from a macro perspective compared to a year ago, things weren't complete garbage for Dimon & Co. 
For starters, $524mn that would've padded the states a bit was whisked away by Putin's march into Ukraine, while another $120mn disappeared thanks to the LME nickel fiasco. And as the rest of the macro picture continues to fall apart, JP's loss provisions more than doubled to $1.5bn, including a disgustingly high $902mn charge taken in anticipation of further loan losses.
And if you listened to the earnings call, you heard a much less optimistic Jamie Dimon than we were used to last year. The King of Banking said, "We remain optimistic," which is pure cap, as it was followed with, "but see significant geopolitical and economic challenges ahead due to high inflation, supply chain issues, and the war in Ukraine."
But JP wasn't the lone big dawg of the financial world to report yesterday. BlackRock joined with an early morning release that painted a slightly different picture.
The world's largest asset manager reported a revenue miss and an earnings beat, but literally no one cares because with BlackRock, it is all about fund flows. Clearly, the firm isn't familiar with the deadly sin of gluttony because despite already posting well over $9.4tn in assets, BlackRock funds still raked in a massive $114bn in net flows last quarter.
That means that despite Putin's bullsh*t in Ukraine, inflation, supply chain, and all those talking heads on Bloomberg trying to scare you out of the markets, investors couldn't get enough $IVV and $ICLN. Investors believe, even if no one else does.
There were some other big names dropping their latest figures yesterday, too, like Delta Airlines beating the hell out of expectations and seeing a 6.21% gain on the day. On the other hand, JP fell 3.22%, while BlackRock held up slightly better and only lost 0.15%.
Most importantly, though, earnings season is back, so now I have a reason to live again. We're excited.
American Airlines ($AAL) - Usually, companies like to steal customers from each other, but yesterday, American Airlines stole investors. Delta reported some solid earnings, but all the spoils went to American, gaining 10.62% largely on updated revenue guidance. 
Sure, fuel costs have skyrocketed, there's war in Europe, and the infamous c-virus is making a comeback, but f*ck it. Management's guidance totally takes precedence over reality. Keep it up, guys.

Warner Bros. Discovery ($WBD) - There are two things Warner Bros. Discovery CEO David Zaslav is very good at.
Paying himself a $hitton of money ($250mn in 2021).
Getting investors excited. 
Today, unfortunately, we'll only be focusing on the latter.
The company has only existed for three trading days, but shares have ripped 5.4% in that time after yesterday's 4.87% gain. 
BofA was a big helping hand, beginning coverage of the newbie to the communications world with a buy rating and a $45 price target. In fact, pretty much every sell-side firm has said the same thing, slapping a quick ~15% upside on there and calling it a day.
It's a long road ahead if $WBD wants to compete with the sharks, but according to analysts today, the odds just might be ever in their favor. 

PayPal ($PYPL) - It was a sad day at PayPal yesterday as the payments firm lost one of it's very best pals. Long time CFO John Rainey is peacing out, and investors miss him already. Shares tumbled 2.85% on the day. 
Rainey isn't just leaving either, he's moving to better and much bigger things, taking on the CFO spot at a little-known retail chain you may be familiar with called Walmart. Analysts weren't even that upset about it, with comments on the news mostly being along the lines of "yeah, we get it, the other job is waaayyy better." 
Yesterday's onion-cutting on the stock was mostly from a lack of updated guidance, or maybe traders were just mad they didn't get the invite to Rainey's departure party. Heard it's gonna be a banger. 

AbbVie ($ABBV) - Speaking of intracompany breakups, AbbVie President and Vice Chairman Mike Severino has officially moved in with his mistress. Only this time, that mistress isn't exactly Walmart, it's some random VC called Flagship Pioneering, and Severino's title will be "CEO-Partner."
If that self-indulgent garbage makes you want to vomit, you're not alone. Traders largely saw Severino, who ran the firm's R&D unit, as the primary CEO successor. Now that he's moved in with his side piece, shares were sent on a 4.19% tumble.

PPI - Consumers, to be frank, are attention wh*res. Whenever we talk about inflation, it's all "CPI this" and "pump prices" that, but we gotta talk about the businesses behind that wallet gouging.
The producer price index (econ nerds will be aware) is the prices paid by producers. The PPI has only been recorded since 2010, and this past month, we set a record. Not in a good way, of course, as the monthly PPI changes registered a growth of 1.4% while annual growth surged to an obscene 11.2%.
But wait, there's more. Even with the absurd wage increases seen across the earning spectrum, it was goods prices that dominated the game. Monthly, prices of finished goods surged 2.3%, while service-based prices "only" saw a 0.9% bump. Still, those absurd wage increases are largely contributing to the acceleration in price increases for services while goods, allegedly, are set to slow. 
The primary culprit across both goods and services? C'mon, apes, you know this - energy, of course. Anyone who's been to a gas station since Putin went full Napoleon in his attempt to conquer (at least) eastern Europe knows this. At the producer level, energy prices mooned 5.7%.
So, while consumers have it rough, businesses def don't have it easy. But then again, what do you think businesses do when they see those prices skyrocketing? 
Hands up, someone's coming for your wallet.
"You've got to understand accounting. You've got to. That's got to be like a language to you."  - Warren Buffett