Too Close For Comfort | The Daily Peel | 3/21/22
(Seemingly) positive news out of eastern Europe late last week carried markets to a three-day rally. All the major sectors put up big numbers, minus utilities and other boomer economy stocks. Specifically, the Nasdaq put up 2.05% on Friday, while the S&P gained 1.17%, and the Dow rose 0.80%. Let's get into it.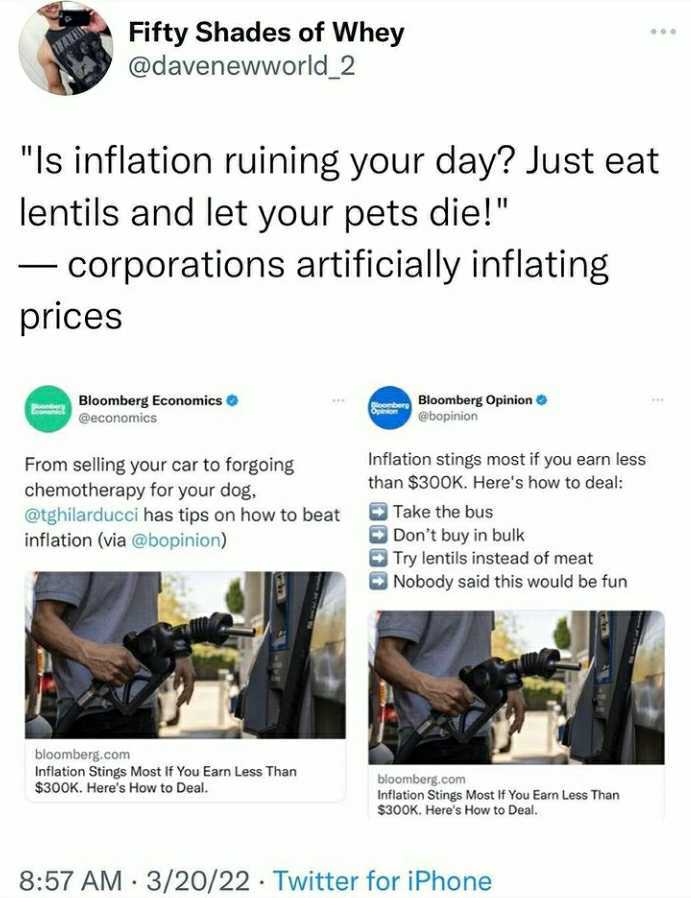 Mortgage Rates Moon - Living is expensive. At this rate, they're gonna start charging us by the breath pretty soon. For now, it's just shelter overall. And if you thought homes would get cheaper anytime soon, think again.
Sure, homebuyers over the past few years have had it rough. But unfortunately, conditions look to only be worsening for the next generation of people who don't want to be homeless.
The big news around this last week was not about homes prices, however, but mortgage rates. With the Federal Reserve's first rate hike in nearly three years last Wednesday, the benchmark mortgage rate (aka the 30-year fixed rate for premium borrowers) has risen to 4.27%, the highest level since May of 2019.
Compared to this time last year, mortgage rates have vaulted 107bps, or close to 34%, more than doubling the S&P 500's 12-month return. And while MBS traders and realtors are hyped, customers are not, reversing a multiyear trend in this economically crucial market.
Given the portion of a person's budget that goes into housing, homes tend to be highly price elastic in respect to both sale value and borrowing rate. And, given how essential shelter is outside of simple economic theory, the chain of reactions this cost increase could induce is anything but bullish for the U.S. economy.
But, if we look at this like your conspiracy theorist friend would, rising rates could be good for the housing market in the long term. Higher rates mean every supplier in the home building and selling markets is incentivized to build and distribute more homes to end consumers.
As we've spoken about previously, America's trauma from the GFC has stunted years of home construction, leading to a supply shortage and driving up prices. So basically, there's a chance, no matter how slight, that rising costs now could spiral into lower costs down the line. At least, older Gen Z certainly hopes so.
According to Zillow, however, this theory is bunk, at least in the short term. The housing experts over there predict a YoY homes price change of 22% in May, up from the current 18.8% annual surge. Judging by the chart below, this slowdown in growth is a long way away.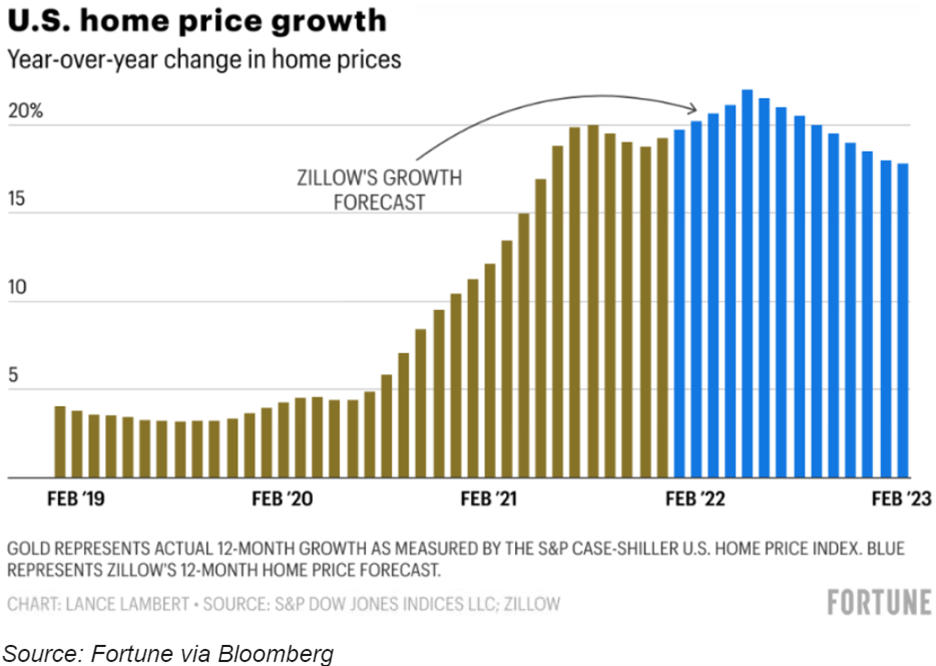 Moderna ($MRNA) - The Great Vax Stock Corruption continues. When diseases moon, so do shares in the firms seeking to heal them. This is why we love capitalism.
The same story since March 2020 continues. COVID cases are up dramatically in Europe and China, and at the same time, vax makers are vying for FDA approval of yet another goddamn booster shot.
And Moderna officially sought that approval at the end of last week, driving shares up 6.3% on Friday.
Nvidia ($NVDA) - If you're ever concerned that stocks don't actually always go up, just look at Nvidia (except between November 2021 and a week ago, but that doesn't count, obviously).
Shares ripped this week, gaining 21.2% last week, while the Nasdaq only rose 7.9%. After a solid five or so months of decline, analysts have suddenly turned back to bullish on the name, especially on Friday when Nvidia added another 6.9%.
All week updated forecasts and price targets drove optimism in the stock, largely sparked by the metaverse. If that smells like bullsh*t, trust your instincts.
FedEx ($FDX) - One thing FedEx is good at is delivering packages. One thing FedEx is bad at is delivering earnings. That was certainly the case last quarter, and investors are anything but happy.
Revenue beat, growing 10% to $23.6bn and beating estimates. The problem came with earnings, registering only $4.59/sh vs. consensus estimates of $4.64/sh and sending shares down 4.0%.
Analysts were getting sassy on the earnings call, too. My favorite shot fired came from Wolfe Research, saying, "You guys are operating, give or take, at an 8% margin. UPS is on its way to 12(%). You guys used to be better." Absolutely rekt.
Scholastic ($SCHL) - Ah, the scholastic bookfair - a timeless feature of our childhood's that's really more of a national holiday than an hour-long chance to sniff markers and play with erasers. Well, it turns out, it may not be as timeless as we think.
That's because Scholastic's latest earnings were garbage, leading to an 11.1% cratering on Friday. Sales increased 24% (not bad) but losses widened by $1.4mn from the same quarter of last year, all the way to $15.3mn. Traders were rightfully disgusted at the rising costs, leading to the puking up of shares.
Too Close for Comfort - Death, taxes, and yield curve inversions: not the three guarantees in life, but the three things that scare the sh*t out of investors. The first two can be put on hold for now, but the third, however, is staring Wall Street in the face.
Now, I'm sure most of you are familiar, but for the young ape, I'll explain. The yield curve, seen in the chart below, is simply a line chart plotting the current yields for all maturities of U.S. treasuries.
Generally, the longer-dated the maturity, the higher the yield as a result of TVM. So, when a shorter-dated maturity yields more than a longer-dated one, you know something weird is going on. Given you've already looked at the chart below, you know that's the case we find ourselves in now.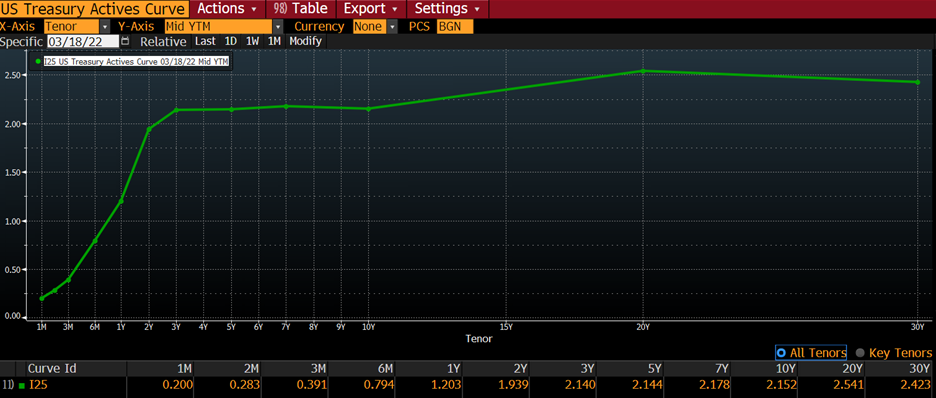 Historically, an inversion between two particular maturities, the 10- and 2-year yields, has been a damn good predictor of recessions. Just look at the other chart below (points below the black line show an inversion, and the gray highlights recessions).

As you can see, we're getting a little too close. So far, just the 7- and 10-year yields, as well as the 20- and 30-year yields, have inverted. Basically, this tells us investors are too scared of short-term volatility to chase the higher yields, settling for the safety of longer-term ones. The spread between the 2- and 10-year sits at 0.213, not a great sign.
Buuuut, this comes with a big caveat. The massive quantitative easing (QE) underwent in recent years has arguably forever distorted credit markets. With the Fed as essentially a permanent buyer, inversions might not mean as much as they once did. Still, that's not something I want to find out the hard way.
"If past history was all there was to the game, the richest people would be librarians."
- Warren Buffett