un-Happy Monday | The Daily Peel | 8/23/22
Stock futures fell Monday morning as the markets sputtered to start the week. Wall Street is worried about Main Street, particularly as more than 50% of businesses surveyed by PwC plan to cut jobs or freeze hiring in the coming months.
WTI Crude closed above $90 again, and the 10-year yield was back above 3% as fears mount amongst investors.
At the closing bell, the blood bath finally ended. This was the worst day for markets since June. The Dow closed down 1.91%, losing more than 640 points. The Nasdaq was down 2.55%, and the S&P cratered 2.14%.
Invest in the startup blending fresh food and tech. Blendid's robotic smoothie kiosks are taking food automation to 500+ retail environments, thanks to collaborations with Jamba, Walmart, and Sodexo.
Become a Blendid shareholder before they add more
Let's get into it.
Monkey Wanted: The Daily Peel is Hiring
TDP is looking for a newsletter writer. If you're interested, we'd love to hear from you!
If you're a great writer with a sense of humor, check out our job posting here. To apply, please author a draft copy of the Peel and send it plus a resume to [email protected].
Yesterday - Which three letters can frighten a thief away?
I C U
Today - It's a free WSO T-Shirt for the twenty-fifth correct respondent. LFG!
What has its own month, can be swallowed, and can swallow you?
Shoot us your guesses at [email protected] with the subject line "Banana Brain Teaser" or simply click here to reply!
Plague is Here - While this headline is a joke, weather conditions across the world are affecting the economy.
In Europe, a brutal heatwave this summer has slowed productivity and increased demand for energy.
This increased demand has been a tough sell in an already constrained energy situation, further emphasizing the need to cut back on natural gas consumption this winter.
In Germany, the Rhine is so low that goods are actually physically stuck in some places. Barges and ferries are unable to do their duty with water levels so low. This has had an effect on energy and industrial production for the last month.
Severe drought in the northern hemisphere is affecting food production, increasing energy demand, and slowing down global supply chains.
From California to Europe to China, many components of the economy have been hurt by hot and dry weather. In a globalized economy, these types of slowdowns or hiccups end up affecting everyone, not just the place where the weather is hottest.
I hate to say it, but maybe Al Gore was right?
The weather in the short term is completely out of our control. Factor in commodity market uncertainty and war in the breadbasket of Europe, and you have a real problem on your hands.
Wheat exports from Ukraine are way down, and experts expect the cotton crop in the US to be lighter than normal. Olive oil production in the southern economies of Europe is also slowing, and it could fall by as much as a third.
Hot weather also sucks for tourism. Have you ever tried to spend the night in a strange place without air conditioning when the weather is hotter than blazes? Well, try getting an Airbnb in Europe right now, then tell us how it felt.
While this is a relatively new phenomenon, if these trends continue, people and businesses are likely to vote with their currency and change their behavior.
Only time will tell when that might happen.
Invest In A Startup Blending Fresh Food & Tech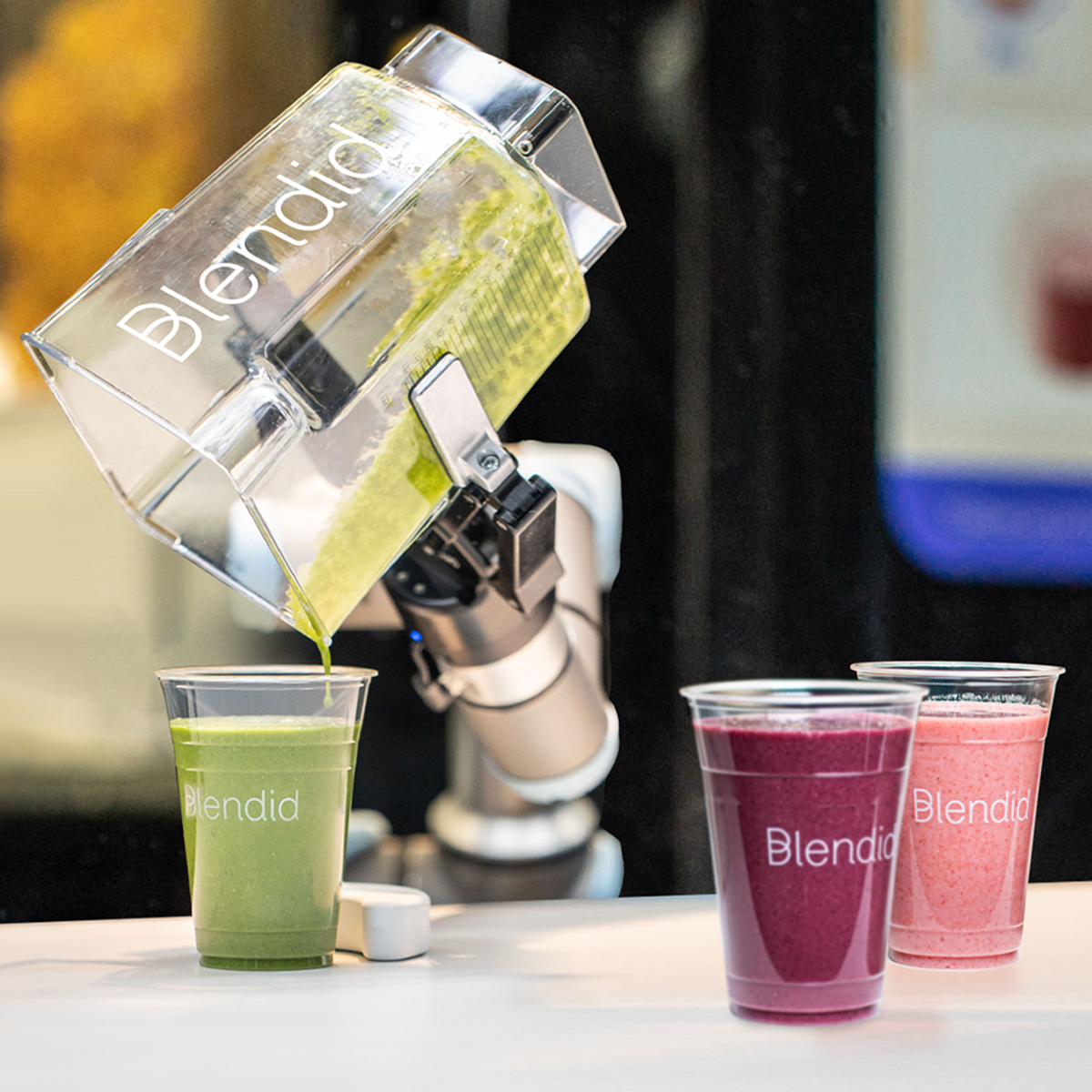 Blendid is taking food automation to the next level, starting with smoothies.
Their robotic smoothie kiosks are making strides in the $300 billion quick service restaurant industry as we speak:
Kiosks at college campuses and retail environments from California to Georgia
Deals with huge brands including Jamba, Walmart, and Sodexo
500+ robotic smoothie kiosks in contract
Next, they plan to expand to soups, salads, and sandwiches.
Chinese Tech Stocks ($KWEB) - Some of the biggest (and only) positive gainers in the Nasdaq yesterday were some of your favorite k-web names like Pinduoduo, JD.com, Netease, and Baidu.
Yesterday was generally rough for growth and even worse for US tech stocks, but these Chinese names were still scurrying about after yesterday's atomic valuation bomb went off.
Shares of the China tech ETF were up 1.28%.
Bright Minds Biosciences ($DRUG) - This biotech name, which you probably haven't heard of, has a fantastic ticker and was through the roof yesterday after higher than expected volume.
Perhaps, it is a meme stock in the making, or the Street appreciates that its board axed a good chunk of its leadership team earlier this summer.
On a day when I lost several percent of my net worth, I need funny tickets to write and laugh about, so here you go.
Yesterday, shares of the drugmaker $DRUG were up YUGELY, closing up 72.80%.
Meme stonks ($BBBY, $AMC) - Monday was not a great day to be a meme stock holder.
Your favorite names left their investors holding a bag after taking it in the face during the trading session.
Shares of $BBBY dropped like a pound of bricks, closing down 16.23%.
In the same breath, shares of $AMC fell 41.92% as its preferred APE shares began trading, and its biggest brick-and-mortar competitor began publicly discussing a bankruptcy.
Netflix ($NFLX) - Investors have moved against $NFLX after Disney's streaming service has passed it in terms of subscribers. Netflix is also struggling to monetize its brand and retain subs.
Analysts have been downgrading the former streaming behemoth, sending shares lower as investors panic about owning the next tech growth name.
Yesterday, shares of $NFLX dropped 6.06%.
Pastries Not Getting Soft - Consumers are feeling this inflation tax right in the wallet. While the Inflation Reduction Act hasn't taken effect yet (sarcasm), the price of just about everything is still on the rise.
We cheered at July's inflation numbers because it meant that the rate at which prices were rising had slowed. Prices are still going up, lest we forget.
Consumer spending has slowed of late, and we've been hearing about it in almost every earnings call from CEOs who are worth a sh*t and who tell it like it is.
Not just in retail but also at restaurants, the consumer has dialed down their spending.
But, there is a slight exception to this rule.
Coffee shops, bakeries, donut shops, and pastry shops all saw solid demand, especially when you compare this uptick to the downtick in restaurant spending.
The reason: as more and more workers (are forced to) return to the office, buying a bagel and a cup of Joe seems like a small treat in an otherwise meaningless office-dwelling-existence.
Kidding aside, a muffin with a latte is a relatively small indulgence compared to grabbing drinks or going out for a meal.
This is perhaps an overgeneralization. In places like Boston, San Fran, or the City, a muffin and a latte can easily run you more than $10, more than the cost of a burrito bowl at Chipotle in most places.
People are addicted to caffeine. We love the stuff. Literally can't get enough.
But workers are even more addicted to their routines. If you stop at the same pastry maker every Friday to grab that pumpkin spice scone, you're probably going to tolerate an extra buck out of pocket to keep things sane in your life.
The fix is in; commuters spend more money on coffee. So whether it's instant coffee from a vending machine or some frou-frou gourmet drink with an extra shot, a fiver here and there on coffee bean juice isn't unreasonable.
I don't know about you, Apes, but a cup of coffee gives me at least as much joy as the cash that I pay for it. I think that's why Americans keep coming back for more every morning.
"Don't be afraid to give up the good to go for the great." - John D. Rockefeller