Wall Street Does What Wall Street Does | The Daily Peel | 1/20/22
 Market Snapshot
Investors are not nearly as hyped as they once were this earnings season. Inflation and plenty of other concerns are eating into profits as well as expectations of the future, leading markets to broadly sell-off. The Nasdaq led the fall with a 1.15% decline while the S&P fell 0.97% and the Dow lost 0.96%.
Let's get into it.
Macro Monkey Says
Renewable Oil Prices - While we're all talking about sustainable energy solutions, ESG investing, electric vehicles, etc., don't forget that oil prices just got renewed to a 7-year high. Sure, alternative energy solutions are well on their way, but for now, oil keeps the throne.
And based on the state of the world and energy markets right now, this really shouldn't come as a surprise. The International Energy Agency announced in their monthly report on the oil market that in 2022, we're likely to be even more crude-hungry now than we were prior to the pandemic. Energy traders and oil companies are psyched, but I heard Greta Thunberg hasn't gotten out of bed since the news broke.
Driving this demand uptick, the IEA says, is a combination of geopolitical tensions and far fewer government-mandated COVID restrictions this year than in the past two years. Oil demand is closely linked to things like global transportation needs. Back in the dog days of the pandemic, there wasn't a whole lot of flying or driving long distances going on. Hence crude prices were literally going negative for a brief moment in April of 2020. Now that we're largely back to business as usual, oil demand is back. 
But, prices for WTI crude are at a 7-year high, not a 2-year high. That's where the geopolitical tensions come in. Like middle schoolers at a dance, energy-producing countries tend to be awkward around each other, especially those with vastly different ideologies, leading some to barely ever interact with members of the opposite group. Right now, tensions in Europe and the Middle East primarily are leading to concerns that global supply could fall, with most fears stemming from Russia and the UAE. Falling supply meeting rising demand can only mean one thing: price go boom.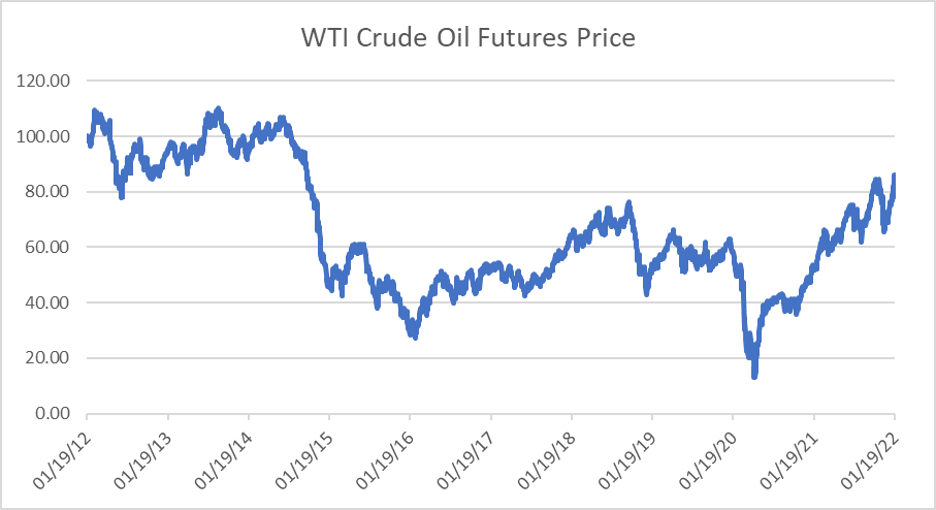 Wall Street Does What Wall Street Does - If there is one thing Wall Street firms are known for, it's paying themselves a whole lot of money. That's changed over the past few years, but not in any way to turn around that high-flying reputation.
Earnings releases for the U.S.'s largest banks flooded last week and spilled over into this week as well. Almost across the board, earnings fell on account of drastic increases in operational expenses. What drove those cost increases, you ask? Well, salaries.
According to the analysis done by the Wall Street Journal, salaries didn't just increase; they mooned. Citigroup reportedly handed out an extra $2.9bn in total compensation last year while J.P. Morgan increased compensation by $3.6bn, and Goldman Sachs laughed at how poor its peers were, shelling out over $4.4bn in additional compensation compared to 2020. To anyone working at those firms, congrats on the fat bag.
Reasons for the spike in pay are mixed but stem from a similar cause. Financial markets across the board have been going ape sh*t for the past two years, leading to rapid growth in these firms' lines of business like loan origination, mergers and acquisitions, trading, advisory, the whole gambit. To keep up with skyrocketing demand for their services, these firms had to hire a host of fresh talent and pay them handsomely to keep them on board.
And don't expect it to slow down anytime soon. While deal volume may slow compared to the record-setting years 2020 and 2021, the name of the game going forward is talent retention. There's not a whole lot of loyalty on Wall Street, so you better pay up.
What's Ripe
SoFi Technologies ($SOFI) - SoFi was looking so fine yesterday (sorry, I couldn't resist). The fintech firm was officially approved by the OCC and Federal Reserve to become a bank holding company yesterday, leading shares to pop 13.7% on the day. Immediately upon approval, SoFi began the process of actually acquiring Golden Pacific Bancorp - a deal announced last year that is actually legal now. Must be nice to get approved to legally be able to do a huge part of what your business does. 
Procter & Gamble ($PG) - Congratulations - if you bought Vick's Vaporub, Oral-B, Tide, or a myriad of other consumer products in the last few months, you contributed to P&G's 3.4% gain yesterday. Good for you, if you happen to also be an investor at least. The consumer goods giant reported a slight earnings beat of $0.01, coming in at $1.66 on $20.95bn in sales, which apparently is good enough for traders who likely expected P&G to fall victim to inflation. Quiet price increases in many products helped evade the inflationary boogeyman, and executives said to expect more on the way. What are you gonna do, not buy toothpaste? We're all just P&G shills at the end of the day.
What's Rotten
State Street ($STT) - Profit goes up, but stock goes down. That's the dilemma State Street faced yesterday. Shares initially rose pre-market on a solid earnings report, coming in at 30% above the same period last year, but the $1.78/sh earned fell below the $1.86/sh analysts expected. In addition, the retirement of State Street Global Advisors CEO Cyrus Taraporevala was announced as coming in 2022, leaving vacant a crucial position for the firm. Shares closed down 7.1% on the day.
Ford ($F) - "Don't make investors do math" is how Barron's perfectly described Ford's 7.9% fall yesterday. The firm gave investors an updated heads up on what to expect in its early-February earnings report, to which investors said, "wait, what?" Basically, Ford announced that it had pocketed gains of $900mm on its stake in Rivian Automotive. Sounds great, but Ford was really announcing that that $900mm would be classified as a "special item," aka not in the firm's earnings. Not knowing what that meant or what to do about it, selling ensued. 
Thought Banana:
Trouble in Paradise - Not that there was a lot of news attention around this deal or anything, but you might've heard that Microsoft is buying Activision Blizzard. Crazy right? In fact, yeah, it might be crazy, and it's damn sure to get plenty of antitrust attention.
For starters, both of these companies are big. Activision Blizzard was already the largest pure-play publicly-traded gaming company in the U.S., while Microsoft brought in the second-most gaming revenue in the nation last year, only behind Apple. Now that these two are soon-to-be one, something tells me Lina Khan is gonna have to take a look.
Moreover, Microsoft has been leaning into what CEO Satya Nadella has called "the Netflix of gaming" through their Xbox Game Pass offering. Game Pass is a subscription service allowing millions of gamers to play just about any game they want for a monthly subscription fee. But right now, at least, Activision games are ultra-popular on Sony PlayStations as well. Khan and the FTC, if they do scrutinize the deal, would likely want to ensure Activision Blizzard games aren't limited to Xbox only.
So, this head-first dive into the metaverse for Microsoft might turn into more of a wading-around-waist-level for a while. Let the FTC get used to the water for a minute, and we'll see what happens. 
"A nickel ain't worth a dime anymore." - Yogi Berra 
Happy Investing,
Patrick & The Daily Peel Team
Was this email forwarded to you? Sign up for the WSO Daily Peel here.