What's Affecting Your Wallets? | The Daily Peel | 2/14/23

Feb 14, 2023 | Peel #399
Happy Tuesday, apes.
And happy Valentine's Day to those who actually have other people that care about you (couldn't be me).
Markets certainly began the week on a loving note, storming higher nearly all day yesterday, with equity indices finishing just about at session highs. The dollar, meanwhile, sold off mildly while, along with bond yields, patiently awaiting today's soon-to-come CPI print for the month of January. With no further ado…
Let's get into it.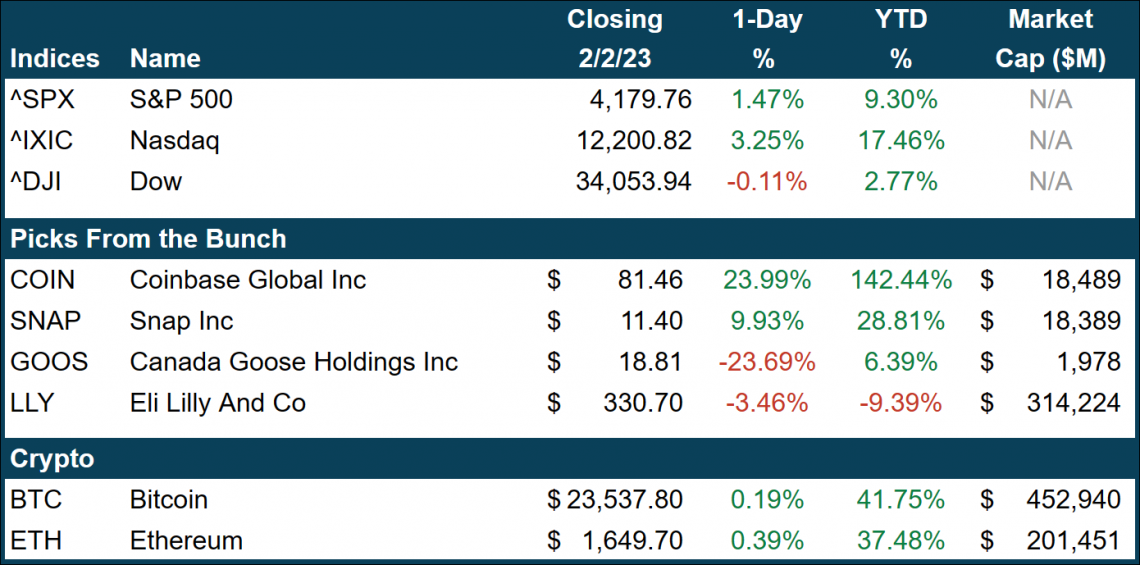 Make Money in Real Estate Like the 1%
Passive income is all the rage on TikTok these days. This magical stream of money that builds while you sleep, day after day, seems too good to be true.
Passive income can come from a bunch of different places, but real estate might be the king of them all. Returns tend to be stable, and in the right market, can provide equity growth along with checks coming in every month.
Breaking into the industry is the tough part-unless you rub elbows with the 1% of the 1%, you'll need a broad toolkit to prove you have what it takes.
That's where WSO's Real Estate Modeling Course comes in. Whether you're looking to manage office buildings or oversee a residential portfolio, we'll teach you the tricks of the trade. Packed video lessons range from the basics of multifamily modeling to the nitty-gritty of GP vs LP equity.
Since we've got a soft spot for Peel readers, we're also giving out free access to our PowerPoint Course for the first 3 Peel readers to sign up for the RE course by the end of the day. Don't let this fall to the bottom of your to-do list, spots are filling up fast.
Sign up today and get in on the greatest wealth building machine of all time.
Batten Down the Hatches
In celebration of V-Day, the Bureau of Labor Statistics (BLS) is giving us the greatest gift of all: the January CPI report.
We can already feel the tension in the treasury market, like walking into a party where you don't really know anyone and nobody's drunk yet. Yields haven't had a clue what to do since the last print, but there's a whole lot more than rate hikes and inflation impacting the money market.
Rate hikes get all the attention. I mean, it's clearly a cool, sexy topic everyone loves talking about, but behind the scenes, QT is far too often forgotten about, kind of like washing the back of your knees (yes, they smell, too, apes).
Fed Guy, aka Joseph Wang, a former trader at the Federal Reserve Bank of New York, spit some game on the subject yesterday and made one of those great points mainstream media frequently miss.
See, you may have noticed that the rate on your treasury bill or new loan is a whole lot higher than a year ago. But at the same time, the rate your checking and savings deposits earn is basically still zero. And in an environment where inflation is running at 6.5% per the December print, your "savings" are more like your "disappearings."
Apparently, there's an actual economic reason for that. Prior to 2022, banks basically had "superabundant levels of deposits," meaning there was really no incentivize to raise the deposit rate as there was no competition.
In the process of QT, the Fed is essentially using "brute force" to force banks to exchange some of their deposit base for treasuries. This, in effect, leads to a $60bn switcheroo from assets yielding 0% (deposits) to assets yielding 4% (treasuries) while also reducing the size of any given bank's deposit base, as Fed Guy puts it.
Drying up the deposit base is a big no-no for banks. Less supply of deposits leads banks to have an increased demand for them, especially as regulations passed post-GFC strongly incentivize deposit funding for bank activity, like giving out loans.
That, my fellow apes, is how your savings deposit rate increases. Similar to how the Fed used to rely much more on open market operations to control rates during the scarce reserve environment of the pre-ZIRP days, it relies on a similar function to influence monetary policy outside of rate hikes alone.
Don't get me wrong; at $60bn/month, it'll still take plenty of time for your savings rate to actually earn you anything in a real, inflation-adjusted sense. Today's CPI print will be a nice update on how boned we're all getting by loss of purchasing power, but according to the yield curve, a steep dropoff is still expected at some point over the next 1-2 years.
And lastly, just keep in mind what's important as you read through the January CPI report in full, as I know you all obvi do every month. Goods inflation is kinda already being priced in as dead and gone, but services inflation is where the market's eyes will be looking. Think home cost, wages, etc. It's gonna be another fun day of investing, but just make sure you keep your head on a swivel.
Monday.com ($MNDY) ↑ 10.90% ↑
With a name like that, we can't help but wonder how this stock could ever go up. But I guess kicka** earnings might help. Well, apparently, they do, as shares in the B2B SaaS name popped off on…Monday.
Monday's numbers soared past expectations, with sales leaping 57% YoY for the quarter and the surprise profit of $0.44/sh utterly destroying expectations of a $0.42/sh loss.
If that's not enough, even the firm's guidance beat the guesstimates from the apparent rookies covering Monday.com. In the bizarro world that we've been living in since C-19, I guess we shouldn't be surprised that Mondays are actually the best of the best now.
Palantir ($PLTR) ↑ 16.79% (AH) ↑
Did someone say surprise profit? "Hold my f*cking beer," said Palantir.
Shares erupted 16.79% after-hours following the release of the firm's latest quarterly earnings, which did, in fact, contain a surprise profit as well. Peter Thiel's big data / government contractor / super secretive firm posted EPS of a whole $0.04 while sales beat by a slim margin.
Not only was it a surprise profit, but it was the first time in its 20-year history that the firm that they actually even made a profit. Growth from 80 customers to 143 over the last year certainly helps, but the profit dollars couldn't have come at a better time.
Recent years have allowed losers (literally) like Palantir to not make money because they know the VC-funding backstop was always there. JPow has taken that funding away and flipped off every founder in the Bay Area at the same time, meaning focusing on dollars is once again cool in business.
Fidelity National Information Services ($FIS) ↓ 12.50% ↓
It's a tale as old as time. Eventually, the kingpin gets too old and tired to defend its throne, allowing the young bucks to come to take its place.
And that's exactly what's happened to Fidelity NIS here (no, not that Fidelity). The big dawg of the merchant payments world announced plans to take a massive $17.6bn write-down as it plans to spin off part of its business.
Now that companies like Stripe and Toast run the show, old dogs like Fidelity NIS are suddenly playing catch-up again. As a result, it's time for the firm to make some changes. I just bet they wish the first step in that process wasn't a write down nearly half the firm's market cap.
AI Stocks ($AI, $BBAI, $SOUN)
For artificial intelligence stocks, they sure weren't smart enough to see yesterday coming…
Now that you're done hysterically laughing, let's see what happened. Some of the market's most hyped AI stocks, like C3.ai, which we discussed recently, sold off in droves yesterday, broadly responding to a Reuters report suggesting lawmakers are gonna be raining on the AI parade very soon.
That made traders sad. The one thing companies hate most is laws forcing them to make less money, and that's exactly what the report indicated.
But all in all, a downbad day for that part of my portfolio isn't exactly the worst thing possible with AI. An 8% down day sounds better than the literal Terminator, I suppose.
What the HELL Are All these UFOs?
The fact that the White House had to literally come out and say that all these rando UFO sightings carry "no indication of aliens" is ridiculous by itself. Like, obviously, it's not aliens, right??
No, the government would never lie to us, of course. But at the same time, Air Force General Glen VanHerck did say he hasn't "ruled anything out." It could be fear-mongering, but the guy is in charge of the damn US North American Aerospace Defense Command and Northern Command of our military, suggesting he may know some sh*t.
Since legitimately 0 people in the entire country know what's going on, let's talk about it while doing our very favorite thing-speculating wildly!
First things first: the term "UFO" is dripping with extraterrestrial connotations. But, c'mon, we're smarter than that. An "unidentified flying object" is just that-an object that happens to be flying, yet we are unaware of exactly what it is (aka, it's unidentified).
So, technically, if I chuck a rock at your face, and before it hits you, it could be considered a "UFO," as it is, in fact, a flying object of which you lack knowledge of exactly what it is.
With that massive caveat, the US military has shot down not one, not two, but FOUR UFOs in recent days. Something is happening…
And that something, for the most part, is largely just increased scrutiny since the downing of a Chinese surveillance balloon on February 4th. Air defense systems have been on high alert for innocuous objects since the public flipped a lid over a singular-and alleged-surveillance balloon. NPR summarizes these objects fantastically, btw; check it out here.
A lot of the hype is born out of the general vagaries used to describe these things, like the term "UFO" itself or "high altitude airborne object," as NPR points out. This is done largely to remain accurate in one's statements in the face of lacking data but leaves room for wild interpretations. As a result, everyone defaults to those "little green men."
So, at least for now, don't plan on witnessing alien life just yet. If you want to do that, you should've stormed Area 51 back in 2019 with all those whack-jobs before the world fell apart. No reason to freak out quite yet, apes; we've still got plenty of big problems originating here on the Blue Planet.
How does this affect your portfolio, you ask? Idk, maybe buy defense stocks or go to all cash or something. If there's an alien invasion, something tells me there are bigger things to worry about than your portfolio. Do you apes ever stop thinking about profits?? (We don't…)
The big question: What in the universe is going on with all these UFOs, and when will we have some definitive answers on these downed aircraft?
Yesterday - A $100 sweater at Mendoza's Department Store is on sale for 50% off. An identical $100 sweater at Hoffman's Department Store was originally marked down 40%, but Hoffman's is having a clearance sale this week and is subtracting an additional 15% from its sale prices. At which store is the sweater the cheapest?
At Mendoza's, the sweater is $100 - 0.5 ($100) = $50. At Hoffman's, the sweater was originally marked down to $100 - 0.4 ($100) = $60. With an additional 15% reduction, the new price is $60 - 0.15 ($60) = $51. It's cheaper at Mendoza's.
Today - It's 100 bananas off the WSO's Real Estate Modeling Course for the first 3 respondents. LFG!
No matter how much rain comes down on it, it won't get any wetter. What is it?
Shoot us your guesses at [email protected] with the subject line "Banana Brain Teaser" or simply click here to reply!
"A successful trader studies human nature and does the opposite of what the general public does." - William Delbert Gann
Happy Investing, Patrick & The Daily Peel Team
Was this email forwarded to you? Sign up for the WSO Daily Peel here.