Securities Industry Essentials (SIE) Exam Overview
As of December 2018, there were approximately 630,000 FINRA-Registered Representatives. The majority of these reps passed their securities licensing exams in the traditional way – by studying and sitting for the Series 7, 63, 79, etc. Starting October 1, 2018, anyone who wants to earn certain licenses now has to take an additional exam.
In a significant shift in how FINRA (Financial Industry Regulatory Authority) regulates the securities industry, they introduced a new exam, the Securities Industry Essentials (SIE) Exam.
Importantly, the SIE does not affect all FINRA exams. Read on for answers to the top 15 most commonly asked questions about the SIE – Security Industry Essentials Examination.
1. What is the Securities Industry Essentials Exam?
According to FINRA, the SIE is, "your first step to a career in the securities industry." It is an introductory exam that covers basic knowledge of the securities industry. It's a new mandatory exam for certain individuals who want to work in the securities industry.
Key Information
Format: 75 multiple choice questions
Time: 1 hour 45 minutes to complete the exam
Cost: $60
Location: Prometric Testing Centers
Open to anyone 18 and older
No firm sponsorship required
2. What Topics are Covered in the SIE Exam?
Although some describe it as "watered down" Series 7, here is what it really entails. It covers topics such as:

3. Who Needs to Take the SIE Examination?
The SIE is the co-requisite for anyone who needs to take the:
Series 6
Series 7
Series 22
Series 57
Series 79
Series 82
Series 86/87
Series 99
You now have to pass the SIE plus a new version of the qualification exam, called a "top off." While most people take the SIE first, you can take them in any order, but you have to complete both to become fully registered.
4. Do I Have to Take the SIE If I Already Have My Licenses?
If your licenses are currently active, then you do not have to take the Securities Industry Essentials (SIE) Exam. Additionally, you'll notice a change on your FINRA profile stating that you "passed" the Securities Industry Essentials exam on October 1, 2018 (the date the requirement was put into effect).
Additionally, if you are a registered representative and you want to add an additional license, you do not need to take the SIE, only the job-specific exam. For example, if you have your Series 7 and want to earn your Series 63, you only need to take the Series 63 top off, not the SIE.
5. Are There Any Exceptions / Waivers to these Rules?
If your licenses have expired, then you will have to take the SIE before retaking the qualification exams. There are rare cases where you might be able to pursue a waiver, but your firm will likely need to contact FINRA directly in these situations.
6. Why Did FINRA Make this Change?
FINRA explained that they introduced this new exam to streamline the examination process for prospective candidates entering or re-entering the securities industry. Prior to the SIE, many securities exams included duplicate content, especially around the fundamentals of the industry. Now this basic content is consolidated in the SIE exam and the related qualification exams have been edited to be shorter and more focused.
7. How to Pass the SIE Exam?
As with any exam, how much and what resources you use to study will depend on your background and how you learn best. In general, you'll want to:
Read some SIE study materials
Spend time doing practice problems
Create and run flashcards
Enroll in a live or online prep course
Take practice exams
It's a good idea to take multiple practice exams in the days leading up to the exam to make sure you understand the concepts and can achieve a passing score on exam day.
WSO forum members who have already passed the SIE share their study strategies:
From WSO user @vet124": I bought the Kaplan QBank and completed about 300 of the 1300 questions in it. My strategy was: read the entire Kaplan book cover-to-cover, crank out some Qbank questions to see if there were concepts that I had no idea on, then I did 7 practice tests, then I did the practice exam on the FINRA website.
From WSO user @FinanceFern": The exam is not easy, but with 2 weeks of solid studying you can assuredly pass. I used Adbanker.com through my work and it sucked. I recommend Kaplan over Adbanker 100%.
8. Where to Get SIE Test Materials?
Although FINRA doesn't provide SIE test materials beyond the content outline and free practice exam, plenty of the usual vendors have come out with their own SIE exam study guide.
9. How Long Should You Study for the SIE?
Study time will also depend on your background, how you learn and how much time you have to dedicate to studying. According to those in the WSO forum who have already taken the SIE, here's how long they studied for:
I studied over a two-week period which was probably too much, but better safe than sorry
I spent about 10 days studying, ~1.5-2 hrs. a night (with a finance background)
I gave myself 8 weeks with 1 - 2 hrs per night
10. What is the Passing Score for the SIE Exam?
When you take the exam, you are just notified if you have passed or failed. However, FINRA has stated that the passing score is 70. This means, in general, you should aim to get in the 80s or higher on your practice exams to make sure you are adequately prepared for the SIE.
11. How Are Top Off Exams Different from Old Series Exams?
In general, the new "top off" exams are shorter than the old Series exams as most of the foundational content has been moved to the SIE. Here are the main differences among the affected exams.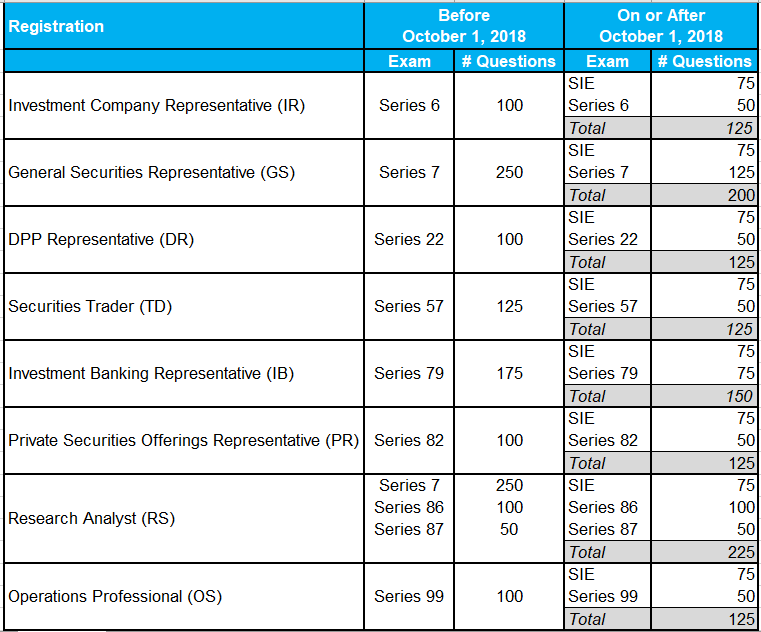 12. How Long Are SIE Exam Results Valid For?
SIE exam results are good for four years. Top off exam results are valid for two years after you leave the industry.
13. Should I Take the SIE If I'm Still in School?
If you're considering a career in the securities industry, then it probably doesn't hurt to take the SIE exam. As FINRA states, it can help distinguish you from your peers and give you an opportunity to jumpstart your career goals. It's too early to tell if it will really set you apart from others applying for internships and job, but at the minimum it will save you time if you get a job where you are required to get your Series 7, etc.
Just be aware of the timing and remember you have to get a job with a FINRA-member firm within four years of passing the exam, or else you'll have to take it again.
14. Will the SIE Prepare Me for Working in the Finance Industry?
Although FINRA is billing the exam as a "financial industries essentials" exam, in our opinion, we don't think the SIE will offer a practical foundation for working in the finance industry. If you don't have to take the SIE for your job, then we think your time would be better spent pursuing one of the following qualifications if you want to build some serious finance knowledge before you start working in the industry:
15. Is this the First Change FINRA has Made to their Exams?
This is not the first change the organization has ever made. They currently have 34 different "Series" exams which vary by job function. In the past, they have retired 20 exams. They aim to stay up to date with the needs of the industry.