7 Figure Hedge Fund Salary - Myth or Reality?
Widely considered the creme de la creme of financial institutions, hedge funds are a source of fascination among investors and others alike. Individuals aspiring to make exorbitant amounts of money look up to top managers with dreams of one day running their own fund. Getting to that point is a topic for another thread - right now it's time to discuss hedge fund compensation.

Hedge Fund Manager Salary
The first thing to understand is that there are two driving factors that stand above all others in determining compensation: fund size and, more importantly, performance. This applies across the board. Fund size and performance affects both junior and senior employees, although there's less variation in compensation across firms at the junior level.
It's simple. The better that fund performs, the greater the returns. The greater the returns, the greater the bonuses. On the other hand, greater fund size is typically correlated to higher compensation. This is not always the case.
It's important to note that, with more assets under management, there are more people to pay and a far greater overhead. Here's @LTV", a hedge fund associate, sharing details about smaller funds vs. bigger funds.
Big shops actually don't pay junior guys much at all (unless they're rock stars). Big funds have huge overhead and way too many people. Paulson, for example, is notorious for underpaying analysts.

Smaller shops (run by legit PMs, of course) run lean. For example, a good friend of mine is part of ~8 person / ~600m AUM shop run by a very good global macro guy. That's ~12 bucks in just management fees right there. The guy turned down a very large HF to go to there, and I certainly don't blame him.

This is not to say smaller shops are better. Big funds are a great place to start a career because of the exposure to multiple markets/assets/products/strategies you get. It allows you to find your groove, and then either become successful in that groove at the same fund or move to a smaller fund that specializes in just that.

To whoever said 500k+ happens only at big funds, you're wrong.
Hedge Fund Compensation - Difference Between Base and Bonus
HF compensation is different from investment banks in that hedge fund bonuses are much more volatile. In investment banking, it's true that bonuses are determined by performance, but the variation in those bonuses isn't particularly significant.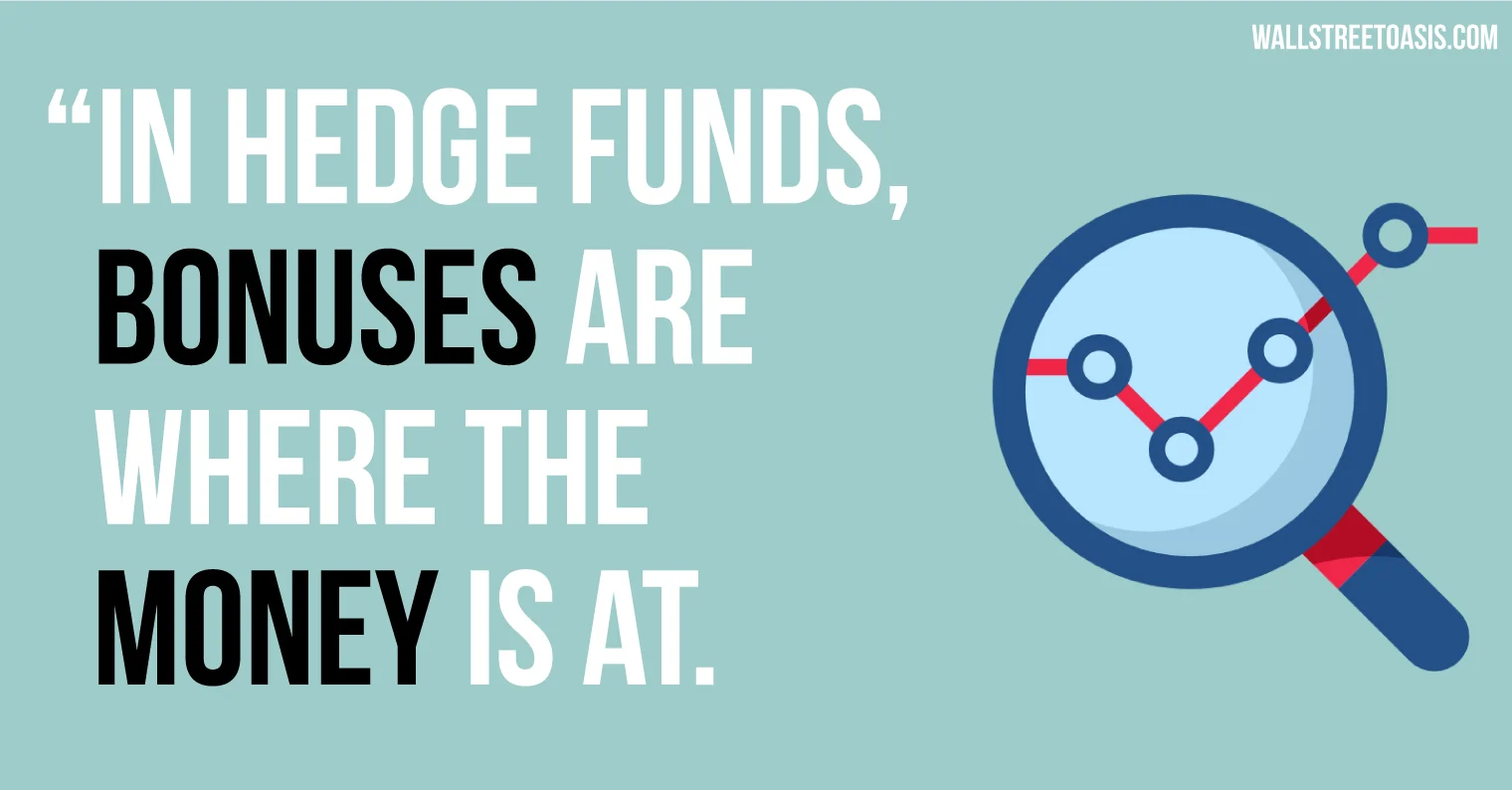 In hedge funds, bonuses are determined by performance. Bonuses can be anywhere from nothing at all to any multiple of the base pay. To make an example, a portfolio manager at a fund with $1bn assets under management would expect a base around $250k with a bonus ranging from $500k to $3 million based on performance.
In hedge funds, bonuses are where the real money's at.
Hedge Fund Salary out of Undergraduate School?
First, getting hired by a hedge fund right out of undergrad is incredibly rare. They typically want two to three years of experience in their analysts. If you do get hired out of undergrad, there's a ton of variability in compensation depending on performance, culture, the manager, and much more. Typically, base compensation is anywhere from $60-80k with a 0-100% bonus.
Compensation out of undergrad also varies by role within the firm. One user summarized well below.
The fund I'm at, you're looking at first year salaries of around 60-100K, the higher end being the guys who have bonuses and do the trading and other finance-related activities. 60-75k for tech guys, and about the same range for back office.
Hedge Fund Analyst Salary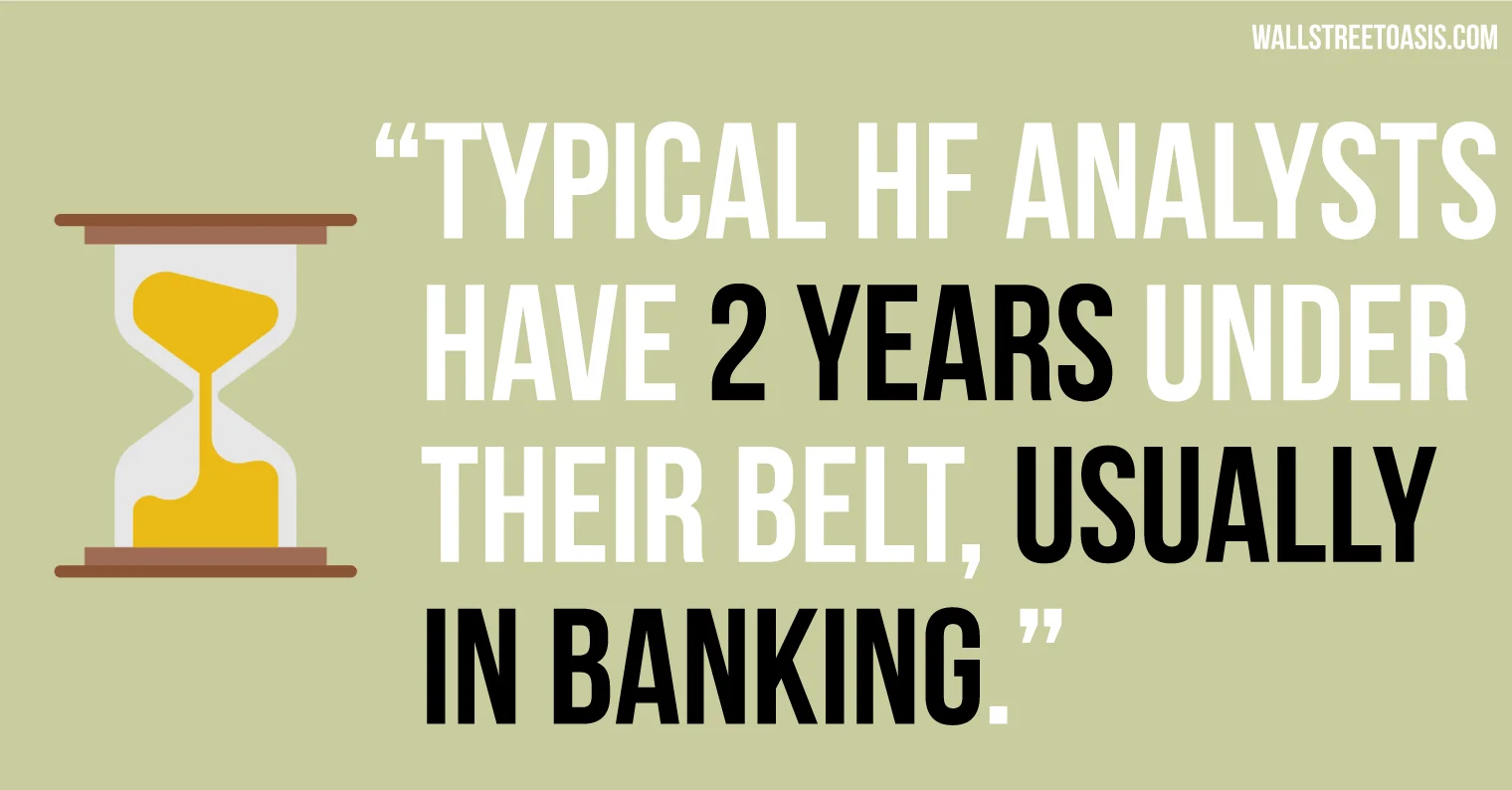 The typical hedge fund analyst has two to three years of work experience under their belt - typically in investment banking - which means they get paid a good deal more than a hedge fund analyst right out of undergrad. Here's @Simple As...", a hedge fund vice president, on compensation for hedge fund analysts with around two to three years of work experience.
I won't discuss my compensation directly, but a junior analyst (~2 years out of undergrad) can probably safely expect somewhere between $100 - 150k base salary and a discretionary bonus of 0 - 100% of base depending on several factors, usually most important is the fund's / team's performance. A junior guy coming directly out of undergrad (very rare) can probably expect a base salary of $70 - 100k with a discretionary bonus of 0 - 100% of base.
Million Dollar Hedge Fund Compensation
There's always been a lot of fuss in the media about hedge fund salaries north of seven figures. What's the reality?
The fact of the matter is that, unless you're a portfolio manager, it's highly unlikely that you'll make seven figures at a hedge fund. Even if you're calling all the right shots, it's unlikely. Don't forget the bottom line of starting a hedge fund: to make money. If a hedge fund manager can afford to pay you less, they will. More on that from @Bondarb", a hedge fund partner.
Bottom line is that people start hedge funds to get very rich, and they are going to keep as much as they possibly can without causing massive defections. The bigger the name of the fund, the more they can squeeze the analysts.

I have some stories that would curdle your stomach about analysts playing big roles in making huge sums of money for the firm and then either getting an insulting bonus or even getting pre-emptively fired, so they can't state their case for getting their fair share of the cash.

It's a very cut-throat world out there. Bottom line is that, to reliably make 7 figures at a hedge fund, you have to manage money, not just funnel ideas to PMs.

Analysts generally are considered interchangeable, and portfolio managers who know how to trade and manage risk are far more valuable and much rarer than analysts who can help generate trade ideas.

Never underestimate the cheapness of hedge fund managers. I work at a top macro fund and million dollar salaries are very, very rare for analysts even during years when the fund takes in hundreds of millions of dollars.
So the question remains: how do you reach the point where you're making that kind of money at a hedge fund? Here's some succinct insight on how that's done from @mrharveyspecter", a private equity associate.
Sounds to me like opportunities for advancement at your firm are limited. If you believe in yourself and your ability to invest, this seems like a good opportunity to test your mettle.

For PE/VC/HFs in general, the path to riches seems to be:
Hedge Fund Pay by Geography
There are hedge funds in New York, Chicago, Greenwich (CT), San Francisco, etc. Does the pay differ by location? The answer is, quite simply, no. In America, geography is a not a determinant of compensation for hedge funds.
Hedge Fund Manager Salaries - Invested into Fund?
Investors like to see a hedge fund manager with skin in the game. A manager not invested in the fund is a major red flag. It signals a lack of confidence in the fund. That said, it's not integral that a hedge fund manager have all of their liquidity tied up in the fund. Here's @BlackHat", a hedge fund partner, on the expectations for hedge fund managers.
Well, not their salaries... but I would never invest in a fund that didn't have something close to the entirety of the shot caller's money at stake alongside mine. Don't call yourself a chef if you won't eat your own cooking.
The case for startup hedge funds is different. When starting up, managers are expected to be all-in on the fund, more on that from @Bondarb", a hedge fund partner.
If you want to not put all your money in, you need to have a good explanation as to why...like maybe because you need money for a very sick relative but certainly not because, "I can't make rational decisions with my own money at stake." That's not exactly the type of person you want managing money for you.

People want the manager to be as freaked out about losing their money as he would be his own....so I don't think you'd do very well telling an investor that you won't put your own money in because it won't allow you to be sufficiently reckless.
As someone who has been involved with seeders that tend to fund smaller startup hedge funds, it is almost a requirement that the managers at small shops be "all in" with their personal money.
Want Reliable Salary Data for the Hedge Fund Industry?
Check out our Wall Street Oasis Hedge Fund Industry Report offering hundreds of user sourced datapoints about salary and bonus in the industry. Check it out.
Looking to Break into the Hedge Fund World?
Want to land at an elite hedge fund use our HF Interview Prep Course which includes 814 questions across 165 hedge funds. The WSO Hedge Fund Interview Prep Course has everything you'll ever need to land the most coveted jobs on the buyside.
Hedge Fund Interview Prep Course
Work at a big shop for a while
Get to a point where you've picked up good experience and where you think you can do better
Go somewhere else where you get more responsibility or strike out on your own
Profit (or lose)