Hi all, rising junior here.
Has anyone heard back about their application for EY Parthenon Connect?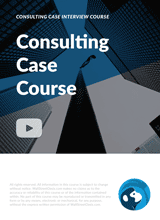 Consulting Case Interview Course
2,037 questions across 209 consulting firms. Crowdsourced from over 600,000 members.
11 Detailed Exclusive Cases developed by a McKinsey Associate and 10+ hours of video.
Trusted by over 1,000 aspiring consultants just like you.
Total Avg Compensation
October 2021 Consulting
Engagement Manager (79)

$217

2nd Year Associate (126)

$136

3rd+ Year Associate (96)

$129

Senior Consultant (282)

$128

1st Year Associate (446)

$113

3rd+ Year Analyst (115)

$107

2nd Year Analyst (259)

$97

Associate Consultant (139)

$94

1st Year Analyst (875)

$85

Intern/Summer Associate (141)

$82

Intern/Summer Analyst (395)

$67