Can someone please walk me through the calculation / reasoning behind unlevered beta? I know it has something to do with looking at the ratio of a company's debt to equity and their tax rate...
Thanks in advance for your help.
What is Unlevered Beta?
Unlevered Beta is a metric that compares the risk of an unlevered company to the overall risk of the market. Levered is a term that implies the use of debt. Consequently, Unlevered beta, also called asset beta, removes debt from the equation.
Asset Beta Formula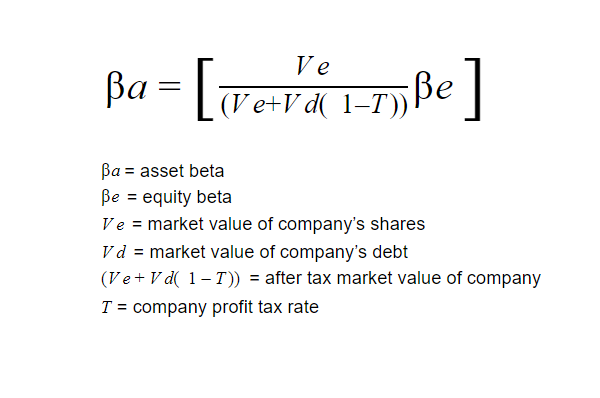 When to Use Unlevered Beta?
Levered beta measures both the business risk and the financial risk of the company. Business risk is essentially how the company will perform like sales, growth, i.e. how good of a company it is. The important distinction is the financial risk Financial risk is a company's capital structure, in other words, how much debt they have, or how leveraged they are.

So, a company with debt has a higher risk than a company with no debt because they have to divert some of their cash flows to paying the interest and eventually paying off the principal of the debt.

In order to apply a Beta to a different company, you need to remove the Financial Risk component of the Beta, so that you are only left with the Business Risk Component of the Beta.

Unlevered Beta- Beta that only measures the business risk of a company. This DOES NOT take into account how much debt a company has.

If you're still with me, now you need to do something with this Unlevered Beta (only business risk is included).

Relever the Beta- You have your company (for example, a private company) that you want to calculate a Beta for. You know what the company's future Debt to Equity Ratio will be (Capital Structure).

Use this future Debt/Equity Ratio and add it back into the Unlevered Beta, to come up with the LEVERED Beta for your company.

So now you have, a Beta which includes BOTH business risk and financial risk.
The following video goes takes an in depth look at levered and unlevered beta. The introduction also covers the debt tax shield. The presenter starts discussing beta and unlevered beta at 10:24.
Read More About Beta and Leverage on WSO
Preparing for Investment Banking Interviews?
The WSO investment banking interview course is designed by countless professionals with real world experience, tailored to people aspiring to break into the industry. This guide will help you learn how to answer these questions and many, many more.