Investment Banker Salary + Bonus:
Analyst - First Year: $70k - $150k
Analyst - Third Year: $120K - $350K
Associate - First Year: $150K - $350K
Associate - Third Year: $250K - $500K
Vice President: $350K - $1.5MM
Managing Director/Partner: $500K - $20MM+
These figures are an approximation and rough range based on the user registration data on Wall Street Oasis, as well as the thousands of discussions on compensation that the community has had around compensation at these levels.
Below is a sample table of investment banker salaries and bonuses from the WSO Investment Banking Industry Report (updated daily). If you contribute to the WSO Company Database, you can get access to thousands of detailed compensation statistics across thousands of investment banks without paying a dime.

Bonuses for Investment Bankers by Position
Above are approximations to investment banking compensation at various levels of seniority (in this case pulled from the WSO Investment Banking Industry Report with over 50,000 submissions). From analysts to managing directors, the pay is traditionally heavily weighted toward the investment banking bonus portion of the compensation, which is part of the reason for such long hours.
Obviously, these figures can vary significantly depending on the firm and region, so if you are looking for more detailed or firm-specific salary and bonus data, you should check out the WSO Company Database which has thousands of detailed submissions.
At the analyst level, it is not uncommon to work between 80 to 120 hour weeks at some of the more demanding firms. Most analysts start in the summer and receive their first investment banking analyst bonus around June or July, approximately one year after they start working. Analysts also expect to receive a signing bonus from $5k to $20k, as well as a moving bonus if they are transferring laterally to a different bank.
At the associate level, the hours are usually still long, however, traditionally 10-20% less than that of analysts. Some associates are internal promotes, but the majority have attained an MBA. Associates also receive a sign-on bonus, traditionally from $10k to $30k, and a stub bonus. Each firm is different, but traditionally, since associates usually start in the fall and the first bonuses are paid in the spring, the stub bonus is for three to six months of work.
The salary and bonus for Vice Presidents and Managing Directors in investment banking has a much higher variance but is usually much more of a function of the firm's performance. At the more senior levels, investment banking pay is based more off of individual revenue generating performance.
Investment Banking Salary at Different Firms
In our salary database, we have compiled a list of the banks that pay the best. Remember, these firms are all ranked based on thousands of Company Database submissions. Click below to access.
Investment Banking Salary Progression - Analyst to MD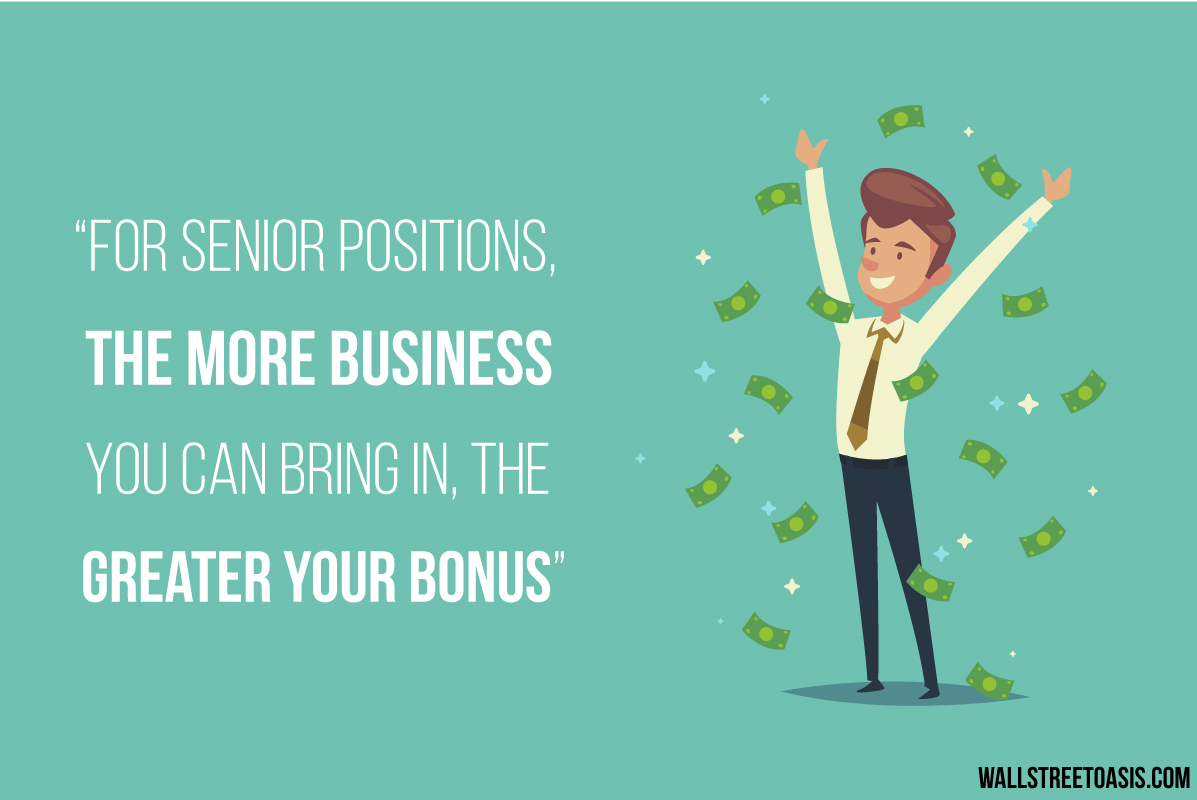 This quote from @Sil nicely sums up how bonuses differ based on position in investment banking:
No investment banking analyst will get a bonus equal to multiples of his base salary. As you move up the ladder, the percentage of your all-in comp that is paid out as a discretionary bonus increases because you move from an analytical employee to one who brings revenue into the bank and are paid based on that.
As a rule of thumb for senior positions, the more business you bring in/the more revenue you generate, the greater your bonus.
Investment Banking Associate Compensation
For post-MBA associates, all-in compensation varies a good deal with signing bonus, relocation bonus, early signing bonus, and stub bonus. For base, you can expect around 125k. Bonuses are in the range of 40-60k. All-in, you can expect anywhere from 200-300k.
Investment Banker Earnings vs. Private Equity Salary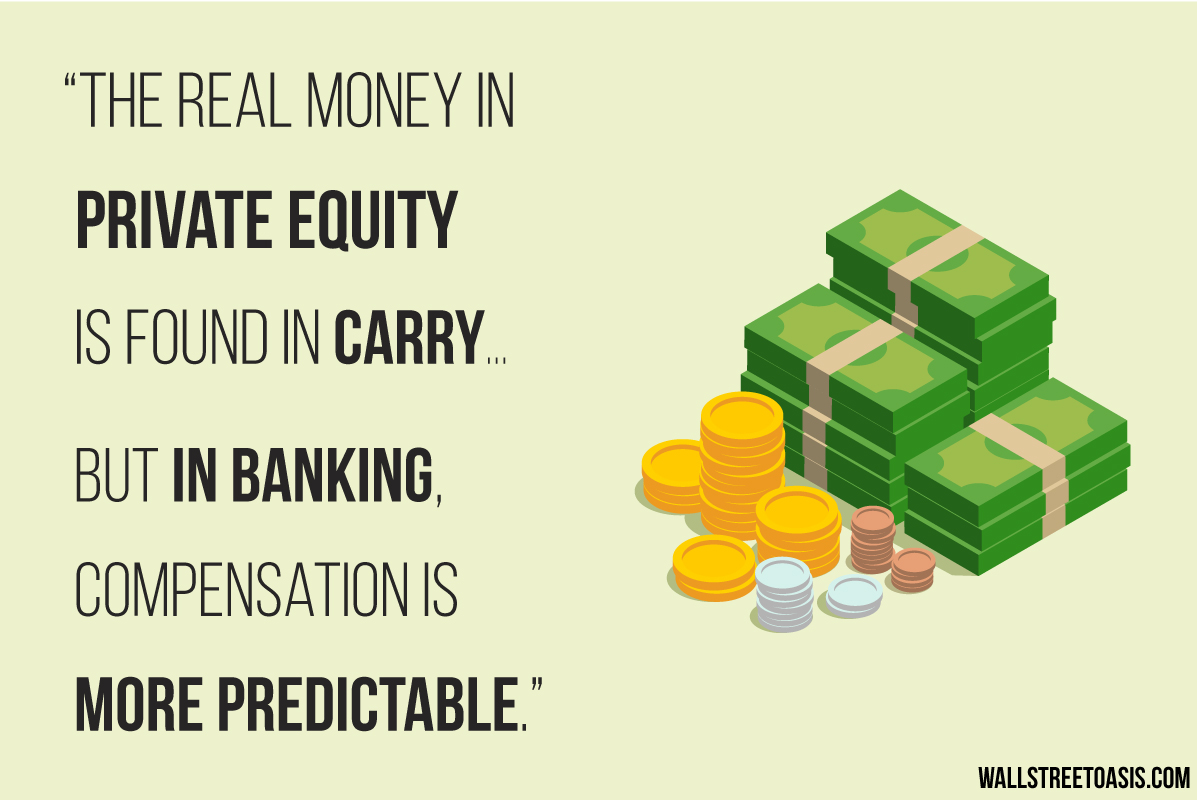 There's a lot of uncertainty regarding private equity salary because the pay structure is quite different from investment banking. Here's a nice summary of which pays more and what variables determine that.
Depends on the level you are in Investment Banking vs the entry at PE.
On base salary, you would generally be earning more as an Associate in PE when you join from a mid-senior analyst level, but as you become mid-senior associate in IBD, you tend to earn a higher base salary albeit minor. So if you join as an Associate in PE from an Associate position in investment banking, you would take a hair cut in the base salary.
The bonus element at PE firms tends to be less when comparing Associate PE to Associate IB and a big part of the post-tax bonus will be used for deal carry payments (depending on Fund). The big payment in PE comes when you get a carry pay-out, which can takes many years all depending on timing, fund structure, your employment contract terms, etc. For example, for a newly raised fund, it could take five to seven years before you start seeing carry bonus payments, while at an investment bank you would be taking home an annual bonus. If you are at a good fund, then you would probably earn quite a bit more over your entire career.

With PE, you are slightly more committed to the fund as you have to stay with the firm until the carry payments are being paid out. Assuming that you received cash bonus payments (e.g. EBs), you have more flexibility in your career moves. A managing director in Investment banking could get an annual bonus of PS250-500k, whereas in PE you could easily pull PS1-5m in carry payments at the senior level.
All in all - you will get rich either way. It all depends on what you like to do!
As you might have noticed, the real money in private equity is in carry. With great reward comes great risk however, as obtaining carry is typically done over several years, and even then, it's not guaranteed that you get a nice carry paycheck. In investment banking, compensation is much more predictable.
IB Salary in New York vs. Other Cities (LA, SF, Chicago)
One question that we get a lot is whether salaries in America vary depending on where you work. The short is answer is no. Salaries do not vary geographically in America. Here's the long answer from @Gbanker74160, which goes into why the pay is the same geographically and the exit opps that working in New York grants.
That isn't to say that there aren't strong long-term career benefits to working in NY IB. Namely, there are ton of financial opportunities in the metro area. In other places, the financial community is smaller and exit/lateral ops might be harder to find. This isn't a huge issue in large cities (SF, LA, Chicago, Dallas/Houston, Boston). But if you're in, say, Charlotte, Atlanta, or Denver, then there's definitely a sizable drop and your prestige point holds true.
You can move from NY IB to a HF outside NY. That said, there aren't too many HFs outside NY, relatively speaking, and moving across coasts can be challenging. And being at a NY IB wouldn't specifically help you with this and would probably hurt you compared to someone at a leading group already in the HF's location. So if you want to end up at Oak Tree, Ares, Value Act, Farralon, or what have you, you might be better off starting on the west coast, and the same goes for funds in TX.
Investment Banking Pay vs. Consulting Salary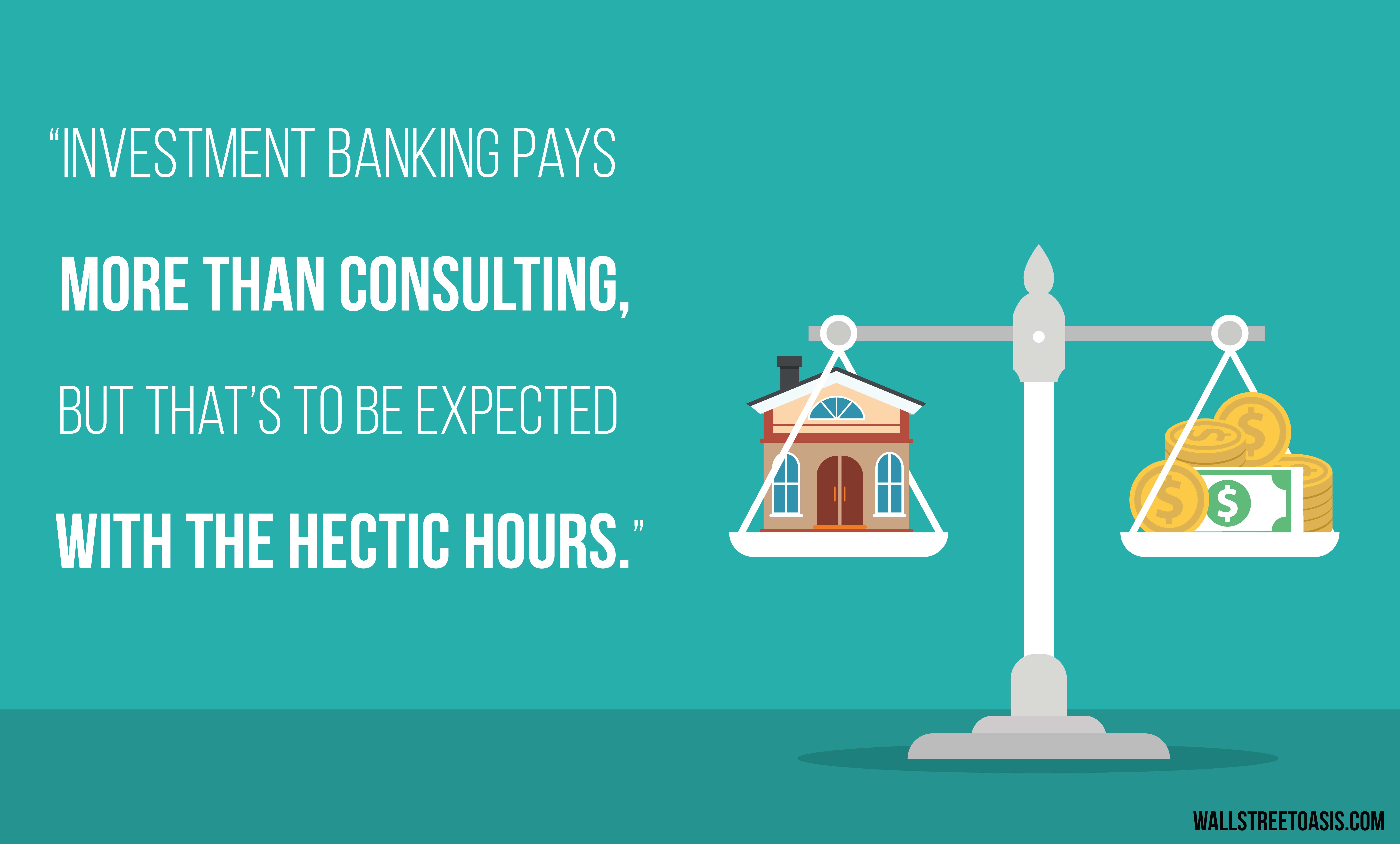 Investment banking pays more than consulting, but that's to be expected with the hectic hours. In general, management consultants out of undergrad typically earn 75-90k all-in. Top firms, like McKinsey, Bain, and BCG, pay around 100k. The banking salary for analysts out of undergrad is closer to 130k all-in. Certainly, expect to make more in investment banking, but you put in the work for it.
Banker Average Hourly Wage
Let's do some quick math. Working 80 hours/week at 130k all-in compensation for 53 weeks in the year is an hourly wage of $30.66. Of course, this is an approximation. Some will make more while working fewer hours while some will make less working more.
M&A Salary and Top IB Group Comp
Evidently, investment banking is a well-compensated field. There are few jobs that pay six figures+ to immediate college graduates. It's important to note that when looking at these average banker salaries, some of the top groups like M&A and top industry groups at the elite investment banks pay even more than these figures. This is true especially in the higher cost of living cities like New York and London.
That said, the real money is at the top. Even if you find investment banking isn't for you, you learn an incredible amount, build a great network, and the exit opportunities are unparalleled - but that's a discussion for another time.
Want Investment Banking Compensation, Company Reviews, and More?
The Wall Street Oasis Company Database is the most complete database available. You can find thorough reports on hundreds of firms across the finance industry (investment banking firms, private equity firms, etc.) including compensation figures, company reviews, and insight into the interview process. All you have to do is add salary data or subscribe to gain access.
Interested in Investment Banking - Breaking In
The fact of the matter is you won't improve unless you practice. To have any chance at the technical questions, you need to prepare yourself with legitimate questions. The Wall Street Oasis Investment Banking Interview Course is designed by countless professionals with real-world experience, tailored to help you break into investment banking by acing the technical questions.
Sample Compensation Distribution in WSO Company Database Shown Below (for HSBC)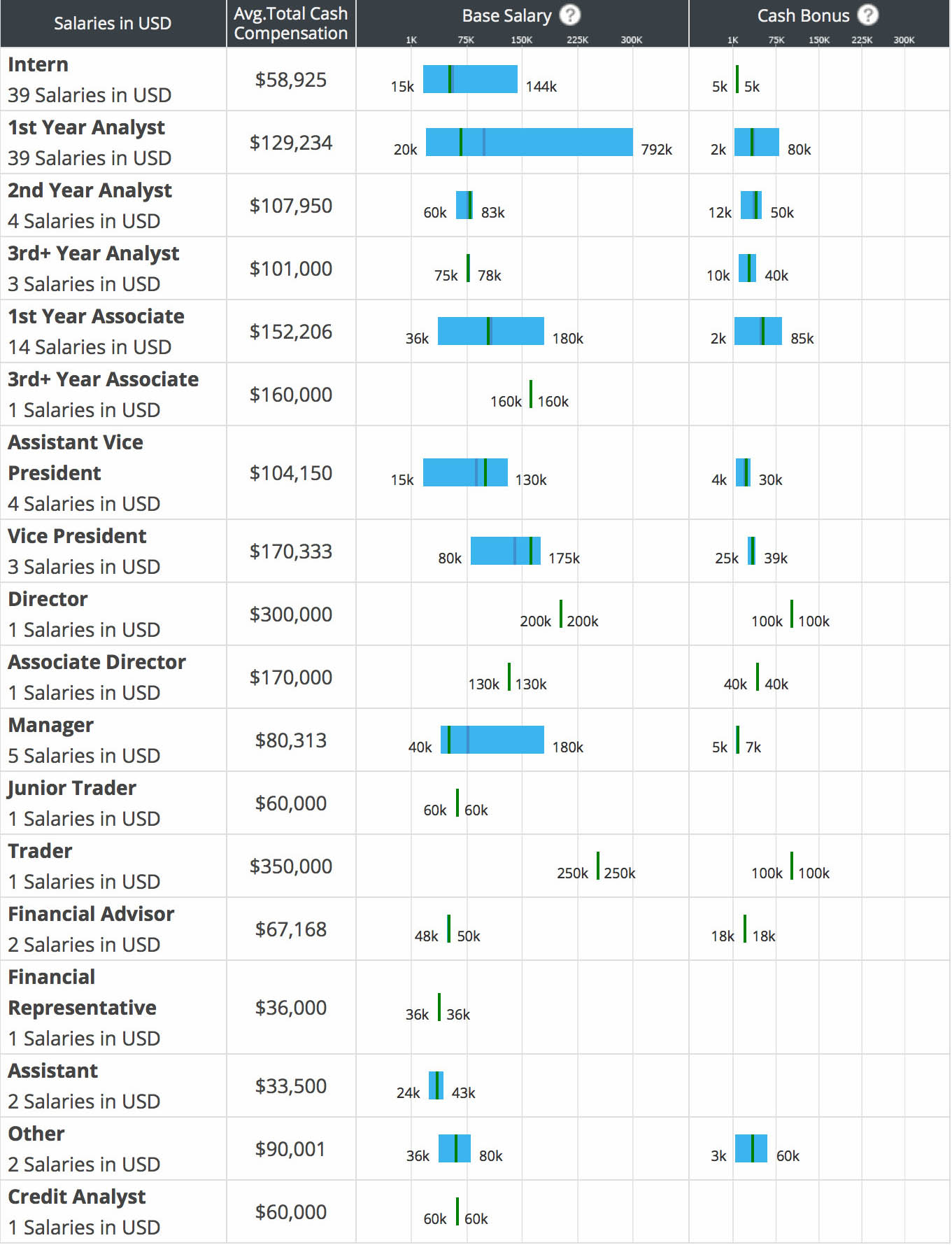 ---