See below for an estimated range of current investment banker salary levels.
Investment Banking Compensation:
Analyst - First Year: $70k - $150k
Analyst - Third Year: $120K - $350K
Associate - First Year: $150K - $350K
Associate - Third Year: $250K - $500K
Vice Presidents: $350K - $1.5MM
Managing Directors/Partners: $500K - $20MM+
These figures are an approximation and rough range based on the user registration data on Wall Street Oasis as well as the thousands of discussions on compensation that the community has had around compensation at these levels. Below is a sample table of investment banking salary and bonus levels at one bank (HSBC). If you contribute to the WSO Company Database, you can get access to thousands of detailed compensation statistics across thousands of investment banks.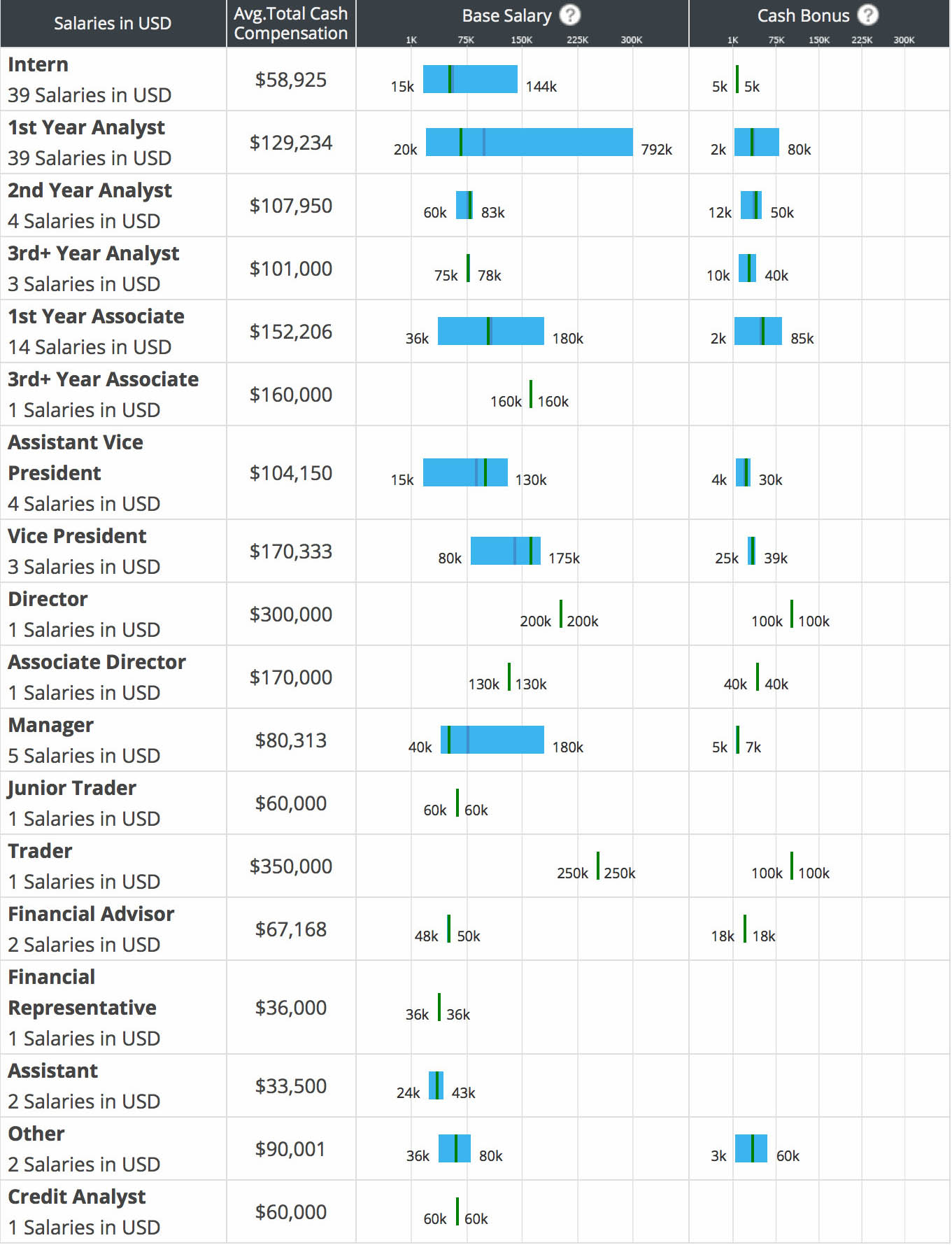 HSBC Compensation
Above are approximations to investment banking salary and bonuses at various levels of seniority (in this case pulled from the HSBC data in the WSO Company Database). From analysts to managing directors, the pay is traditionally heavily weighted toward the investment banking bonus portion of the compensation which is part of the reason for such long hours. Obviously, these figures can vary significantly depending on the firm and region, so if you are looking for more detailed or firm specific salary and bonus data, you should check out the WSO Company Database which has thousands of detailed submissions.
At the analyst level, it is not uncommon to work between 80 to 120 hour weeks at some firms. Most analysts start in the summer and receive their first investment banking analyst bonus around June or July, approximately one year after the analyst starts working. Analysts also often receive a signing bonus from $5k to $20k as well as a moving bonus if they are transferring laterally to a different bank.
At the associate level, the hours are usually still long, however, traditionally 10-20% less than that of analysts. Some associates are internal promotes, but the majority have attained an MBA. Associates also receive a sign on bonus traditionally from $10k to $30k, and a stub bonus. Each firm is different, but traditionally since Associates usually start in the Fall and the first bonuses are paid in the Spring, the stub bonus is for three to six months of work.
The salary and bonus for Vice Presidents and Managing Directors in investment banking is much more variable, but is usually much more of a function of the firm's performance. At the more senior levels, investment banking pay is based more off of individual revenue generating performance.
---
Curious about compensation at specific investment banks? Check out our WSO Company Database. If you are prepping for tough investment banking interview questions, check out the WSO IB Prep Pack.