Study Abroad
IB
Points)
on 7/3/12 at 10:30pm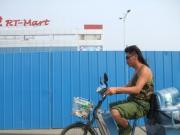 Maybe I have a slightly different perspective on this topic because I grew up literally in the middle of a corn field and the extent of my childhood multicultural experience was talking to the 4 or 5 Hispanic kids in my grade whose parents worked at the canning factory during harvest season, but whenever I hear somebody ask whether they should study abroad as opposed to doing an internship or minor, I have to chuckle.
I chuckle because in my mind there is absolutely no reason why one wouldn't do a study abroad. Maybe it's because my hometown was 98% other white people and I wanted to get as far away from that as possible, but I really think study abroad should be required for every student. And not just because getting wasted in a foreign country and all the shenanigans that go along with that is really fun. There are actually real skills to be gained, skills you will never get from a paper pushing internship.
It starts by picking the right city to go to. For the love of God please don't go to London. There are few things that are a bigger waste of time and money than going to another English-speaking country to do a study abroad. If you're going to do it, do it right. Do a program that is conducted in a foreign language, or a straight up intensive language program in a developing country. Throw yourself into an unfamiliar environment. This is an expedition, not a vacation.
By jumping into a culture you've never experienced before, not only will you learn a ton about that other culture, but more importantly at the same time you'll learn things about just as much about yourself- how you react and adapt, why you have certain perceptions and expectations.
Leave your laptop back in the States. The more you disconnect from your lifestyle in the US, the more you will be able to integrate into the new environment. How good of an experience can you have if you sit on your Facebook everyday chatting with your friends back home?
If you do it right, after the initial excitement wears off you won't enjoy your experience. You'll miss your family and friends. You'll hate the fact that everybody speaks a different language than you. You'll have a hard time understanding the different values system. More than anything you'll just want to go home.
After a few weeks though you'll start to feel better as you figure things out and become more settled in. You'll become more comfortable getting around in the local language. By the time you have to go home, you'll almost feel a little bit like you're actually leaving home. It will feel good to go back to your family and friends, but you'll feel like you're leaving something behind.
In regard to exactly which semester to go abroad, I recommend doing it the summer after your freshman year or the fall of your sophomore year. If you have your heart set on doing finance internships in New York, studying abroad earlier in your college career not only gives you flexibility to pursue internships, but will also better prepare you for those internships by helping you understand how you operate in an unfamiliar environment.
Heck you could even do a semester abroad, come back for a year and then go abroad again for a year. Maybe that would cause you to delay graduation by a year, but you have your whole life ahead of you to sit in an office being someone else's bitch. Spend the time you have now doing something that actually matters. Study abroad teaches not only helps you learn about a foreign culture, but helps you understand yourself.