General Advice To Women Post

IB
Points)
on 3/30/10 at 6:46am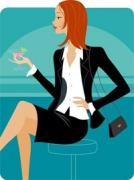 Looking around WSO there are few specific posts that regard women in finance and they don't cover that much.
So how about you write a piece of advice here for women that want to land careers in IBD or generally finance?
Let me give you some pointers :
- What to wear during interviews / at work
- Do you remember an incident with a female colleague that you find worth mentioning?
- How are women generally treated? is there prejudice?
- Tips for office politics ?
- As a recruiter how would you like a woman to interview?
- Bitchy VS nice?
Any randomness is welcome I just think it would be great if the girls on WSO had a general reference post.
Off course feel free to reply with : "Double D's are a prerequisite for IBD" but please give some helpful tips too :D