Recommend a Phone? iPhone? Samsung Galaxy? Blackberry?
Pages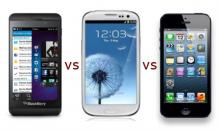 I'm thinking of replacing my phone "iPhone 4" now that the time limit is up and am thinking what phone to get. So far my list (not in any specific order):
1. Samsung Galaxy S4
2. HTC One
3. Nokia Lumia 920
4. Blackberry Q10
5. iPhone 5
Wanna get some thoughts on the WSO community. I've used an iPhone, and blackberry in the past, but I'm sure I won't have trouble getting adjusted to the Android Platform.
As a college sophomore I was thinking Blackberry Q10 might seem more "professional" as opposed to a regular smartphone, or am I over thinking this? Which one do you think is best?
The WSO Advantage - Land Your Dream Job
Upcoming Events
Oct 10 2015 - 8:00am

to

Oct 11 2015 - 8:00am

Oct 10 2015 -

1:00pm

to

2:00pm

Oct 11 2015 - 8:00pm

to

Oct 12 2015 - 9:00pm

Oct 14 2015 - 8:00am

to

Oct 15 2015 - 8:00am

Oct 15 2015 (All day)

to

Oct 16 2015 (All day)
Poll
Long term, which career path interests you the most?
Accounting
0%
Asset Management
8%
Commercial Banking
1%
Consulting
5%
Corporate Finance / Strategy / Development
8%
Entrepreneurship
6%
Equity Research
4%
Fintech
2%
Hedge Fund
21%
Investment Banking
10%
Investment Advisor / PWM
1%
Private Equity
16%
Prop Trading
1%
Real Estate
5%
Sales & Trading
3%
Venture Capital
5%
Other Finance Role (academia, non-profit, government, legal, etc)
1%
Other - Non Finance
2%
Total votes: 480