Recommend a Phone? iPhone? Samsung Galaxy? Blackberry?
Pages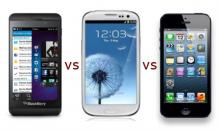 I'm thinking of replacing my phone "iPhone 4" now that the time limit is up and am thinking what phone to get. So far my list (not in any specific order):
1. Samsung Galaxy S4
2. HTC One
3. Nokia Lumia 920
4. Blackberry Q10
5. iPhone 5
Wanna get some thoughts on the WSO community. I've used an iPhone, and blackberry in the past, but I'm sure I won't have trouble getting adjusted to the Android Platform.
As a college sophomore I was thinking Blackberry Q10 might seem more "professional" as opposed to a regular smartphone, or am I over thinking this? Which one do you think is best?
Don't Miss This Awesome Related WSO Content
Upcoming Events
May 30 2015 - 5:00am

to

May 31 2015 - 5:00am

May 30 2015 - 1:00pm

to

May 31 2015 - 10:00pm

Jun 1 2015 - 11:00pm

to

Jun 2 2015 - 12:00am

Jun 2 2015 - 3:00pm

to

Aug 2 2015 - 12:00am

Jun 3 2015 -

1:30am

to

2:30am
Poll
What's your favorite suit color for work?
Charcoal / Charcoal pinstripe
24%
Black pinstripe
6%
Brown / Brown pinstripe
2%
Gray / Gray pinstripe
8%
Navy / Navy pinstripe
60%
Other
2%
Total votes: 199