Sh*t just got real

AM
Points)
on 6/13/12 at 11:00pm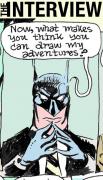 As some you know I almost broke in to a FO role at BB last month. This would have been huge because I come from a non-target and have zero internships and a modest GPA. I lost out because of some BS reason. You can read the story below.
http://www.wallstreetoasis.com/forums/i-almost-broke-in
Well sh*t just got real. I received a call about 20 mins ago from the recruiter who cut me loose. Apparently the hiring manager really does want me on the team. So, they have decided to do something they have never done before. Next week I will have to go to the BB's Houston office and face a panel of 5 senior level people.
I will have to convince this panel that I am worth the headache of overriding Compliance. The recruiter said this will be a very "intense" interview and I will have to wow them. She has no idea on the structure but knew my compensation would be the last topic covered. She used the example of a court room. That I would be the lawyer and the 5 seniors being the judges.
Any ideas on what to expect? It is PWM at a BB and also a client facing role and liaison to a handful of PE firms and HF firms in Houston, San Fran and LA.
Do not pray for easy lives. Pray to be stronger men.- JFK