Vilification of Young Wall-Streeters

O
Points)
on 5/25/12 at 1:40pm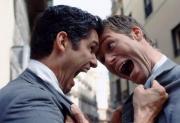 So, I haven't posted here in a while, but I wanted to take a quick second on this dreary morning of the unofficial start to the NYC summer to write about
the vilification of young finance professionals in the minds of those outside the industry. This story really has no goal, I am just looking to start an open discussion I guess. It comes as a result of two unrelated experiences.
First is my recent experience with my extended family. While you would think these people would be supportive of me and my career, the "liberal" side of my family sees me as no different than the Raj's of the world. They think my job involves nothing more than "manipulating money" (a direct quote) and reaping gains while not actually contributing anything to society.
This is interesting as it comes from people who complain about their inability to get a loan for their business, and I am currently working at a leveraged loan shop, evaluating and loaning millions of dollars to businesses in need of capital... But I guess I'm just pushing buttons and manipulating money.
The second experience (and the one that inspired this post) occurred around 1am at a bar last night/this morning. I was enjoying myself, sipping my beer, having a nice conversation and entertaining a lovely young lady at the bar. Everything was going well, making the normal small talk, until we get to the "what do you do for a living" question. Casually, I say that I work in finance, not trying to bore her with the details (maybe I should have...). Instant turn off. I may as well just told her I have syphilis and murdered puppies for a living. WTF? It used to be great to be in finance; now, I would probably be better off saying I have a G.E.D. and work as a garbage man.
I guess my point is this: Finance used to be respected. Those in the industry were seen as smart, driven, hard-working, successful individuals. Most of us (I think) still fit this description; however, due to the actions of a few we are seen as second-class douche bags. I think my family may give my cousin the waiter more respect for what he is doing than me for what I am doing.
But let me say this, I know how hard I worked to get where I am today and how hard I work at work every day. Those who aren't in the industry, or don't know me, don't get it, and it sucks. They think I am nothing more than a monkey that works 100-hours per week (sorry if you do, put in your time, it won't be like that forever) contributing nothing to society. As I sit here and prepare to blow out of my office at 11am to start my summer, I say… f*** 'em all, and just hope that eventually the stigma wears off. Happy Memorial Day weekend monkeys…