Yield simply means the return on an investment, usually the interest paid on a fixed income asset. It is expressed as a percentage and the calculation is simply return divided by cost. Yield measurements are most commonly associated with bonds and there are 3 main kinds of yield to consider:
Current Rate - the rate of interest relative to the current bond price
Coupon Rate - the interest raid paid at the time of issue
Yield to Maturity - the return an investor can expect over the remaining life of the bond
To learn more about this concept and become a master at bonds and fixed income, you should check out our Bond Course - Fixed Income (coming soon!).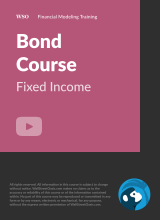 Related Terms