A comprehensive breakdown & discussion regarding the near instantaneous collapse of FTX
Creating this thread to share a couple of the more compelling breakdowns of the current exchange meltdown we're all witnessing happen in real time over Twitter. This collapse puts the Mt. Gox scandal to shame in my opinion. I will be adding to this post as new stuff comes up that I find interesting/relevant, this whole thing stinks with a potent Epstein-esque odor - SBF's whole persona is manufactured through a fanfare of marketing and endorsements from major athletes, investors, and politicians across the US. 
What do you think happens next? Who do you think goes down for this? The meteoric rise and fall of this company makes Enron look like the little leagues by comparison. 
I posted previously about how sketchy SBF seemed back in March along w/ implications of Tether (which is seeing a ton of redemptions since this new debacle kicked off, unsurprisingly). 

Full list of investors who have effectively lost everything.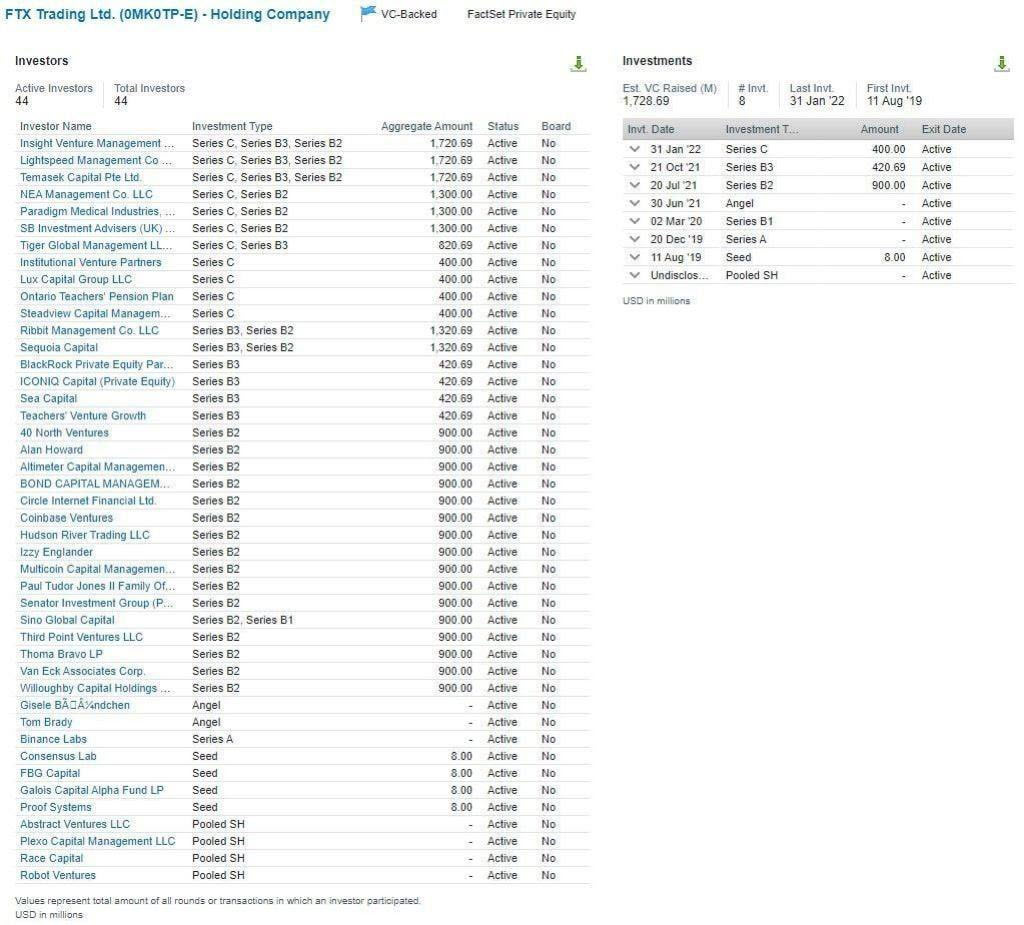 The most comprehensive breakdown for someone coming in fresh IMO is this substack of which I'll include an excerpt below (there are a ton of fun rabbit holes to chase).
FTX's $32B implosion

It was an insane week for crypto.

Bahama-based crypto exchange FTX saw its valuation plummet from $32B to $0 in one day. It's founder Sam Bankman-Fried (everyone calls him SBF) saw his net worth evaporate from $16B to $0.

The SBF/FTX implosion is drawing parallels to the infamous energy trading company Enron: a once high-flying firm taken down by criminal financial engineering f**ckery.

In the case of FTX, the criminal element is the misappropriation of ~$10B of customer deposits (as a teaser of what's to come, SBF told Reuters that mis-handled funds were due to "confusing internal labeling").

Meanwhile, people have been live-tweeting the news non-stop (Twitter memes and financial scandals go together like peanut butter and jelly).

The saga is still ongoing but here are key points:

SBF is an MIT grad who worked at a quant trading firm (Jane Street) before founding a crypto hedge fund (Alameda Research) and a crypto exchange (FTX) in 2019
The relationship between Alameda Research and FTX has always been opaque (eg. some people believe that Alameda front runs trades based on information it has from the FTX exchange; SBF has denied this but…well, you'll see)
One of the earliest investors in FTX was Binance, the world's largest crypto exchange that is run by Changpeng Zhao (everyone calls him CZ). In 2019, CZ invested $100m into FTX for 20% of the firm.
FTX has an underlying token called FTT, which offers certain benefits for users of the FTX crypto exchange but - in reality - has no underlying value outside of what people believe it is worth (like most crypto tokens)
Over the past year, SBF's profile has risen significantly as FTX raised >$2B from platinum investors and gained a valuation of $32B. SBF's personal wealth swelled to $16B and he talked up his commitment to effective altruism (he only wanted to make money to "give it away"). SBF also became one of the Democratic party's biggest donors.
FTX deployed $300m+ on marketing to woo retail investors including stadium naming rights (Miami Heat, which has since dropped FTX), sports partnerships (Steph Curry, Tom Brady) and Super Bowl ads (Larry David). The PR push worked with FTX becoming the 2nd or 3rd largest crypto exchange in the world (FTX also has a US-based firm called FTX US - once valued at ~$8B - which was ostensibly not involved in the financial shenanigans but…well, you'll see).
CZ sells out of FTX. By the Fall of 2021, FTX had become a serious competitor to Binance and CZ wanted to sell his FTX stake. SBF bought CZ out for $2B+, but part of the deal included CZ receiving a lot of FTT tokens (remember this fact).
In March 2021, the Fed started raising rates to battle inflation. Speculative assets (*cough* crypto *cough*) started tanking. A number of crypto funds and brokerages blew up. SBF came in as a bailout "savior" (some compared him to the banker JP Morgan, who propped up the banking industry after a crash in the early 1900s). As we now know, SBF's hedge fund Alameda Research was also hit hard by the crypto drop…but SBF was able to temporarily hide the problem by "borrowing" customer deposits at FTX (between $5B to $10B) to plug the hole at Alameda. This move is a violation of the terms of service and is essentially the crime, especially since the borrowed customer funds are somehow all gone now.
SBF was the face of the crypto industry's push for regulation. He appeared before Congress a number of times and lobbied to have clear regulation written (the latest lobbying efforts looked to knee-cap decentralized trading exchanges in favour of centralized exchanges…like FTX)

 
He's been cultivating such a carefully curated imagine it's hard NOT to be suspicious. Especially when you see what he's been doing with much of his inexplicably vast wealth, becoming the second biggest donor to Joe Biden during the 2020 election and one of the big whales in politosphere alongside names like George Soros. 
Politico - How the newest megadonor wants to change Washington
He was also one of just a handful of donors who spent $10 million-plus backing President Joe Biden in 2020, and in the last year, he's hired a network of political operatives and spent tens of millions more shaping Democratic House primaries. It was a shocking wave of spending that looked like it could remake the Democratic Party bench in Washington, candidate by candidate. Looking ahead to the 2024 election, he has said he could spend anywhere from $100 million to $1 billion.
FTX's Sam Bankman-Fried was the second-biggest donor for Joe Biden's presidential campaign  
Post by famous YouTuber Nas Daily
Some very entertaining theorizing from Twitter @WillManidis

Some other crypto-related news that interestingly involved intelligence agencies running illegal ops out of the Bahamas.
MakerDAO co-founder found dead after tweets of sex trafficking by CIA 

Just 1 day after tweeting this one of the founding members of MakerDAO, a DeFi protocol which would have gone against everything that FTX and these massive exchanges stand for, was found dead in the water in Puerto Rico. 

 
And some slightly more disturbing theorizing and connections being explored from Reddit when taking into account the above story. 

And it wouldn't be complete without some greentext