MARKETS
Markets: Stocks gained with Bezos at the forefront-Amazon had its best day since December 2018, rising nearly 8%. The S&P turned positive for the year.
COVID-19: President Trump tweeted a picture of himself in a face mask, saying "it is Patriotic to wear a face mask when you can't socially distance." Trump only recently wore a mask in public for the first time.
Want Morning Brew Daily Served Fresh to Your Inbox?
Drop Your Email Below...

IPO
A Giant Debut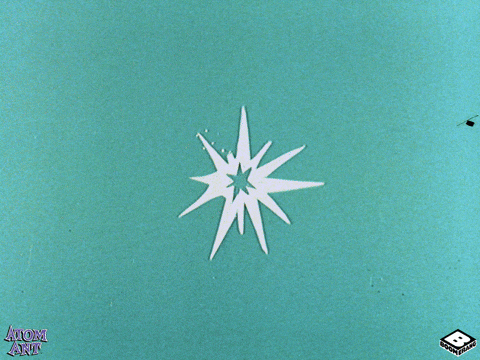 Ant Group, Alibaba's online payments arm, is eyeing a record-setting IPO that would reportedly value the Chinese fintech giant at a non-ant-sized $200 billion.
In 2011, Ant Group (then called Alipay) separated from Alibaba in order to satisfy Chinese financial regulators. Since then it has grown into a juggernaut-valued at $150 billion in 2018, it netted $2.2 billion in profit in the last quarter of 2019.
What does Ant Group do?
A better question might be: What doesn't it do? Bloomberg describes Ant Group as an "online mall for everything." The Brew describes it as a combo of PayPal, JPMorgan, and Amazon that's only getting bigger.
Alipay, its payments app with 1.3 billion annual active users, has morphed into a "superapp" that handles everything from online shopping and Starbucks memberships to telemedicine and restaurant reviews.
Ant Group also owns Yu'e Bao, the world's third-largest money market fund. With over 600 million users, the fund experienced explosive growth after Chinese consumers started using it as a checking account.
If you want some buzzwords: Ant Group is also making inroads in artificial intelligence, cloud computing, and blockchain technology.
As with everything these days...
U.S.-China tensions lay just beneath the surface. Ant Group has decided to skip U.S. capital markets for its mammoth debut, choosing a dual listing in Hong Kong and Shanghai instead. It's a huge win for the Hong Kong Stock Exchange and Star Market, China's 1-year-old Nasdaq rival, in the fight to retain high-growth Asian tech companies.
Bottom line: Ant Group hasn't announced a timeline for its listing yet. But its decision to roll with Star Market and Hong Kong is a key milestone in China's quest to be technologically self-sufficient.

PHARMA
Vaccine Makers Jockey for Position

The Kentucky Derby and presidential election can only dream of the horse-race coverage coronavirus vaccines are getting. Yesterday, two favorites sealed their spots at the head of the pack.
First, a vaccine developed by AstraZeneca and Oxford University caused an immune response against COVID-19 in a study of ~1,000 patients, according to new research. The vaccine has moved into combined Phase 2 and 3 trials (Phase 3 = the last step in determining if it works).
There were side effects, including fever, headaches, and muscle pain. But if we've learned anything from TV commercials, those count as mild to moderate.
A separate study from Chinese biotech CanSino showed positive antibody responses in a Phase 2 trial. The vaccine was less effective for patients 55+, but is still entering Phase 3 studies.
Zoom out: Exciting as these developments are, it's still early. The WHO acknowledged there's an uphill climb through larger scale, real-world trials ahead. But if AstraZeneca keeps its grades up and makes it to production, it has a $1.2 billion deal with the U.S. for 300 million doses this fall.
+ Follow the vaccine race with this tracker from the NYT.
ENTERTAINMENT
Warner Bros. Tentative With Tenet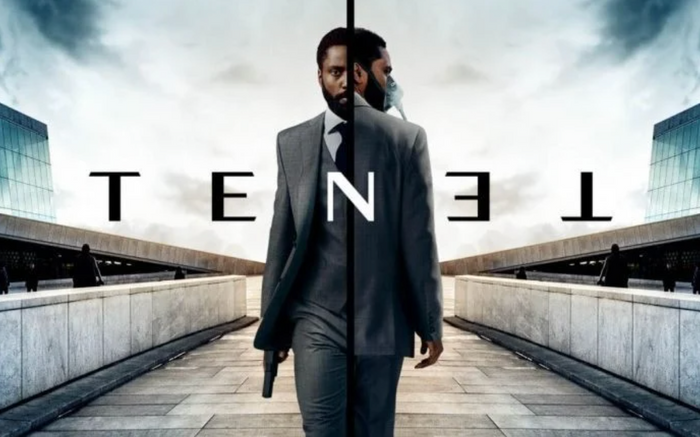 It looks like the coronavirus pandemic has taken over time-warping duties from Inception director Christopher Nolan. Warner Bros. announced yesterday it is delaying the release of the famous director's latest production, Tenet, indefinitely.
The backstory: Christopher Nolan movies at the box office are as close to non-Marvel slam dunks as you can get. So Warner Bros. has been ultra-careful (delaying the film three times now) to make sure Tenet has "the highest odds of success" during widespread theater closures.
Some options
Go overseas: While the U.S. is the largest movie market in the world, huge blockbusters like Tenet can generate up to two-thirds of their total box office haul from the international market.
Go online: With the success of digital-only releases like Hamilton on Disney+, some see this as the no-brainer option. But Christopher Nolan is a huge proponent of the theatrical experience and Warner Bros. will likely do what it can to keep Nolan happy.
TRAVEL
Airlines in Search of a Defibrillator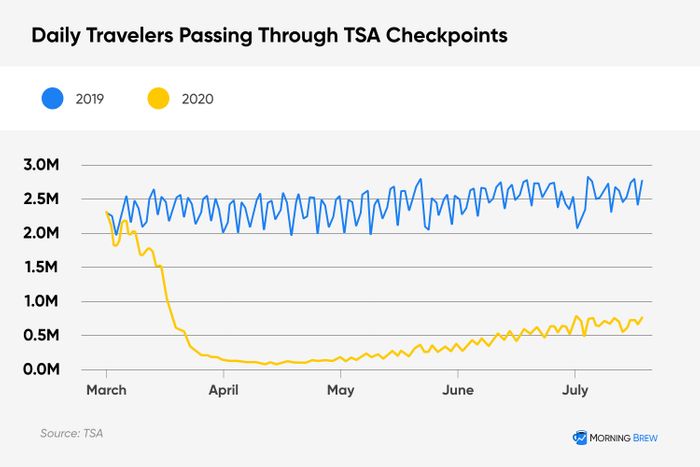 After a slow climb up from the depths of COVID-19 travel shutdowns, airlines are watching their business flatline once again. In the week ended July 19, fewer than 4.7 million travelers stood in their socks at U.S. airport checkpoints, according to TSA data released yesterday.
The more than 4% decline from the prior week marks the first weekly drop in air travel since April.
Zoom out: With rising COVID-19 cases crushing the summer travel season and their lucrative business travel segment collapsing, airlines are asking workers to hang up those pressed slacks.
Southwest said 28% of its employees are interested in exit deals or extended leave.
Delta is considering early retirement for some pilots after 2,200+ requested to hit the mahjong tables a few years early (in exchange for extended health insurance coverage and partial pay for up to three years).
Looking ahead...United reports earnings this afternoon, and American and Southwest will say their piece Thursday morning.
ANTITRUST
The Case of Microsoft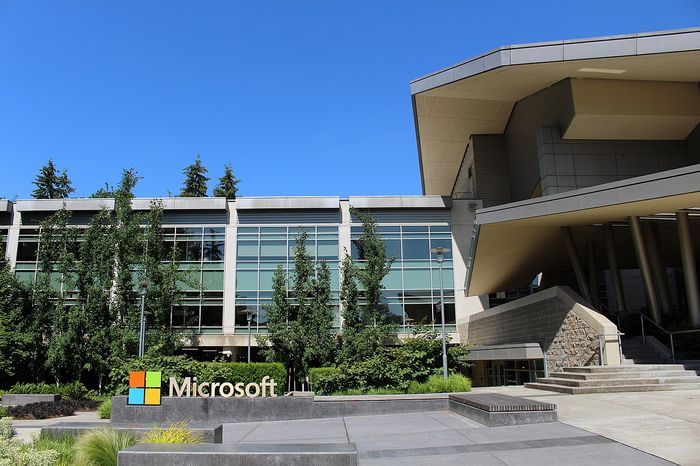 Next Monday, the antitrust subcommittee of the House Judiciary Committee will ask several of Silicon Valley's top CEOs to explain themselves like they're Justin Timberlake after the 2004 Super Bowl.
That includes Amazon's Jeff Bezos, Google's Sundar Pichai, Facebook's Mark Zuckerberg, and Apple's Tim Cook.
For a sense of what could happen...
Look to the past. In 2002, Microsoft settled a looong antitrust case over the practice of bundling its Internet Explorer browser with its Windows operating system.
After bouncing around the courts, Microsoft settled with the Department of Justice by agreeing to 1) share its API with third parties and 2) to appoint an oversight panel for a few years.
A federal judge determined Microsoft was behaving monopolistically, but Microsoft didn't have to un-bundle IE from Windows.
But Microsoft did dial things back, which helped create an opening for some of today's tech giants.
The case also tested Microsoft founder Bill Gates-in a deposition, he answered questions so evasively the presiding judge shook his head and laughed. The execs testifying next week could learn something from Gates's poor performance.
+ For more...we wrote a guide for everything you need to know ahead of the antitrust hearing. Bookmark this page-more to come throughout the week.
WHAT ELSE IS BREWING
The UK suspended its extradition treaty with Hong Kong (a former British territory) because of China's new security law.
Chevron will buy Noble Energy for $5 billion in the first big energy deal since oil prices crashed.
The NY Giants and Jets won't play their home games in front of fans this upcoming NFL season. In other sports news, Dr. Fauci will throw out the ceremonial first pitch for the Washington Nationals season opener on Thursday.
About a quarter of office employers in NYC say they'll reduce their footprint by at least 20%.
IBM beat earnings expectations under new CEO Arvind Krishna. But sales declined annually for the 28th time in the last 32 quarters.
MASCOT TRIVIA
Over the weekend, FiveThirtyEight categorized mascots across the WNBA, NBA, NFL, MLB, and NHL. Here are the results of that research.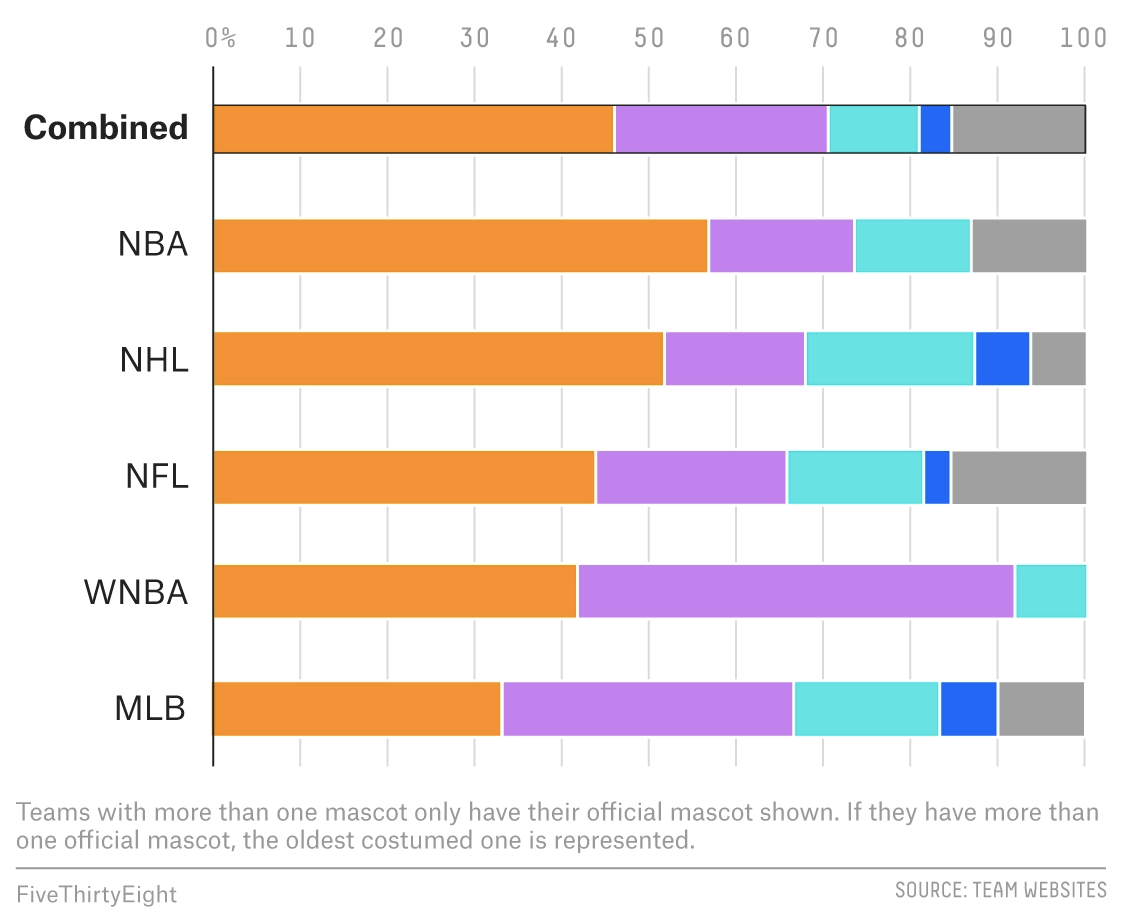 The question: Can you determine which color belongs to which category of animal? Your options include: sea, land, sky, make-believe, and no mascot.
Want Morning Brew Daily Served Fresh to Your Inbox?
Drop Your Email Below...

MASCOT TRIVIA ANSWER
Orange represents land animals, the most popular. Purple is make-believe, light blue is sky, darker blue is sea, and gray is "no mascot."