Down, Down, Baby | The Daily Peel | 5/9/22
What a week! After the worst day for stonks since June of 2020, futures pointed lower Friday morning. Oil is up, up, up over $110 a barrel, and BTC is sliding significantly lower. At its highest in 3.5 years, the 10-year yield is flirting with 3.15%, probably forcing your growth portfolio to blow TF up. Friday's jobs and unemployment data make us wonder: why is a 75 bps rate hike not on the table?
Friday was a day that teased us with deeper mid-day lows, but after a slight recovery, the markets didn't fare too terribly. The Dow and S&P closed only slightly lower Friday, down 0.30% and 0.57%. As per usual, the Nasdaq was our leading loser, finishing down 1.40%.
For today's Banana Brain Teaser, we'll unlock access to our WSO Foundations Package for 75 bananas off the sticker price.
Data can drive dealmaking. It can also confuse dealmaking. Join us on 5/11 to learn how to evaluate data service platforms that can help your firm to spot valuable investment and acquisition targets and win more deals. More Info Here
Let's get into it.
Maybe the economy is healthier than we thought after the most recent GDP print, as we 

added more jobs

 than expected, pointing towards "unstagflation"

The truth is in the data; we found someone who can help you squeeze it out
The traditional athletics apparel retailers are out of favor on Wall Street
Automaker Ford is about to splash the pot, dumping 8mn shares of Rivian all at once
I did not know this: Trader Joe was a real person
The answer to Friday's Banana Brain Teaser was chess. Thanks for the crap-ton of responses, and congrats to our winner. You can compete again this Friday for more free SWAG.
Today, for the first ten Apes to respond with a correct answer, we will unlock our WSO Foundations Package for 75 bananas off the sticker price. Let's see what you guys got:
Two moms and two daughters are on a road trip together, but there are only three people in the car. How is this possible?
An Intervention - Thirteen years.
Thirteen years: the amount of time that all of you degens have been getting high off the Fed's supply.
What, you ask, was this supply? Well, quantitative easing and those sweet, sweet near-zero interest rates.
When the Fed buys long-term securities, including mortgage bonds and treasuries, it helps boost the economy. This essentially increases the money supply and introduces downward pressure on interest rates.
In turn, it makes it easier for banks to lend and for consumers to borrow. Then boom, consumption and increased velocity of money.
When it works, it's a beautiful thing. You can see smashing growth over time and both a strong main street and a strong Wall Street economy.
But when things get out of hand, you can end up in the position we are in today: too much money chasing too few goods. If you're late in recognizing this (transitory, I promise), the greatest tax will start to take money out of consumers' pockets.
Apparently, our thoughts on Wednesday's rally were incorrect; Thursday showed us that the markets aren't necessarily convinced that the Fed is that serious about inflation.
Worst case scenario: asset prices, aka your precious yolo'd Robinhood accounts, trend lower and in a hurry, AND the CPI keeps going up because inflation keeps burnin' like Sean Paul.
At the same time, it makes me wonder how far out of the money the Fed put is these days. I've heard all sorts of opinions about it, and everyone has a different one about how little Daddy JPow cares about stonks.
The consensus, in our book, is that he doesn't give a flying f*ck about asset prices. Sorry, Apes, the Fed isn't going to stop-loss the markets for you.
Is this an intervention? After more than a decade of Fed-induced degeneracy, is it finally time for a long hard look in the mirror?
[Webinar] Unvarnished Opinions About Dealmaking Data Services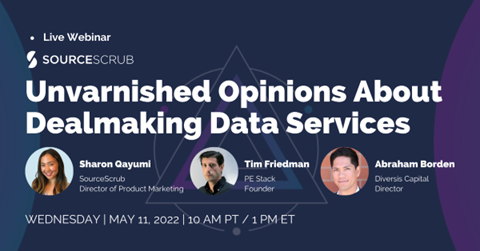 It's clear the right data can help not only spot valuable investment and acquisition targets, but win more deals. The big question is which data service or platform is best for your firm? Join us on 5/11 with Tim Friedman, founder of PE Stack, and Abe Borden, director at Diversis Capital, for some unvarnished opinions and questions you need to consider as you evaluate the options.
Monster Beverage Corp ($MNST) - Don't act like you haven't pulled an all-nighter fueled by Monsters and loud metal. It's a right of passage.
Even after earnings that were slightly weaker than expected, shares of the carbonated sugar water peddling beverage maker ripped higher on strong revenues for the previous quarter. Shares ended the day up 4.37%.
NRG Energy Inc ($NRG) - In case you live under a rock, energy prices are up. Electricity prices are so high that I get dressed in the dark and am experimenting with putting my pants on two legs at a time.
How any energy company can not make a pretty penny during this Biden administration-dubbed energy crisis, our savior JPow only knows.
But here's a head-scratcher: $NRG missed on both earnings and revenues. Apparently, their leadership has a silver tongue because shares ripped after their earnings call on Friday.
Shares closed Friday up 9.67%. What's not to love about a value energy company that actually turns a profit in a bear market with a P/E of 4 and a dividend yield of over 3% at current levels?
Zillow ($Z) - After a nice beat on earnings and revenues as well as strong paid viewing performance this quarter, shares of the Robinhood for wannabe realtors traded sharply lower on Friday morning during pre-market hours.
The reason? Revenue guidance for the current quarter was almost 50% lower than current estimates. Yikes! On the news, $Z looked up to Amber Heard and took a steaming dump in the morning, but it had a slight recovery to finish the day. At close, $Z was down 4.35%.
Lululemon ($LULU) - There's no shame in adding a little metro to your wardrobe, even if their pants are a little bit tight in the lulus. Apparently, I was one of the only few to hold this sentiment on Friday.
Shares of the athleisure-etica brand have actually held up decently well this year, only down about 18% after Friday's 7.73% shelling. My guess is that they're down that much because they only score a B in CDP, my favorite ESG metric.
It would appear that Lulu is doing most things right, and their most recent quarter shows better than solid revenue growth in line with expectations and guidance, as well as a strong EPS. You just have to take issue with a P/E in the 40s for a retailer that has brick-and-mortar stores that sell mostly yoga pants to fit women under 40.
Jobs, Jobs, Jobs - One of the absolute beauties of our current labor market is that it's pretty effing hard to have a tough r-word when there are 11.5 million open jobs.
Even if one sector gets crushed in a contraction and $hits away tens of thousands of jobs, there are companies waiting in line to hire marginally qualified candidates.
Rumor on the Street is that tech startups are about to commence layoffs. While this kind of sucks if you're a victim, you probably get to keep your equity, and you can go somewhere else to get paid what you're worth if you're any good.
It turns out that regardless of your industry and regardless of your role as an individual contributor or management track, the fastest way to get a pay raise or a promotion is to job hop.
Boomers used to give out really crappy advice on this: no one likes a job hopper. Today, Gen Z-ers are taking that advice with like 3 lbs of salt, proving to be the most mobile generation in the workforce in American history.
If you don't like your manager or your hours or your coworkers, if you have the skills and a resume to boot, you can just pack up and leave. Unless you're trying to apply to a job that has six rounds of interviews, a drug test, and a blood sample, you can probably get another job by the time your two weeks notice is over.
Some of you more entrepreneurial sheisty mofos did a little bit better than that. Shoutout r/overemployed. Why do one full-time job really well when you can do two with mediocrity and double your salary? I applaud this; you are my spirit animal.
That was only the beginning of the jobs boom. Ironically, as services and hospitality industry jobs were sent home during lockdowns and government-sponsored social distancing, the digital nomad-knowledge worker started to become mainstream.
We value our time. It's a resource that some extra hustle can't create more of. A more digitally-enabled workforce's eyes were opened to this in the last two years. We love WFH so much that some of us would rather quit our jobs than return to the office – more about this another time. Indeed, the leverage has been with employees and not employers in recent years.
This tight labor market is a solid backstop to help protect us from a deep r-word. However, if the economy really starts to slow from any single or a combination of a myriad of macroeconomic forces, the job market will slow. Don't be the last one job hopping when it happens.
"Don't make friends with trend, make friends with each candlestick." - Vivek Nair