FedExmas In Peril | The Daily Peel | 9/19/22
Stocks ended the week on a sour note, driven by a horrific earnings report from FedEx.
Investors were trying to unpack the micro from the macro, but FedEx is a decent bellwether for the economy overall. Less stuff being shipped = less earnings for the producers of that stuff.
The Fed will no doubt have this on its mind during the upcoming September meeting, as tightening into a slowing economy could mean a crash-landing right before the all-important holiday season.
At the close, the Dow fell 0.45%, the Nasdaq shed 0.90%, and the S&P dipped 0.72%.
Interested in gleaning both the big picture & the finer technical details of leveraged buyouts? Our WSO LBO Modeling Course will teach you the fundamental theories of LBO, as well as the importance of cash flow, debt, taxes, and scheduling.
Check it out here
Let's get into it.
Friday - Five people were eating apples. A finished before B, but behind C. D finished before E, but behind B. What was the finishing order?
CABDE. Putting the first three in order, A finished in front of B but behind C, so CAB. Then, we know D finished before B, so CABD. We know E finished after D, so CABDE.
Today - It's 100 bananas off of our LBO Modeling Course for the first 15 respondents. LFG!
The more you take from me, the bigger I get. What am I?
Shoot us your guesses at [email protected] with the subject line "Banana Brain Teaser" or simply click here to reply!
Rock and a Hard Place - Can't imagine what's running through JPow's head when it hits the pillow these days.
Inflation is a 4-alarm fire. Groceries and other essentials are eating further and further into household budgets, which will dent discretionary consumption that the rest of the economy depends on.
At the same time, the economy is undoubtedly slowing. Tech layoffs have become a contagion, and warnings from the likes of FedEx point to languishing demand going into the all-important holiday season.
Job openings continue to outnumber the amount of available working people, which gives JPow fodder for continuing to tighten the screws. Technically, he's only responsible for price stability and maximum employment, so his bases are covered.
Stock prices and profits plummeting? Not his problem.
It's kinda like when a deer jumps in front of you on the highway. You don't want to hit the deer, but slamming on the brakes and swerving could be much worse.
It feels like a good metric for determining the best path forward is looking at what will cause the least amount of pain for the average household on Main Street. Inflation blows, but if the cost of bringing grocery bills down is a breadwinner getting laid off-not sure that's the best course of action.
A goldilocks scenario of lowered inflation along with steady growth increasingly seems like a fantasy. That's just how this sh*t works; purposely slowing an economy causes pain.
How much pain and how fast it's administered is the big question. If we get a full point rate increase at one of these upcoming meetings, look out below.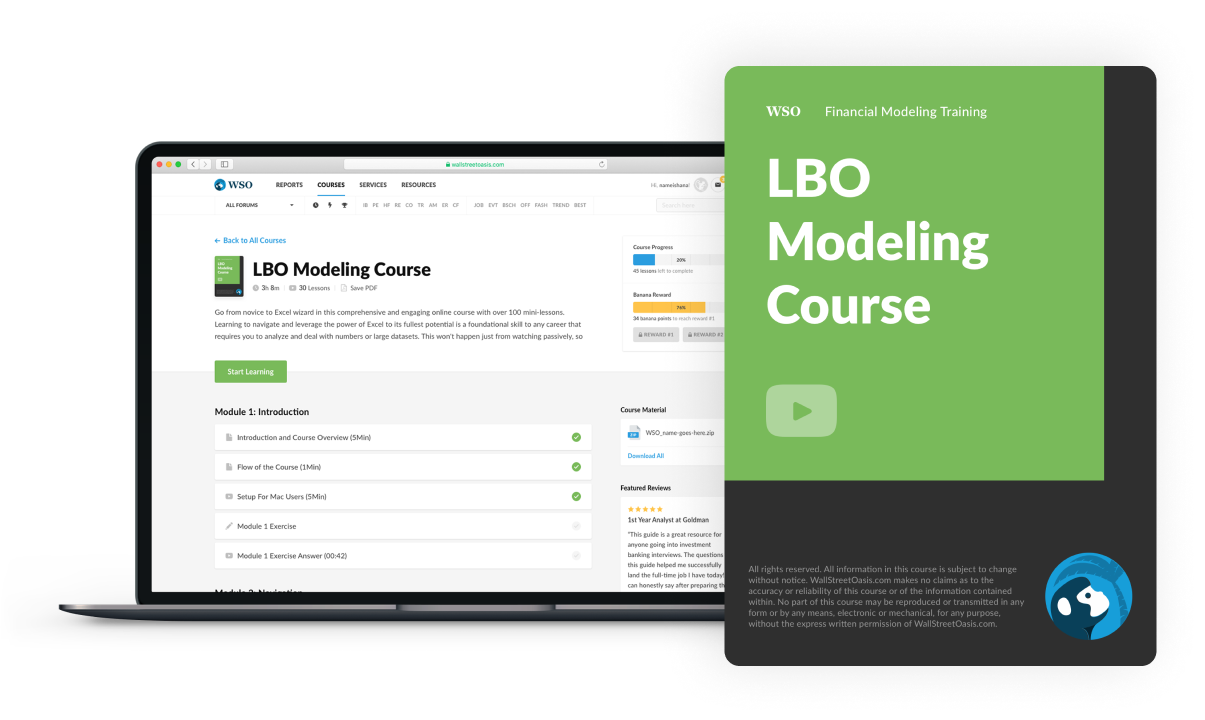 If you're looking to learn both the big picture and the finer details of LBOs, check out the WSO LBO Modeling Course.
Our course will teach you both the fundamentals as well as the importance of cash flow, debt, taxes, and scheduling through refined learning modules and applied case studies.
Our students have landed and thrived at the biggest firms on Wall Street after getting practical training from quality instructors with LBO experience.
Bowlero Corp ($BOWL) - Never thought I'd comment on Bowlero, but it was one of the few names in the green Friday.
Apparently, people are bowling way more than in the recent past, as the company reported a giant 68% YoY revenue increase. Executives pointed to a higher level of profitable event bookings as well as walk-in traffic.
You'd think the prospect of a recession would mean pessimistic growth expectations in the near term, but maybe people will opt for a cheap night of bowling and pizza over a nice restaurant when they're feeling squeezed.
Can't say I'm an expert in the bowling industry, so we'll see.
$BOWL ended the session up 7.35%.
American Eagle Outfitters ($AEO) - Cargos and logo tees ain't what they used to be, but AE has managed to maintain its young-adult casual wear niche.
It was one of several retailers to tick up on Friday amid a sea of red in most other stocks. $AEO is down 16% in the last month, so Friday's modest rise didn't comfort investors much.
AE is coming off a big earnings miss in Q2 and will have to deal with inflationary headwinds along with every other retailer.
It's fallen so much that despite the bleak outlook, investors see some bang for their buck.
$AEO ended the session up 1.67%.
FedEx ($FDX) - This isn't the type of name that usually moves up or down 20%+.
FedEx blamed much of its pessimistic outlook on macro headwinds, but there's a healthy amount of micro here too. It's struggling to compete in Asia and Europe, not to mention Amazon trucks overtaking FedEx ones on American highways.
But, in the words of its CEO, "We are a reflection of everybody else's business, especially the high-value economy in the world." Pretty ominous for anybody that makes a living by shipping stuff around.
The whole market sank on the FedEx news. By the end of the day, $FDX was down 21.44%.
Roblox ($RBLX) - This gaming-meets-social-media company reported more daily active users and higher revenues than a year ago Thursday. Investors weren't impressed and sent the stock through the floor.
As with inflation data, comparing YoY vs. MoM can tell an entirely different story. While the YoY numbers were stellar, the MoM picture wasn't-daily active users (DAU) declined from July to August, pointing to slowing growth.
Executives reaffirmed their long-term optimism, but investors thought Roblox was still too highly valued just a year after its monster IPO.
$RBLX ended the week down 9.20%.
The Kids Aren't Alright in Cali - It's one thing when we apes fry our brains looking at memes all day; it's another when it's 8-year-olds.
We've known forever that social media is terrible for kids. Yet too much of our political and social discourse happens in these new public squares, and billions in GDP depend on their functioning.
Gov. Newsom has decided to take matters into his own hands. The new California law will place responsibility on the likes of TikTok and Instagram to mitigate how much they're f*cking up teen brains.
At first glance, it feels a bit wishy-washy. Is Instagram going to ban photoshopped pics, claiming unrealistic body standards are harmful to kids? Twitter barely knows how many real people are on its site.
But at the same time, thank f*cking goodness there's some movement here. Much of the public gave up on significant social media regulation after seeing how little Congress understood about it during those public hearings last year.
Social media companies are complaining that state-by-state regulations will be hard to manage and are asserting that First Amendment rights are being violated. They'll likely spend years in court duking it out.
Hopefully, this law addresses the egregious privacy violations on TikTok, which everyone has basically ignored at this point.
Either way, it feels like this new law will be a litmus test for the country overall. If teen outcomes in California improve and can be linked to this law, expect similar ones to pop up.
Just one more reason for Zuck to get the hell out of the social media business and into the metaverse.
"The desire to perform all the time is usually a barrier to performing over time." - Robert Olstein