MARKETS
Housing: Picture a limbo stick that's barely an inch off the floor-that's mortgage rates right now. The average rate on the 30-year home loan crossed a key threshold to 2.98% this week, the first time it's been below 3% since they started keeping track.
COVID-19 update: The Republican National Committee is downsizing plans for its upcoming convention in Jacksonville, FL. Brazil has suffered at least 76,000 deaths, and India reported a record number of new cases.
Want Morning Brew Daily Served Fresh to Your Inbox?
Drop Your Email Below...

C-SUITE
Execs of Bankrupt Firms Get Participation Trophies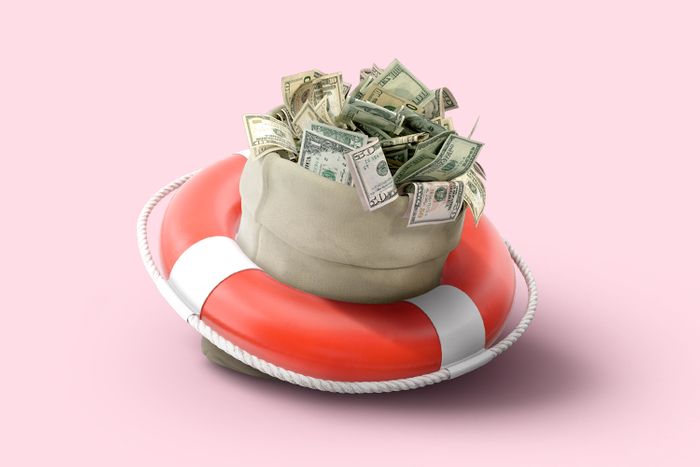 Lucky you-this Friday newsletter has not one but two news quizzes. What do the following companies have in common?
JCPenney
Chesapeake Energy
Hertz
Chuck E. Cheese parent CEC Entertainment
Neiman Marcus Group
Whiting Petroleum
If you guessed "all filed for bankruptcy," you're almost right. All of those companies paid execs bonuses riiiight before flipping to Chapter 11.
According to Bloomberg, 19 of the roughly 100 companies that have filed for bankruptcy during the pandemic have also committed to paying out executive bonuses.
Zoom out: Dropping dimes on the c-suite just before bankruptcy isn't unprecedented. But as you're probably sick of hearing, a lot of other things happening now...are. The historic economic crisis currently gripping the U.S. has some analysts questioning the timing of those payouts.
The case for bankruptcy bonuses: Proponents say the idea is to hold on to leaders who can maintain stability through a turbulent time. Ian Keas, principal at executive compensation consulting firm Pearl Meyer, told Bloomberg, "Board members want the people that know the business."
The case against: When someone spills a jar of M&M's, you don't let them keep their candy manager job-meaning bankruptcy doesn't bode well for an exec's track record. It looks especially bad when the bankrupt company let 10,000 North America employees go in the not-too-distant past, as Hertz did.
It's also a sneaky legal move
Distributing bonuses just before a bankruptcy filing means that money can't be used to pay back creditors. They can try challenging, but it's tricky and expensive.
Perhaps a sign of things to come: A DOJ lawyer told Neiman Marcus it could only pay its CEO and other top execs bonuses if they can prove they increased earnings.
ECONOMY
Economic Recovery: Handle With Care
New data shows the economy is getting better...but recovery is fragile and largely dependent on historic government intervention.
Retail sales for June gained 7.5%, a sign that Americans started spending again as states eased lockdowns and people received a heavy dose of extra income from the government. If you exclude purchases at gas stations-which fluctuate widely based on oil prices-retail sales just climbed back to a record high.
Rising COVID-19 caseloads could put the momentum in retail sales at risk in July.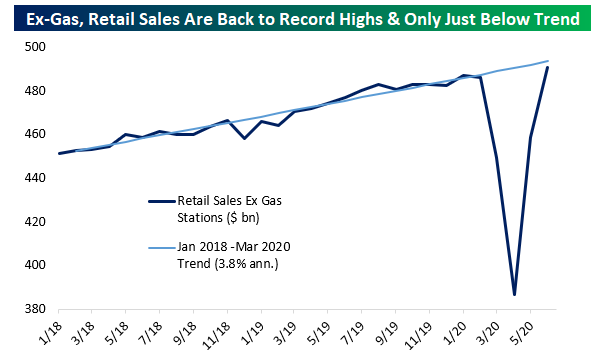 Trend tracking: Spending at sporting goods, musical instrument, book, and hobby stores grew 20.6% annually. Sales at buildings materials stores jumped 17.3%.
On the unemployment front
The story is pretty much the same as it has been for three months-a huge number of people filed unemployment claims for the first time (1.3 million last week), but that number is slowly declining over time.
MEDIA
Netflix Binges on Topline, Chills on Guidance
Yesterday, Netflix reported Q2 earnings that leave you like an episode of Stranger Things: overall satisfied, but a little queasy.
The details: Netflix beat Wall Street's revenue expectations, bringing in $6.2 billion during what we'll now call the quarantine quarter. But it missed profit expectations at $1.59 earnings per share.
What about subscribers? Netflix notched 10.1 million net additions globally, running circles around the 8.3 million expected.
Extraction, a Chris Hemsworth-led film that dropped in Q2, was Netflix's most popular original movie ever.
But Q3 will be a darker episode
Netflix projects it will add 2.5 million net subscribers globally...compared to expectations of 5.3 million and 6.8 million in the same quarter last year. Shares fell about 9% after hours-though they had been up more than 60% on the year.
The good news? The pandemic didn't disrupt production for most 2020 programming.
+ While we're here: The company is shaking up the c-suite, announcing that Chief Content Officer Ted Sarandos will become co-CEO with Reed Hastings.
SOCIAL MEDIA
Instagram Is Reeling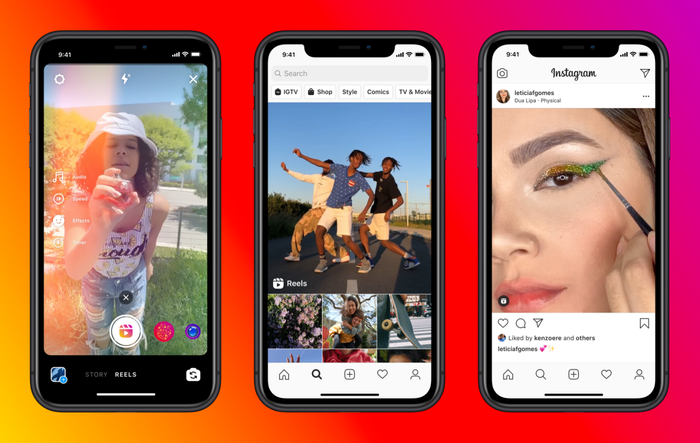 TikTok may hold the devotion of Gen Zers too young to know Destiny's Child, but the Chinese-owned video app is getting the cold shoulder from a growing contingent of D.C. lawmakers. Facebook is ready to jump in.
After months of testing, Facebook plans on launching Instagram Reels in the U.S. and 50+ international markets this August. Reels lets users create and share 15-second video clips with easy editing and remixing tools, a big music catalog, and a featured section for discovery.
If you're wondering whether FB copying TikTok will work...Snap CEO Evan Spiegel probably has some thoughts about Stories.
Facebook began testing Reels in Brazil last November, and in the last few weeks expanded to France, Germany, and-days after TikTok was banned in the country-India. As conversations around a U.S. ban heat up, Facebook wants to use its 3 billion user-strong ecosystem to ward off other video apps like Triller, Dubsmash, and Byte.
Bottom line: Zuck's sitting in his Menlo Park tower bursting with schadenfreude for every headline about TikTok's woes.
SOCIAL MEDIA
On World Emoji Day, a Brief History of the Emoji
In 1999, a Japanese artist created the first emoji, but it wasn't until 2010 that the IT standard Unicode accepted the first cohort of 625 emojis. The next year, emoji keyboards were batched into the iOS update.
Unicode crowdsources emoji requests (really, you can submit your own right here), so the language has evolved to reflect broader changes in society.
2015: Users were allowed to choose from five shades of skin tones in addition to the existing, very natural-looking yellow (if you're a Simpson).
2016: Apple swapped the pistol emoji for a water gun, reflecting a growing unease with depictions of firearms in the years following Sandy Hook. Google, Samsung, and Twitter all made the same change in 2018, the year of the Parkland school shooting.
2020: The raised fist emoji was actually accepted into Unicode in 2010, but it took on a bigger meaning this year. An Emojipedia analysis shows use of the raised fist emoji in darker shades spiked in May and June, when it became the unofficial emoji of the #BlackLivesMatter movement.
What's next? Well, during simpler times (December), a petition for a Baby Yoda emoji was gaining traction. But with the way things are going, we think a dumpster might be requested to pair with instead.
WHAT ELSE IS BREWING
Authorities in the U.S., UK, and Canada said that an espionage organization linked to the Russian government is targeting developers of a COVID-19 vaccine.
The CDC extended its ban on U.S. cruises through Sept. 30.
American Airlines and JetBlue formed a partnership which execs say will allow for a quicker recovery.
Morgan Stanley and Bank of America both showed reasons for optimism and pessimism in their earnings reports.
Michelle Obama is hosting an interview-style podcast on Spotify that'll debut on July 29.
Want Morning Brew Daily Served Fresh to Your Inbox?
Drop Your Email Below...