New Inflation, Who Dis? | The Daily Peel | 1/13/23

Jan 13, 2023 | Peel #378
Happy Friday, apes.
We did it. We actually finally had a drop in monthly price pressures. More on that below, but man, I just couldn't wait to celebrate with you all. Anyway, that news drove much of yesterday's risk-on power trade, driving equities higher while yields just kinda chilled and slumped mildly. The dollar, on the other hand, sank like a rock at the prospect of looser financial conditions going forward.
Let's get into it.
If You Still Use a Mouse to Navigate Excel,
Keep Reading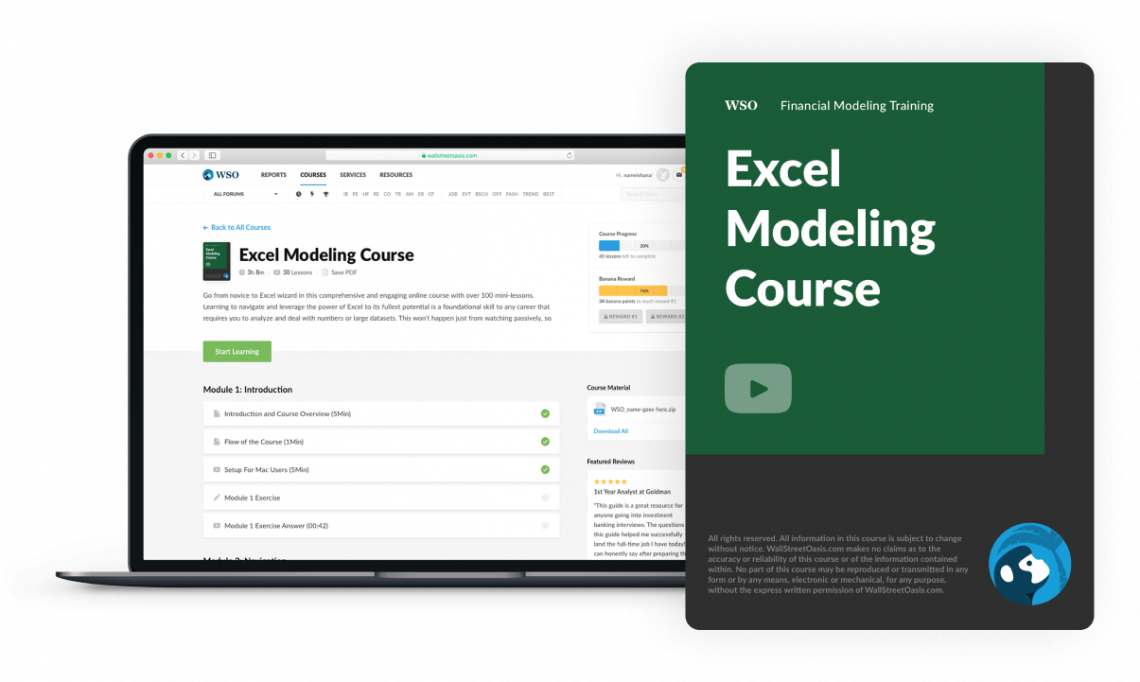 If you still use a mouse to navigate Excel, we have good and bad news for you.
The bad news is you won't be taken seriously on Wall Street. The good news is that WSO's Excel Modeling Course will enable you to toss that mouse aside and fly around spreadsheets through keyboard shortcuts.
But shortcuts aren't all you'll learn. Being able to navigate a spreadsheet efficiently and build dynamic models are essential skills on the Street, and are covered extensively in the course. Tools like pivot tables can be insanely powerful if you know how to work with them, and your MD will be impressed.
Since we know Peel readers will get a ton out of this, we're also giving out free access to our PowerPoint for Finance Course for the first 50 Peel readers to sign up for the Excel course in the next 24 hours. Yup, we're not kidding-learn the two most important finance programs for the price of one course.
Even if you don't stay in finance long-term, being able to wheel and deal in Excel will pay dividends in pretty much any industry. Do your future self a favor and sign up today.
New Inflation, Who Dis?
Disinflation, that's who. And it's finally here.
Quick note: the language around falling inflation gets deliberately confusing. Disinflation is when the rate of inflation falls, such as growing at a slower rate. Deflation is when price changes in the economy are negative. Inflation going from 9.1% to 6.5% is disinflation. Inflation going from 9.1% to -0.1% is disinflation so strong it becomes deflation.
Yesterday, we got THE most IMPORTANT CPI print OF ALL TIME…until the next one. Consumer prices across the American economy rose at a 6.5% annual rate. For the month, prices fell 0.1%.
If you're not jumping up for joy right now, I don't wanna be friends with you. This is the epitome of "it ain't much, but it's honest work."
Wall Street was hyped. Indices themselves didn't rise enormously or anything, but cross-sector breadth was booming while analysts tried to digest the data. Let's check out some highlights.
Fuel oil prices fell 16.6% on the month but are still up 41.5% on the year
Gasoline prices fell 9.4%
Energy in the aggregate sank 4.5% in December, dragging down the whole index with it
Food prices rose 0.3%, down from 0.5% in November
Egg prices rose 11.1%, the top gainer in the basket for the month
Yup, gonna have to find something else to eat for breakfast for the time being. Fortunately, at least the drive to your therapist's office will be a little cheaper.
Okay, so we finally got some good news on aggregate price levels in the economy. We'll take that W all day, but what does this mean for JPow and the gang?
Well, not much, in all honesty, and that's probably why the S&P didn't spike 5% as it would've otherwise. See, Mr. Market might be the most erratic creation in human history, but he can be pretty damn smart sometimes. Hindsight is 20:20. But everyone was expecting this report to come in lighter than the previous one. Moreover, the S&P is up 4.6% since last week alone, suggesting this lighter print was already priced in.
You never know what is or is not "priced in," but it's pretty easy to take even an uneducated guess. Lesson of the day: the market, although it might be wild in its path to get there, tends to know what it's doing.
The next FOMC meeting where JPow gets another chance to eviscerate your gainz is on Feb 1st. We'll see additional relevant beforehand, but after receiving 1) a looser labor market report than expected, and 2) an inflation report exactly in line with expectations and showing a monthly decline, the writing on the wall speaks for itself.
Bed, Bath, and Beyond ($BBBY) ↑ 50.14% ↑
*sigh* Fine, we'll talk about it. If you were wondering, yes, this and all those other sh*t-for-brains meme stocks were intentionally skipped over in yesterday's Peel. But fine, let's get it over with.
Shares in this steaming pile of cow dung ripped over 50% on Thursday, riding the gain train on literally nothing. Retail traders are holding again and flexing their diamond hands for the other morons that bought this thing. As a result, the classic short squeeze rally began once more.
Those vibes continued after a strong rally on Wednesday, giving the (fake) company a 300% gain in less than a week.
I never want to hate on retail buyers like you and me, but god damn, did we learn nothing from 2021-2022? Moral of the story: proceed with caution.
American Airlines ($AAL) ↑ 9.71% ↑
Obviously, all of you are dedicated, loyal readers of the Peel and just absolutely loved yesterday's Thought Banana on the FAA's fiasco, so you know it was a tough day for airlines.
Thursday was not. Thursday was a fantastic day for the airline bois, gaining +5% almost across the board, making Buffett roll in his premature grave looking back at his dumping of these shares in 2020.
Basically, the outlook is looking good. American was piloting these stocks higher (ba dum tss) after issuing updated guidance for the year on both top and bottom lines that got the whole sector jumping. Hey, as long as my flight lands on time, I'm happy.
KB Home ($KBH) ↓ 2.87% ↓
What a surprise?! Building and selling homes at a profit when rates go from 0 to 100 in about 5 minutes is a difficult enterprise…I never would've guessed!
Shares in massive homebuilder KB Homes slumped yesterday, losing almost 3% on the day following a lousy earnings report. The company reported earnings late Wednesday, and, needless to say, it was a doozy.
The big, scary number du jour was 692, representing the number of net orders received in the quarter and also representing an 80% plummet YoY. Safe to say investors were far from feeling at home, evicting shareholders at a rapid clip.
Illumina ($ILMN) ↓ 5.05% ↓
Oooooh, you're in trouble…
Shares in biotech name Illumina have been dumping like rocks off a bridge, losing over 50% since this time last year. The EU is really killing their vibe, extending a penalty equivalent to 10% of their annual turnover in response to the firm being a baaaaaad boy.
Why they did this, I have literally no clue, but Illumina decided to close on its deal for smaller biotech firm Grail without getting approval from the EU. Rookie mistake. Even AMC had the decency to get approval to buy that random *ss goldmine they copped back during the height of the delusion. Smh.
Mickey vs. The World
You'd think a nearly $200bn company would have their sh*t figured out…
Apparently not. At least that's what Nelson Peltz of Trian Partners, an NYC-based investment manager, believes. Some people poke the bear, but Nelson is poking the Mouse.
The 80-year-old Peltz is choosing war over retirement, peace, and monthly social security checks. To each their own. But now that his company owns $800mn worth of Disney shares, I guess it's understandable why he spent like 45mins on Squawk Box just trashing on the company this morning.
Basically, the beef began when Peltz was denied a board seat at Disney in favor of some dude who used to be a Nike exec. Why that guy got the job, I don't know, but let's take a quick look at exactly wtf is going on.
Basically, Peltz is calling out Disney for screwing itself over. One of my favorite quotes from this morning's rant on Squawk Box had to be when he was referencing Disney's acquisition of Fox. Man really said, "Fox hurt this company. Fox took the dividend away. Fox turned what was once a pristine balance sheet into a mess." To translate from corporate speak, what he said was, "Fox was a dumpster, and Disney set it on fire."
And he kinda has a point. When Disney acquired 21st Century Fox, their balance sheet went from the envy of the media space to a steaming pile of debt that would've made WeWork look like smart financial managers.
But not only is there beef, but there's beef about the beef. Peltz claims Disney's board has been entirely unresponsive to his grievances. Meanwhile, Disney claims Peltz is a crazy old man who should be put in a retirement home.
As usual in these things, both sides are probably wrong, at least somewhat. But this isn't the end of the story; no, this is just the beginning. All Peltz and Trian want is a damn seat on the board. If I was a betting man (which I am, degenerately), I'd say Peltz would have it locked up pretty soon.
All in all, it's a sign of the times. When stocks do nothing but moon like they did from 2012-2022, no one's mad at the company's board. When stocks go down, like Disney having its worst year since the 1970s in 2022, then the homies start to get fired up.
Peltz vs. Disney…place your bets now.
The big question: Will Peltz and Trian Partners eventually get a room at the Mouse House, and what does this signal for activist involvement in other firms?
Yesterday - What is the angle between the hour hand and the minute hand of a clock at 3:15?
At a quarter past the hour, the minute hand is exactly at 3:00, but the hour hand has moved 1/4 of the way between 3:00 and 4:00. Therefore, 1/4 times 1/12 = 1/48 of the clock. With the clock having 360 degrees, 360/48 = 7.5 degrees.
Today - It's 50 bananas off the WSO's Excel Modeling Course for the first 15 correct respondents. LFG!
Mike and Pat are in a desert. They both have packs on. Pat is dead. Mike, who is alive, has his pack open. Pat has his pack closed. What is in the packs?
Shoot us your guesses at [email protected] with the subject line "Banana Brain Teaser" or simply click here to reply!
"Wall Street sometimes gets confused between risk and uncertainty, and you can profit handsomely from that confusion. The low-risk, high-uncertainty [situation] gives us our most sought after coin-toss odds. Heads, I win; tails, I don't lose much." - Mohnish Pabrai
Happy Investing, Patrick & The Daily Peel Team
Was this email forwarded to you? Sign up for the WSO Daily Peel here.