Pandora's Box of Financial Secrets | The Daily Peel | 10/5/21
Silver Banana goes to...

Market Snapshot
Nothing but red yesterday as markets got slammed from all angles. The Nasdaq plummeted a not-so-nice 2.14%, the S&P followed, losing 1.30%, while the Dow held up slightly better, only shedding 0.94%.
Dodge the ups and downs and go for the growth! The Agriculture Technology market is expected to be worth over $85bn by 2025 and Future Acres is capitalizing on the opportunity with their new robotic harvest companion. Make sure to check out the investment opportunity before it closes!
Let's get into it.
Macro Monkey Says
Ever-Strange - The massive Chinese developer is still in deep water, but things are getting even stranger. Shares were halted in Hong Kong and other Asian exchanges where the firm was listed and an announcement was made detailing plans that Hopson Development, another Chinese developer, would purchase a 51% stake in Evergrande's property management unit for a price tag of around $5.1bn. Hopson shares were also halted yesterday, a not-so-subtle signal of what the market thinks of this acquisition. Don't worry though apes, Hopson only has like $108bn in total debt, I'm sure they're more than prepared to take on another ~$300bn.
From Box to Papers - A Greek mythological figure, a shitty music streaming service, a jewelry company, and now the brand name of the latest international financial scandal. Apparently, people really like Pandora. This time, Pandora is the label for an international scandal involving many of the most powerful individuals across the globe and where they stash their "extra" cash.
Basically, the papers expose a vast network of worldwide syndicates running offshore bank accounts stashed in those tax havens we all know and love, including The Cayman Islands, Panama, and Switzerland. This all on behalf of at least 35 heads of state and 300 other public officials, not to forget the 100+ billionaires, celebrities, and business tycoons also involved, because credit where credit is due, right?
I'm sure you're all wondering "so, who snitched?" Well, none other than the International Consortium of Investigative Journalists in D.C. And who did they snitch on? I mean, I wouldn't call them the usual suspects, but its who you expect, including: Vladimir Putin (obviously), Volodymyr Zelensky, Elton John, Ringo Starr, and the heads of state of Honduras, Spain, Kenya, the Dominican Republic, and many, many more. Now, not everyone named is accused of wrongdoing, but you can damn well expect this story to circulate for an annoyingly long time.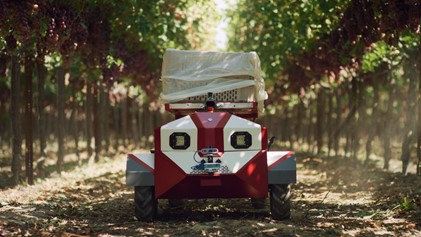 What's Ripe
Tesla ($TSLA) - You're right - 0.81% on the day is way too low to qualify for the highly-sought-after What's Ripe feature, but 241,300 deliveries will do it. In short, Tesla crushed Q3 earnings. Shares were up almost 3.8% overnight and into yesterday morning, but slumped on the hammering of tech stocks. Still, this is a new record in deliveries, bringing YTD comps up over 100% vs last year, and destroying Street estimates in a time when most automakers are in freak-tf-out mode. Good on ya, Elon.

Value - Value was the kingmaker for investment style factors on Tuesday, running up 3.42%, almost a full percentage point above #2 Dividends. As a result, the energy and utility sectors were laughing at the others, with $XOP gaining 2.54% and $IDU up 1.05%. Oh yeah, and U.S oil prices rising to a 7-year high certainly didn't hurt. It seems that the days of free money by going all in on one-day expiry calls for literally any unprofitable company is over. Sorry apes, back to fundamental analysis.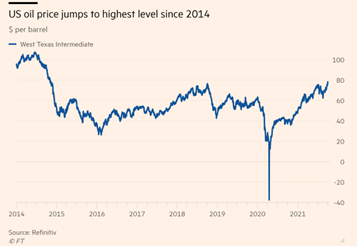 What's Rotten
Amplify Energy ($AMPY) - Note to self: dumping 126,000 gallons of oil onto California beaches is not good for your stock. Not sure how Amplify didn't know this already, but nonetheless, an oil pipeline owned by the firm burst this weekend and took the title of worst oil spill in the state in 27 years. Shares lost 43.8% and at one point were down over 52.2%, and honestly I'm surprised it wasn't more. Does cleaning up an oil spill count as ESG activity?
Social Stocks ($FB, $TWTR, $SNAP) - If you tried to use Facebook yesterday, (first of all, you better be 45+ years old) then you know it wasn't exactly working...at all. And neither was Instagram or WhatsApp, for that matter. Many have blamed a Chinese state sponsored hack, but now others are attributing the outage to server issues and alleging internal sabotage. FB sinking 4.9% wasn't the end of the carnage, however, shares of Twitter sank 5.8% and Snap lost 5.4%. Even now, no definitive reason has emerged, but don't fret, Netflix is already making a documentary of the situation (probably).
Thought Banana:
Whistle → Blown - When profits collide with national health and security interests, it can be a tough line to walk. Unfortunately for Facebook, it looks like traders and civilians alike hold the opinion that Zuck and crew walked the wrong side of said line. Over the past few weeks, the term "treasure trove" has been used frequently to describe the documents leaked to the press by now-known whistleblower, Frances Haugen.
The former FB product manager stepped into the light on Sunday night's 60 Minutes to discuss her decision around leaking documents detailing issues that she alleges were "conflicts of interest over what was good for the public and what was good for FB." Mainly, these encompass two things: mental health in teenagers, mostly teenage girls, and election disinformation linked to the events on January 6th. Is it me, or does it seem coincidental that Facebook, WhatsApp, and Instagram we're all down yesterday?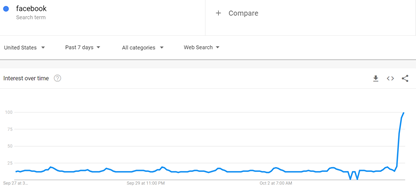 "In the short run, the market is a voting machine but in the long run, it is a weighing machine." - Ben Graham
Happy Investing,
Patrick & The Daily Peel Team
Was this email forwarded to you? Sign up for the WSO Daily Peel here.