Anyone else skeptical of therapy?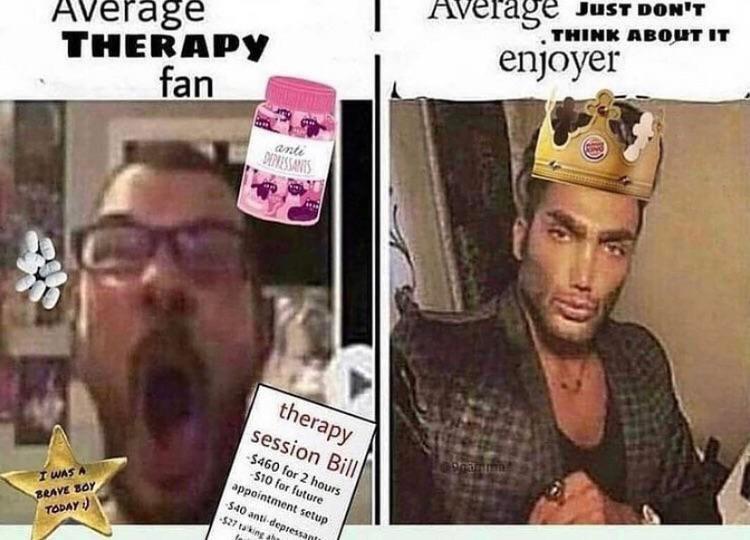 I subscribe to the belief that most things in life, nature, social trends, what have you- are spread like a standard bell curve.
Most things are in the middle, most are average, and the extremes are actually rare, on both ends. Which also means that there are many grey areas and murky answers.
Point is: Yes, there are certainly cases where patients NEED to be on medication to function. But those are rare. Most patients need treatments that are unfortunately trickier, take more time and effort on the patients' AND providers' parts.
However, Pharmaceutical corps are INSANELY big. If you account for all the companies under one umbrella, then the chemical companies producing the required ingredients, the research labs, lobbyists, lawyers, marketing, the natural resources required for said chemical plants and the factories obtaining them, the local security in whatever foreign land where it's harvested, those local politicians, the international diplomats and lawyers, etc, etc. And then do this for the several giant umbrellas…Big Pharma is one of the only industries that rivals the Military Industrial Complex.
Is it any wonder that at this point, not only do they get away with it, they MAKE the agenda in the first place, and have normalized it by now.
We went from: "wait, what is xanax and ritalin/adderal, what are the short term effects? WHAT ARE THE LONG TERM EFFECTS, if you JUST released it? And why are they immediately in the top 5 medications prescribed (to children) in California? To: Mental health is hella important, and everyone from basic 15yr old girl on tiktok to the vast majority of health care providers, have all normalized the regimented intake of brain altering pills that are akin to world record molly addictions on the receptors.
Funny enough, these same Pharmas that just 10 years ago we all hated, and all knew of at least some of their atrocities, obviously having a terrible view of them, have now created such dissonance in the average mind that we no longer attribute these prescriptions and their effects to them. Big Pharma's bad, but this is just my Seroquel, why are you bringing this up?
Oh and finally, the fun little game, where we all know Pharmas will release a pill you need, but with severe side effects, if it means they can save 1/100th of a cent. And yet we can't and don't question whether these same soulless conglomerates may be ALSO do the same to injectable liquids. Pill or shot, why wouldn't they make an extra billion? It's literally the Boards' only obligation. And yet, a FREE flu shot, pushed every year in mass marketing is out of the goodness of their heart? They must really want us healthy. The guys keeping cancer cures buried to sell cancer meds instead.