OFFICIALLY RELEASED!
3/24/2014 Update: Royal Bank of Scotland, Scotiabank, Stifel AND Wells Fargo added!
2/19/2014 Update: Baird and Rothschild added!
1/23/2014 Update: RBC and Raymond James added!
1/20/2014 Update: Perella Weinberg and Piper Jaffray added!
1/13/2014 Update: Moelis and Nomura added!
12/30/2013 Update: Lazard and Macquarie added!
12/10/2013 Update: HSBC and Jefferies added!
11/24/2013 Update: Harris Williams and Houlihan Lokey added!
11/13/2013 Update: Duff & Phelps added!
11/2/2013 Update: Evercore and Greenhill added!
10/21/13 Update: All BBs, BMO and CIBC included
* Previous customers with any of the old versions should e-mail their receipts to [email protected] to get the updated copies.
Interview prep will never be the same...
Using the power of our community, Wall Street Oasis just changed the game, again. With over 4,000 interview insights in our Company Database, we have a lot of data on what Wall Street firms are asking, how hard the interviews are and different tendencies and trends.
We are pleased to announce the arrival of the newest versions of our Technical and Behavioral finance interview guides - the first ever guides to include actual interview questions from recent real interviews organized by bank AND level.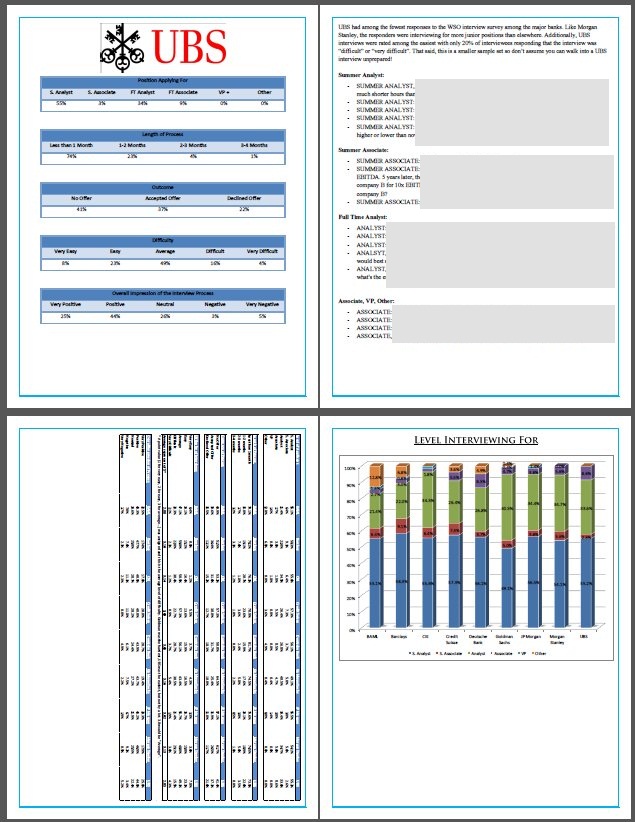 The first iteration of this revolutionary change will only include the majority of the Bulge Bracket ("BB") banks, but over time we will be adding specific insights from many more boutique and MM banks as well. (specifically, this guide has analyzed trends for interviews at Goldman Sachs, BAML, Morgan Stanley, JP Morgan, Deutsche Bank, Credit Suisse, UBS, Citi and Barclays)... After these BBs, the next banks we will be analyzing are listed at the bottom of this post (we plan to release a new version in a few months).
Why am I announcing it now?
This is by far the most significant improvement we've made to our interview guides in years and they will continue to evolve, update at least once a year and get better as trends change.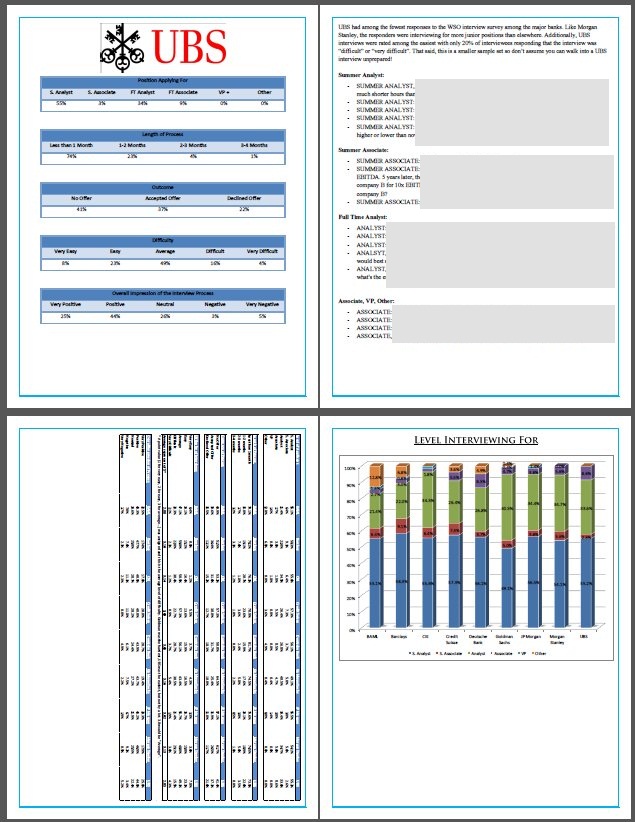 Anyone who has already bought the technical or behavioral guide will get the updates for free. Please know that these dramatic improvements took hundreds of hours of work that went into building the WSO Company Database and updating these guides. We will continue to give free updates to past customers as we improve the guides year after year.
Get the IB Prep Pack to Your Inbox Now
As always, our thousands of happy customers get updates for free - all you have to do is on Monday when the new versions are released, e-mail [email protected] a copy of your receipt and she will get you the new versions with 24-48 hours.
Whether you purchase the guides or not, I want to wish you all the best of luck this interview season! I hope you find WSO to be the most informative and entertaining resource for finance careers.
Thank you for supporting WSO!
Patrick
Next firms that will get a detailed interview analysis coming soon in future versions of our interview guides:
BMO
CIBC
Cowen Group
Duff & Phelps
Evercore
Greenhill
Harris Williams
Houlihan
HSBC
Jefferies
KeyBanc
Lazard/Lazard MM
Macquarie
Moelis
Nomura
Perella Weinberg
Piper Jaffray
Raymond James
RBC
Robert W. Baird
Rothschild
RBS
Scotiabank
Stifel Nicolaus
Wells Fargo
(this list will only grow as we collect more and more data every day in the WSO Company Database)