Electronic commerce is the wave of the future! In 2019, e-commerce accounted for 14.1% of total retail sales worldwide, which continues to rise year after year. E-tailing, also known as electronic retailing, is a type of e-commerce that deals with physical products rather than services.
Electronic retailing is the online sale of goods and services. E-commerce can include both business-to-business (B2B) and business-to-consumer (B2C) product and service sales.
E-tailing necessitates businesses to adapt their business models to capture internet sales, which may include establishing distribution channels such as:
Warehouses
Internet web pages
Product shipping centers
It is the sale of goods via an online platform or online store. Examples: 
Online stores that sell pet supplies, clothing, and accessories
Electronic goods
Artistic pieces
Skincare
Makeup
Furniture
Books,
Homewares
Musical instruments 
Key Takeaways
E-tailing encompasses B2C and B2B models, offering physical products through online platforms, and reshaping retail across industries.
E-tailing brings benefits like precise product info and quick payments, but challenges such as quality assurance, security, and customer service must be addressed.
E-commerce enables personalized interactions and engagement, leveraging technology to enhance customer experiences and build loyalty.
E-tailers can overcome drawbacks by providing excellent customer support, after-sales services, appealing packaging, showcasing feedback, and implementing discounts.
E-tailing is poised to revolutionize businesses, but success requires backend support, positive customer experiences, and strategic adaptation to evolving consumer demands.
Electronic retailing encompasses a wide range of businesses and industries.
However, most e-commerce businesses share characteristics such as:
An engaging website
An online marketing strategy
Efficient product or service distribution
Customer data analytics
E-commerce success necessitates strong branding. Websites must be engaging, easy to navigate and regularly updated to meet changing consumer demands Products and services must differentiate themselves from competitors' offerings and add value to the lives of consumers. 
Furthermore, a company's offerings must be competitively priced so that consumers do not favor one company over another based solely on price.
It requires prompt and efficient distribution networks. Customers cannot afford to wait for long periods for the delivery of goods or services. Transparency in business practices is also important for building consumer trust and loyalty.
There are numerous ways for businesses to generate revenue online. The first source of income is, of course, the sale of their product to consumers or businesses.
Companies in both the B2C and B2B sectors can generate revenue by selling their services through a subscription-based model, such as Netflix (NFLX), which charges a monthly fee for access to media content.
Online advertising can also generate revenue. For example, Meta (META), formerly Facebook Inc., makes money primarily from ads placed on its website by businesses looking to sell to the millions "on Facebook," checking their pages regularly.
Because they operate on the internet, it stands to reason that e-tailing businesses shape and design every aspect of their businesses to operate in the online arena. 
This includes, among other services:
E-commerce advertising
Inventory management
Payment solutions
E-commerce optimization 
Business-to-Consumer (B2C)
Business-to-consumer retailing is the most common type of e-commerce company and is familiar to the majority of Internet users. This category of retailers includes businesses that sell finished goods or products to consumers directly through their websites. 
The products could be shipped and delivered directly from the manufacturer or the company's warehouse. Maintaining good customer relations is one of the most important requirements for a successful B2C retailer.
Business-to-Business (B2B)
Businesses that sell to other businesses are involved in business-to-business retailing. Examples of such retailers are:
Consultants
Software developers
Freelancers
Wholesalers
Wholesalers sell their products in bulk to businesses from their manufacturing plants. These companies, in turn, sell the products to customers. In other words, a B2B firm, such as a wholesaler, may sell products to a B2C firm.
It should come as no surprise that the most well-known examples of e-tailing are arguably Amazon and Alibaba, which generated total revenues of approximately $296.3 billion and $72 billion, respectively, in 2019.
Retailing is done by a variety of institutions, including manufacturers, wholesalers and retailers. However, retailers conduct the majority of retail business.
Although most retailing is done in stores, non-store retailing has grown tremendously in recent years. Non-store retailing includes:
Selling via mail
Phone
Door-to-door contact
Vending machines
And various electronic channels. There are two types of businesses that provide e-tailing: pure-play online retailers and brick and click e-tailing. Let's explore them below.
Pure-play online retailers
Pure play e-retailers are businesses that only offer e-commerce and do not have any physical stores where customers can shop.
While stores account for a significant portion of retail sales of goods and services, non-store retailing is rapidly expanding. As a result, traditional store retailers face increased competition from online retailers.
Catalogs
Direct mail
Telephone
Online computer shopping services
Home
Office parties
And other natural retailing methods are used by non-store retailers, these are examples of pure-play e-retailers.
Ali Baba
Drop-shipping companies
Brick and click e-tailing
Brick-and-click e-tailers are companies that provide both e-commerce and physical brick-and-mortar stores where customers can shop. 
Retail stores come in a variety of shapes and sizes. Furthermore, new retail store types are emerging. Therefore, several characteristics can be used to categorize retail stores. For example, the amount of:
Service
Product line
Relative prices
Outlet control 
Store cluster type
Almost every brick-and-mortar business uses some form of e-tailing, but Apple, Foot Locker, and Sport Chek are some of the more prominent brick-and-click e-tailers that provide excellent service.
Businesses face many challenges and seek to overcome them when operating a segment of their business entirely online.
Some if the challenges are as follows:
Some target consumers do not have internet access.
Hackers will try to obtain consumer information.
Due to a lack of physical examination and sizing of the product, there is a high return rate.
Reduced experience when compared to traditional shopping
The high costs of maintaining a website
Storage is required.
A customer service team is required for product returns and complaints.
Concerns about the law Though moral laws for internet transactions have not yet evolved, e-mail and digital signatures are being recognized.
E-commerce provides a poorer customer experience and generates less consumer loyalty than traditional retailing. Both can be improved over time, making e-commerce a direct threat to traditional retailing.
Untested business models 90% of companies fail at the start of their operations because they do not provide long-term profit and are classified as dot-com businesses.
There are numerous advantages to e-commerce, but for your convenience, we've narrowed the list down to the top three advantages of electronic retailing.
Here are some ways that e-commerce can help your company succeed:
1. Exact product information
How many times have you been browsing a physical store and come across an item of interest, but you couldn't get the attention of a store associate to provide more information or answer some questions? 
Probably too many times to count, but you still remember how frustrating that experience can be and how that frustration can lead to you abandoning the purchase entirely.
Customer's pain points are alleviated by electronic retailing. And, yes, it's worthwhile, given that roughly 70% of customers believe that understanding how products are used is critical to winning their business.
When selling items online, your store can not only provide detailed descriptions of each item, but you can also pair that written information with visual aids. 
The ability to zoom in on the stitching of a pair of shoes or read every ingredient in a bag of dog food may be enough to sway some online shoppers.
2. Payments are made quickly and easily
Standing in lines is another vexing aspect of in-person shopping. 
It seems like every time you get stuck in a store line, someone at the front of the line is:
Asking a million questions
Complaining about an expired coupon
Wasting everyone's time
Once again, e-commerce comes to the rescue by allowing customers to avoid lines entirely. To prevent your customers from exchanging one frustrating experience for another, make your online store's checkout process as quick and simple as possible.
Part of that is due to having a top-tier merchant service provider (MSP), while the other is due to the way you've designed your purchasing process.
Have clear CTAs (calls to action) so that customers can easily navigate through your store. Choose an MSP that accepts a variety of payment methods, such as:
Credit cards
PayPal
Google Pay
And so on. 
Finally, when it comes to e-commerce payments, invest in creating a strong cybersecurity strategy. Even small businesses can become victims of online predators; don't be one of them!
3. Personalized customer interactions
If you have a physical store, providing a personalized customer experience depends on you and your employees remembering faces and stories. 
Ideally, you'll have many customers, making it extremely difficult (if not impossible) to provide a personalized shopping experience for each one of them.
The power of digital technology can also assist with this! Asking online customers to create an account is a simple way to provide a personalized experience. Once they've done that, you can use name placeholders throughout your store to address customers directly.
Aside from that straightforward solution, there are numerous apps and plugins available that can collect customer information and use it in novel ways to engage with customers in a personalized manner. 
For example, you could include a tool that automatically displays a selection of recommended items to returning customers based on their previous searches or purchases. 
Custom boxes are another option for making your brand stand out. The more you make your customers feel like VIPs, the more likely they are to return to your store and even refer their friends.
Being ready for the e-tailing business model doesn't just depend on product quality or funding, but to make sure you're on the right track, you need to avoid the downsides that can impact your business
Some of the major drawbacks to look out for are: 
The quality of the products may not be as satisfactory as anticipated; the consumer cannot be certain of its quality when shopping online.
Consumers' bargaining power is not fulfilled before making the final payment, which is a human tendency.
Consumers are unable to place their trust in payment gateways because they are concerned about the misuse of credit cards or other payment methods that have occurred during electronic retailing.
You can watch your product while shopping online, but you cannot feel or see it. You must make your decision based on the information provided about the products and goods.
After purchasing, the consumer is unable to obtain it because the product is not readily available on online electronic retailing platforms.
Because it is impossible to trust the seller when shopping online, the consumer has no faith in the seller.
Customers cannot buy from the store if the website goes down, so hosting the website on the proper platform is critical.
Customers receive delayed responses to questions they have about the product or how to use it; customer service is critical to resolving all problems and queries.
This is not to say that e-tailing has insurmountable drawbacks; on the contrary, you can overcome the drawbacks with a good business mindset and strategy.  
You should keep in mind that it is critical to identify every flaw and address it as soon as possible, as well as to respond to customer feedback.
1. Customer support
Selling in-person still has advantages over e-commerce, particularly in terms of customer service. Customer service at a physical storefront is a much easier task to take on because customers expect it during business hours. 
Customers understand that once the doors close and the lights go out, they will have to wait until you reopen the next day to receive the assistance they require.
Customers who shop online, on the other hand, do not have the option of holding and feeling a new gadget, smelling perfume, or trying on a pair of shoes before making a purchase.
So, if they buy something and then discover that it isn't what they expected, they will almost certainly contact your customer service. Not only that, but because the store is 'open' around the clock, they'll probably expect a quick response from a real representative.
To tackle this issue, you could use a chatbot to answer customer questions during off-hours. That is something that many (if not most) traditional brick-and-mortar stores do not provide! 
Using technology to your advantage can help you ensure that you provide at least some level of assistance to customers at all hours of the day and night.
2. After-sales services
The success of an e-commerce business is dependent on more than just making a lot of sales (though that certainly helps!). 
It's all about cultivating a customer base that returns again and again to your store in particular. Customers can, after all, find goods similar to yours elsewhere. You must provide them with an unforgettable customer experience if they are to return to you!
3. Packaging 
Aesthetics can go a long way in the e-commerce industry, and this extends beyond the design of your website. Because the senses of:
Cannot be stimulated over the internet, your products should also be visually appealing.
Choose an appealing bottle shape for your organic hair conditioner, include informative leaflets with cool designs in the box with the electronic gadgets you sell, and use custom boxes that open unusually and interestingly, making the process of opening them an experience in and of itself, and so on.
4. Communication and Evaluations
When compared to simply relying on your content to promote your business, displaying feedback from satisfied customers on your e-commerce store can go a long way toward developing trust (this is not to discount the importance of having a strong SEO strategy).
Sign up for a service like Trustpilot and post reviews on your website so that new customers can see what previous customers thought of your e-commerce expertise.
5. Up-sales
One of the most effective ways to entice customers to buy more is to actively present them with other potential purchases they might be interested in. 
This can be accomplished very effectively by analyzing which products customers are interested in and then sending them similar product previews via email marketing. 
That strategy may be somewhat inaccurate at first, but it becomes easier to implement successfully as a customer visits your online store more frequently.
6. Discounts
Online shoppers want to be loved and to feel as if they are being treated as VIPs. 
You can accomplish this by creating special limited-time offers that are 'just for them' and/or informing them that a specific item they may be interested in is being reserved for them until a certain date.
You can also make larger-scale special offers by sending coupon codes to customers who have signed up for your e-commerce website. 
Another discount strategy is to create a referral program in which both existing and new customers receive a percentage off their next purchase. The possibilities are endless - just think about what you'd want to see as a customer.
Finally, e-tailing is more than just creating a visually appealing website.
An established management consulting firm will bring in the necessary skills to:
Evaluate the business plan
Investigate revenue models
Assist in the identification of alliances
Integrate supply chain processes with e-commerce initiatives.
Some retail majors want to reach small towns where they do not have outlets through online sales. While most are planning to go e-retailing, some are of the traditional view that it is essential to have a look and experience while shopping for garments e- retailers should follow the above-mentioned strategies.
The most important emphasis is on the back-end system. Customers return only if their previous shopping experiences were positive and successful.
Stop bragging about the 70% success rate of online purchases. 
E-retailing will become a tremendous business strategic concept in this complex business world, and it may be a beneficial and profitable method of business process in the coming decade for the textile and garment industries.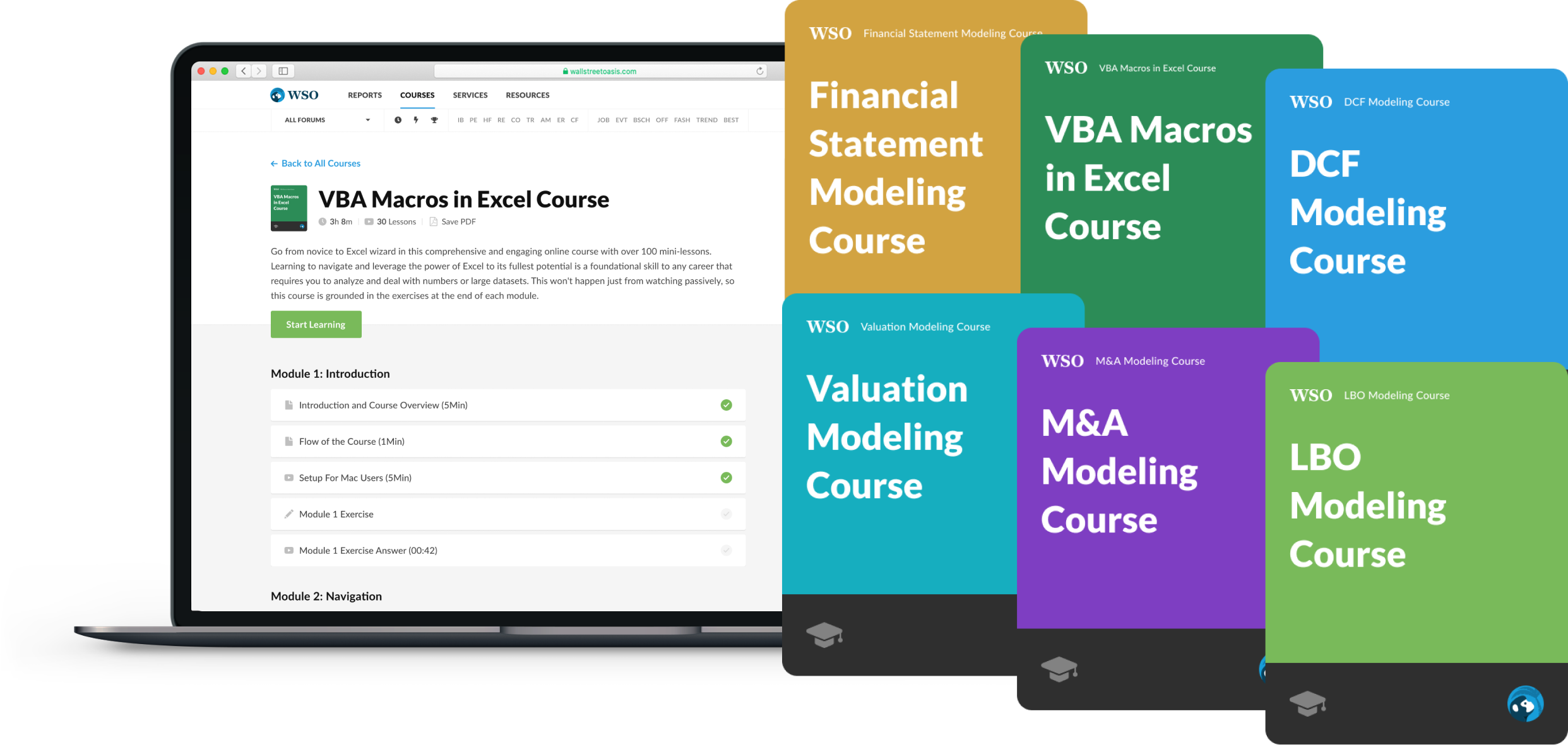 Everything You Need To Master Financial Modeling
To Help You Thrive in the Most Prestigious Jobs on Wall Street.
Researched and authored by Ranad Rashwan | LinkedIn
Free Resources
To continue learning and advancing your career, check out these additional helpful WSO resources: