Office Politics: An Introduction to the Kitchen

VC
Points)
on 10/24/12 at 10:30pm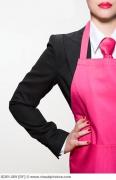 It would be of the utmost foolishness to deny the apparent and completely unjustifiable surge of women, or as they have been commonly known to society, "bare-foot-kitchen-workers" in the world of finance. It seems as though they have migrated from the kitchen to the shiny offices and they are here to stay; no matter how many times the "superior sex" screams at them to go back to the kitchen, they just will not listen.
For the majority of men, god's gifts to humanity, dealing with women in the work place can be one of two things; it is either as easy as ABC or as intricate and complicated as figuring out the spiral, which is of course dependent on subject woman's state of being and many variables including but not limited to: Menstrual cycle, latest issue of Cosmo, and insecurity flares induced by jealousy, boys, and body image issues.
For the rest of the "only deserving species", those scared little boys, who revert to online blogs to complain about how incompetent women are in, and out, of their natural habitats (that is, the kitchen), here are a few tips to help you overcome your fears and will allow you to spend more time working and less time changing your soiled pants:
1- Don't believe the rumors: women in the workplace, whether colleagues, subordinates, or bosses are not undercover "godzillas". Eye contact will not awaken a beast, but might, in fact help you make a good impression. I shit you not, dear readers; women remember the little things like who was looking them in the eyes and who was looking at their boobs. When all is said and done, guess who gets a bigger bonus?
2- Never underestimate their power: The chick on your team who doesn't say anything, because she is DUH too shy and is not a good fit for such an aggressive industry, I bet you she's the only one who can get the copy center guys to finish the job on time. She is probably so comfortable expressing her feelings (laaaaaaame) that she has no problem telling HR about your crude jokes and sexual innuendos. Also, HR personnel? Yeah they're all chicks.
3- Use them: A female boss is much more understanding of your physical need for sleep and food, talk to one if you experience symptoms of exhaustion and delirium. Your female colleague is more likely to listen to you bitch about that gold-digger girlfriend of yours, or even give you advice on your disgusting sense of style.
4- She is not incompetent despite what your little walnut-of-a-brain tells you: trust me; most women have better judgment than you do. Any given woman has an eye for detail, and they actually listen. So when the angry MD wants a three-statement model in a nano-second, you'll spend the nano second bitching about it, and she will get it done. Cooperate with her, don't treat her like a single cell organism or else she will kick your ass out of that door and will probably end up being your boss.
5- She is there for a reason: I am sure she went through the same interview process, with the same people, under the same circumstances. Her GPA is on par, or slightly better than yours, her resume is equally as impressive and she could've went into some liberal arts "cake" profession if she wanted to, but she didn't; she chose finance, live with it, stop feeling bitter because *news flash*, it has nothing to do with your swinging dick, or lack thereof, and on behalf of women everywhere in the industry, we'd appreciate if you'd stop being a whiny little monkey.
Oh, and if you've got a problem, let's take it outside.
I may not be on the Jedi Council, but I sure am great with the Force.