How Leveraged are You?

Points)
on 6/6/12 at 5:00am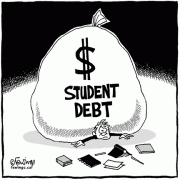 I started thinking about this when I was on the phone today with a Wells Fargo student loan officer trying to get a new loan for summer school, books, new laptop, and my apartment for the fall. Just how leveraged are you monkeys?
Do you monkeys still have student loan debts? What about your cars and possible mortgages? And how many of you have a lot of debt on credit cards (from all those models and bottles, of course)?
As of right now, I'm pretty leveraged.
Credit Cards: ~$1000. This includes $300 in textbooks, a GoPro HDHero2, and the past month of nights at the bar.
Federal Student Loans: I will graduate in December with something like $25,000 in federal loans. My parents will end up with ~$80,000 in federal plus loans. Despite graduating a semester early, paying out-of-state tuition for a name brand state school still kills the wallet.
Private Student Loans: $12,000. This covered $6500 while I was studying in Europe. About half of the $6500 is for three weekend snowboard trips to the Alps, a weekend in the Pyrenees, and my spring break shredding in Chamonix. The remaining $5500 is the loan I just applied for to cover summer school, fall apartment, and some safety money for after graduation.
Oh and, I only have ~$1000 in the bank.
How deep are you?