BofA Prepares for the Worst | The Daily Peel | 2/13/23

Feb 13, 2023 | Peel #398
Give your silver bananas to...

Happy Monday, apes.
To address the elephant in the room up front, obviously, today should be a national Holiday. Unfortunately, everything sucks, so you're probably reading this in your car, dreading whatever job/class you have to go into. We feel you, apes. Stay strong.
Congrats to KC and all that jazz. For your regularly scheduled programming, markets closed out an uninspiring week in the most boring way possible with a relatively mixed but overall flat day. Stocks kinda just hovered there, gaining mildly for the most part, awaiting the next big news driver. Yields and the dollar largely gained at the same time.
Let's get into it.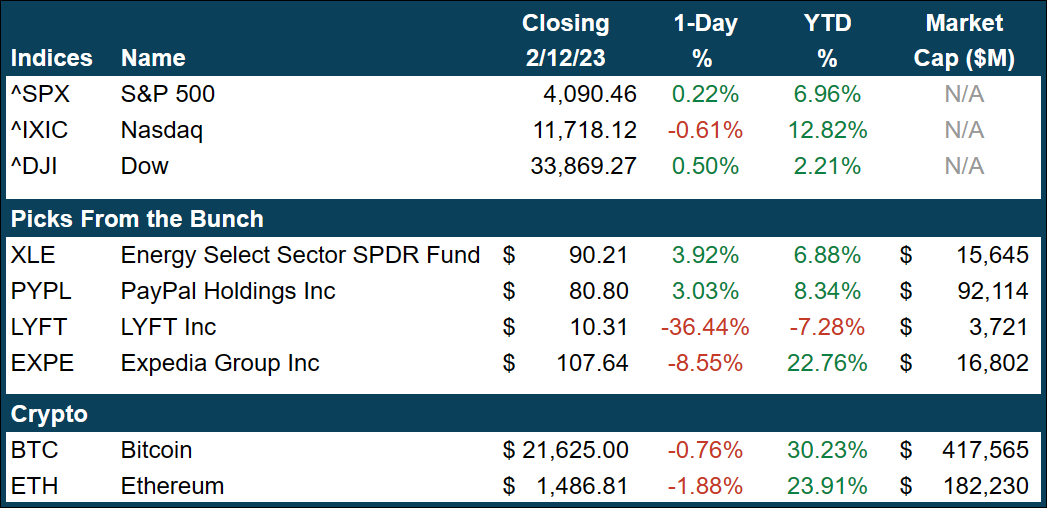 Data Science Isn't Magic-It's Math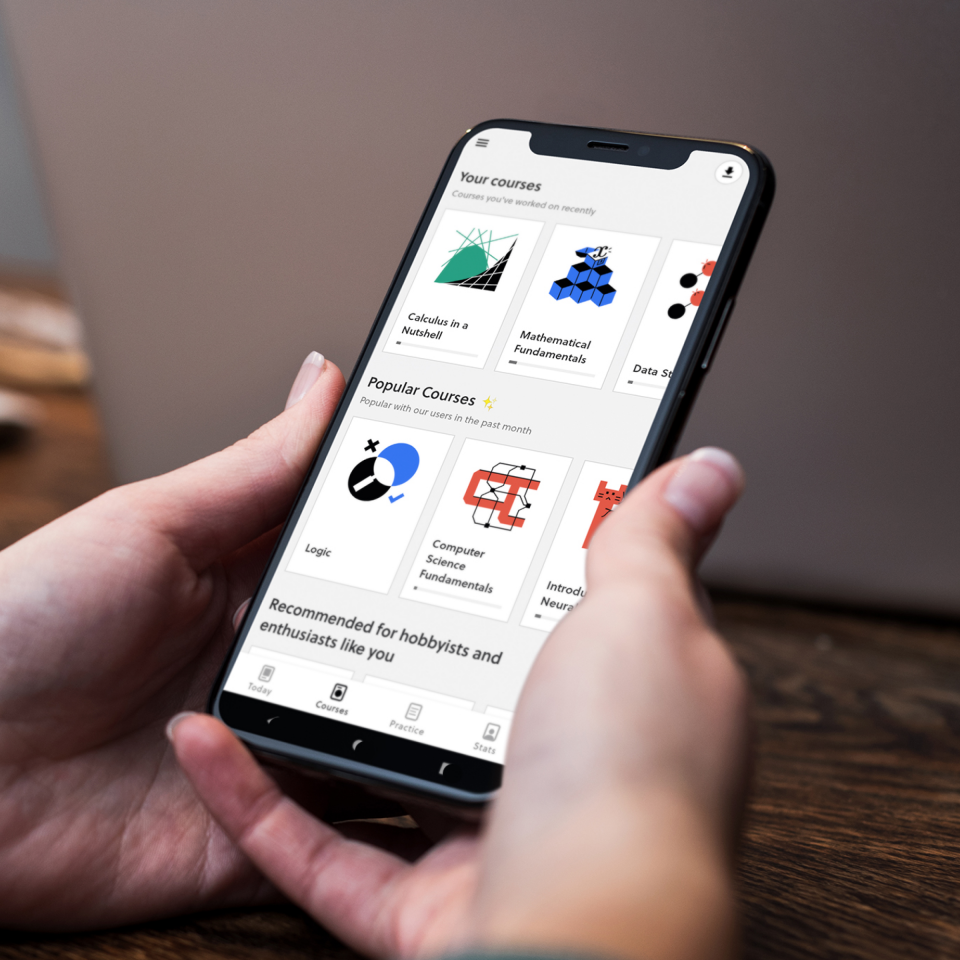 From investing to business to your fantasy league–-data skills are only going to become more valuable in the coming years. And Brilliant is the best way to learn them.
Brilliant helps you master concepts in math, data, and computer science through hands-on, bite-size problem solving. It was built for busy people looking for the most effective and efficient way to learn. On Brilliant, you can tackle advanced topics in as little as 15 minutes a day.
Start your 30-day free trial to get instant access to thousands of bite-size, guided lessons. Plus, get 20% off an annual premium membership if you stick with it.
Tensions Hit the Ceiling
Remember when the US officially breached its borrowing limit about a month ago? Time to check in and see how that's going.
Obviously, we all have full and complete faith in the wisdom, intelligence, and efficiency of our glorious federal government to-dammit, I can't even bring myself to finish the sentence. It's a little too early for April Fools' jokes like that, but it's sure as hell not too early to start doomsday prepping, at least according to Bank of America.
On Tuesday, the Fed's in-house doomer Neel Kashkari hopped onto CNN in a relatively lowkey interview to reiterate FUD around a potential US debt default. This guy is always panicking about something, but this time, the freak-outs seem warranted.
Homeboy Neel was largely echoing comments of two members of the modern financial Mt. Rushmore, Treasury Secretary Janet Yellen and Bank of America CEO Brian Moynihan.
Yellen is the point guard of the operation here. As Secretary, she is responsible for payments coming out of the Treasury, and she's the one who instituted the "extraordinary measures" on January 19th to avoid an immediate default. Since then, she has been a broken record, rightfully so, about the need for Congress to get its sh*t together and figure this out. On Monday, Moynihan decided he wanted a feature on her broken record, joining the chorus of concern.
"Hope is not a strategy" was the key phrase Bri-Guy dropped as he spoke to CNN just a day before Kashkari. In a somewhat surprising revelation, Moynihan indicated that the bank (America's second-largest) is already making heavy preparations for a looming default.
He likened it to preparing for a natural disaster, a major disruption that triggers an outsized rush to the bank for liquidity. They gotta be strapped with cash if (more like "when") the day comes that the US defaults.
Moreover, they're already planning on issuing "payment waivers" for customers that are employed by the federal government. Basically, because those employees' salaries will just completely stop during a government shutdown, BofA is waiving payments on any debt obligations they have with the bank. If that doesn't sound like a big deal, let me just ask-when was the last time a bank let you skip a debt payment with no penalty? Exactly.
The newly swirling FUD emerged following Joey B's State of the Union. Not sure if you guys are politics buffs of anything, but Democrats and Republicans aren't exactly big fans of each other. In case you missed it, this toxic relationship was on full display during the speech as Joey B explicitly called out Republicans for what he alleges to be their unwillingness to negotiate a solution.
All the booing and heckling from the crowd made it seem more like the UK Parliament, where loud and entirely unintelligible yelling is not only allowed but encouraged for some reason (they're weird).
That division displayed at the SotU shows exactly why people like Kashkari, Yellen, Moynihan, and plenty of others are tweaking about a default months before the earliest expected potential default date (mid-June).
Safe to say a bank as big as BofA wouldn't be making these preparations unless they were pretty damn confident in their lack of confidence for Congress to figure this out.
Good luck! Personally, I'm currently getting quotes on the cost of the nuclear bunker I now plan to build. We'll see you there (hopefully).
Energy ($WTI, $XLE) ↑ 3.92% ↑
Energy names were feeling themselves on Friday, powering up on the news from everyone's least favorite war mongerer.
Apparently, the G7 + EU + Aussie-imposed price caps on Russian crude and other fuels have Vladdy P downbad. The nation announced plans to cut production by a huge 500,000 barrels/day next month. In case you forgot, less supply = a bag for the bulls.
Every non-Russian energy stock and commodity was absolutely loving it. US stocks like Exxon (+4.2%) raised the roof on the Energy Sector ETF $XLE, which gained 3.92% on Friday. Sidebar: that's a dream of a day for an ETF, apes.
WTI and its bestie Brent soared as well, along with other energy contracts like everyone's favorite-named natty gas commodity, RBOB. Rumors allege Russia plans to counter this loss in energy through drastically increased shipments of Redbull and Bang, but the Kremlin ghosted my request for comment.
PayPal ($PYPL) ↑ 3.03% ↑
PayPal shares gained big time to close out an otherwise rough week for the payments firm, sticking up two giant middle fingers in the process.
Middle finger 1 went to CEO Dan Schulman, who has been at the helm since splitting from eBay in 2015. This poor guy announced his intended retirement at the end of 2023, which apparently helped put a big smile on investors' faces.
Middle finger 2 went to the entire crypto market. The firm announced plans to halt a major project devoted to building out its own stablecoin, seeking to avoid the schizophrenic enforcement of "laws" by the SEC.
But that wasn't it. The numbers PayPal put up for the quarter were damn good as well. EPS managed to eke out a $0.04 beat at $1.24/sh while sales fell right in line with market estimates. Not bad.
Lyft ($LYFT) ↓ 36.44% ↓
Well, this stock could certainly use a lift (good one, huh?) after the way it traded on Friday.
Sorry for that, but it's true. Shares in the ride-hailing company you only use when Uber is too expensive / far away posted their literal worst day ever, plummeting nearly 36.5% on an earnings report worse than a 16-car accident.
Don't even tell me you check Lyft first, either. Analysts expected a positive EPS of around $0.10/sh, but Lyft decided to take the complete opposite route, losing $0.75/sh instead. Sales didn't do too hot either, although they did manage to beat by a slim margin.
A surprise loss is exactly the opposite of what Uber posted, but the real driver was the sluggish guidance for their next quarter. Execs lowered revenue expectations way too much, coming in lower than analyst guesstimates and causing the stock to trade as if Lyft was actively spreading C-19.
Expedia ($EXPE) ↓ 8.55% ↓
Not long ago, Hertz was gettin' the people goin' with their upbeat quarterly results and outlook for travel. Expedia did the opposite.
The website that put every travel agent ever out of business was floundering to close out last week. Earnings took a fat swing and a miss, clocking in at $1.26/sh vs. the $1.67 benchmark, while revenue figures of $2.62bn were just a bit short of the $2.7bn anticipated.
Hertz says travel is popping, and Expedia says it's stopping. Sure, there is a myriad of other factors to consider (I hope I used that word right), but we'll get another take on the state of travel on Tuesday when big dawg Airbnb's numbers drop. Stay tuned.
Super Bowl
Congratulations to the Kansas City Chiefs on becoming Super Bowl LVII champions.
That said, Patrick Mahomes is still not even remotely close to the GOAT conversation. Miss me on that, Tom Brady, 'til I die.
Despite the fact that literally everyone knows that today should be a national Holiday in the US, just remember that the universe hates you, me, and everyone else, and that'll probably never happen.
Still, the Super Bowl is arguably the United States' invention, if not at the very least to allow us to say that the US is 57-0 in Super Bowls.
But, the Chiefs and the US themselves are, of course, far from the only winners of the evening. Several others include:
My bookie
Sports betting companies, in general
State and local governments that legalize, regulate, and tax sports betting
Rihanna
Patrick Mahomes" doctor/ankle surgeon
One notable non-winner of the evening, however, was the commercials. 2022 had some absolute bangers, like Larry David pumping FTX (we still love LD tho), Coinbase showing just a QR code for a full minute, and Carvana enjoying the calm before the storm.
The Super Bowl ad curse is also apparently very much still a thing, with all of those companies named either fraudulent (allegedly), near bankruptcy, or flirting with being near bankruptcy.
The one bright spot was naturally seeing booze brands besides AB-Inbev running ads now that the German giant has ended its 3-decade exclusive ad deal with the NFL. Molson Coors, Hennessy / LVMH, and Heineken all got in the action this year. None of the ads were particularly captivating, unfortunately, but for $7mn an ad spot, these companies better hope the lack of originality works out.
And it does make sense. During a liquidity bubble, you can afford to take the risk of paying an old comedian to make fun of your crypto exchange for a minute, but when a soft recession is the base case, sticking to the tried and true methods seems obvious.
Forecasts pegged the big game to attract around 100mn viewers, which would be the first time it does so since 2019. Reliable data on last night's numbers may be out by the time this goes out, so definitely worth looking into, but sadly, nothing too great just yet.
And lastly, the real winner of the night was, of course, sports betting companies. The Super Bowl is commonly the most important day of gambling for the entire year. It's basically degenerate Christmas for these guys and gals, but for States like Indiana and Arizona that allow sports betting, it's a big W too.
Anyway, congrats, I guess, to all of you out there in the corn fields I guess. I still don't like the Chiefs, obviously, but we and the streets of Philadelphia certainly thank you for not letting the Eagles win. Somehow, that city would've gotten way more f*cked up if the birds actually pulled it out. They survived another year.
Friday - I am heavy and hard to pick up, but backward I am not. What am I?
A ton (lmao).
Today - It's 150 bananas off the Venture Capital Course for the first 3 correct respondents. LFG!
A $100 sweater at Mendoza's Department Store is on sale for 50% off. An identical $100 sweater at Hoffman's Department Store was originally marked down 40%, but Hoffman's is having a clearance sale this week and is subtracting an additional 15% from its sale prices. At which store is the sweater the cheapest?
Shoot us your guesses at [email protected] with the subject line "Banana Brain Teaser" or simply click here to reply!
"Successful investing is anticipating the anticipations of others." - John Maynard Keynes