CEO of the Year | The Daily Peel | 12/29/22

Dec 29, 2022 | Peel #368
Give your silver bananas to...

Happy Thursday, apes.
Markets this year have been a lot like your transcript: just straight up disappointing, and yesterday wasn't any different. On a rare, quiet news day like yesterday, traders still found all the reason in the world to just keep selling. Meanwhile, the dollar marched higher, particularly against the yen, while bond yields broadly rose.
Let's get into it.
They'll Give You $100 if You Invest as Little as $100...WTF?!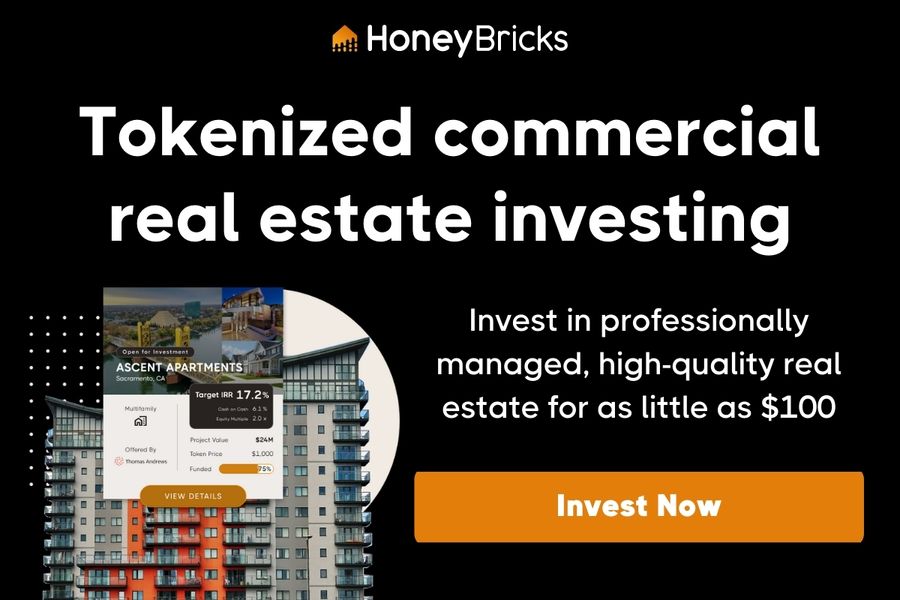 So our partner Honeybricks agreed to give $100 for the first 10 Peel readers that invest $100 or more on their platform. Yeah, so 100% return out of the gate.... yes, that is insane!
But don't worry…if you weren't as lightning quick as those first 10 speedy apes, Honeybricks has made this deal even crazier. Now, the first 100 of you fine apes that sign up will receive 1 FREE token for every 5 tokens invested! Basically a 20% off deal but in a way that works better for everyone. Now there's really no excuse to sleep on this, but you better be quick!
Honeybricks is an awesome way to be able to diversify your portfolio into Commercial Real Estate without having to risk your entire bonus...
Over the last year, real estate has massively outperformed Gold, Crypto, and the S&P 500.
Even if you've been priced out of the housing market, you can still access the passive income and wealth creation that comes from real estate with HoneyBricks.
Their tokenized platform for commercial real estate investing will get you in the game
>>> Grab your FREE token now <<<
Wrong Place, Wrong Time, Wrong Everything Else
2022 has been the year of Elon Musk. To be fair, he and his shenanigans have been a pretty big deal basically every year since about 2015, but this time it really was different.
And while the attention he's garnered this year is largely due to his completion of the most overpriced acquisition maybe ever, taking a look at Musk's day job as CE-*ahem* Technoking of Tesla provides maybe the clearest lens into the 2022 zeitgeist that you can get.
Right off the bat, we know that 2022 has been crazy, and who, I ask, is crazier than Mr. Musk himself? Exactly, almost no one, and certainly no other S&P 500 CEOs.
But, of course, it goes deeper. Let's take a peak and see if we can find out exactly what the f*ck I'm talking about.
Tesla's stock price in 2022 began right around $400/sh. 12 months and -72% later, shares trade right around $112, essentially summing up the brutality of this year's stock market.
With Tesla being the high-flying growth name that it is, this downfall shows that simply being big no longer cuts it for surviving a market downturn with little in terms of losses. It wasn't just a stock getting cut, it was the growthiest growth name in Growthville, and shares got absolutely shlacked.
Further, in years past, investors have poured money into megacap tech to take cover when markets aren't on their best behavior. The duck-and-cover trade into big tech names provided absolutely no shelter from the bombings of 2022, suggesting that finding safety in markets may now only be accomplished by finding safety in actual safe investments like treasury bonds.
But Tesla isn't just a growthy-ass tech company, is it? No, kinda the opposite in a traditional sense. At the end of the day, it's still a car company, and boy, did those have their fair share of problems these past few years.
C-19, macro headwinds, and supply chain meltdowns have all slammed into Tesla like a Model 3 slamming into a highway guardrail. While far from specific to the Austin-based car maker, Tesla sits at the top of the list of companies that got f*cked by all of the above, and maybe that's largely due to China.
Zero C-19 really pushed the pause button on production in the nation for a while, not to mention deteriorating demand caused by weaker consumption trends and new competition. Plus, Tesla isn't even close to being out of the woods yet. Just this week, the firm had to close the doors of its largest plant, based in Shanghai, for *hopefully* only about a week or so.
So what we see here in Tesla isn't simply a car/tech titan controlled by a madman. We see a car/tech titan controlled by a madman that's also a helpless victim of the times, taking on forces like mangled supply chains, EV competition, economic headwinds (not to mention rate hikes), and so much more. For a microcosm of the state of macro and markets, look no further than to Elon and his homie Tesla.
Tesla ($TSLA) ↑ 3.31% ↑
And despite all those ramblings above, Tesla was actually one of the two names in the S&P 500 that saw a gain of more than 1.1% yesterday. (You'll never guess the other, and it's definitely not described below).
It seems like shares have ended their suicidal selling spree, at least for the time being. News on the name was light yesterday, indicating that a downtrend in Musk's Twitter antics has stemmed the bleeding for now. You buying the dip?
Generac ($GNRC) ↑ 5.60% ↑
It takes a lot to generate (lol) excitement in a market like this, so power storage company Generac better be sending a big fat thank-you note to the analysts over at Janney Montgomery Scott (JMS).
That's because the firm's newly released price target on the firm ($160) sparked a powerful upside move yesterday, gaining well over 5%.
The team at JMS thinks the market is sleeping on Generac's exposure to green energy transitions as well as its importance in recent large-scale power outages.
Maxeon Solar Technologies ($MAXN) ↓ 9.34% ↓
Talk about a warm welcome…On Wednesday, solar company Maxeon announced they would be appointing a new CEO, and the market absolutely hated it.
The new CEO, Bill Mulligan, is taking his…mulligan…in a C-suite position after several years in the role of COO for a nanotechnologies company.
Safe to say markets are NOT impressed with his past work. Shares utterly tumbled all day long following the announcement, finishing a horrifying 9.34% lower. They say the first day is always the hardest, and for investor's sake, we sure hope they're right.
Southwest Airlines ($LUV) ↓ 5.16% ↓
Just when you think it can't get any worse, Southwest Airlines said, "hold my beer."
The Holidays are a time for fun, family, and fighting with customer service reps of major national airlines, apparently. Or at least, that's the reality Southwest has created for itself. Pretty much every other airline is operating as normal, but due to loading a gun and shooting itself in the foot, Southwest is struggling.
The airline went with a 'Will Smith at the Oscars' level of aggressive flight schedule this Holiday season. The planned number of flights increased, turnaround times decreased, and everyone lived happily ever after.
Unfortunately, the opposite is true. That aggressive scheduling, along with major snowstorms hitting its two main hubs (Denver and Chicago) extra hard, led to a snowball effect of cancellations and delays still lingering to this very moment.
Platinum Banana: CEO of the Year
Stop right there. I know what you're thinking. Yes, last year we did award (former) FTX CEO Sam Bankman-Fried (aka Scum Bag-Fraud) the Platinum Banana for CEO of the Year. Now, I've gotten a lot of takes wrong, but that was so egregiously incorrect I'm surprised I haven't been fired (yet).
We can't let SBF steal the prestige of the only CEO of the Year Platinum Banana award winner. Don't worry; the trophy has been recovered from an undisclosed location in the Bahamas, and we're ready to clean it off and give it to someone that's not a fraudster of epic proportion this year.
So, without further ado, give it up for the winner of the 2022 Platinum Banana for CEO of the Year…Michele Buck of The Hershey Company!
In an otherwise disgusting year for markets and the economy as a whole, Hershey managed to keep things sweet and tasty out in Hershey, Pennsylvania.
For starters, the company's share price is up big on the year. I don't blame you if you didn't realize that was possible in 2022, but shares of $HSY have drastically outperformed their sector and broader markets this year. At close yesterday, Hershey was up 20.5% on the year while the S&P has lost 21.1%, representing a 41.6% alpha.
But, of course, to win such a coveted award like a Platinum Banana, it's gotta go deeper than stock prices.
Hershey is coming off the back of several key acquisitions made from 2019-2021. Some of the larger buyouts include Lily's Sweets, Krave Pure Foods, Pretzels Inc, and the maker of SkinnyPop. These acquisitions, along with others, really started to print over the last 12 months.
Segments like North America Salty Snacks have seen tremendous growth this year, pushing as high as 87% so far, largely on the back of these expertly managed acquisitions. That contributes to overall stellar growth, which has been revised up at least twice now in 2022. Full-year guidance for top-line growth started at 12% and is now 15%, while EPS growth projections were increased to 13%.
Keep in mind that's during a year when the cost of literally everything has been skyrocketing. Growth like that doesn't come easy, and if it's kept up, this could drive the firm back over the $50bn mark in short order.
The idea of small luxuries likely played a big role in assisting Hershey's stellar year as well. During times of economic hardship, people rely on small luxuries to spark a much-needed dopamine hit, and little confectionaries like chocolates fit that bill just right.
But, of course, 2023 will be an entirely new animal. Expectations now are about as valid as expectations for 2022 were around this time last year when the consensus was for a 2022 S&P closing level of 4,825. Don't worry; we only need a 2-day rise of 26% for that to be right, so there's still a chance!
The big question: Can Hershey continue its outsized success into 2023 and beyond? What qualities will birth the 2023 winner of this most prestigious award?
Yesterday - What makes this number unique: 8,549,176,320?
It contains each number (0-9) in alphabetical order.
Today - It's 30 bananas off the Hedge Fund Interview Course for the first 15 correct respondents. LFG!
What 5-letter word typed in all capital letters can be read the same upside down?
Shoot us your guesses at [email protected] with the subject line "Banana Brain Teaser" or simply click here to reply!
"It's not about the money. It's about the game between people." - Gordon Gekko