Fed Minutes: TLDR | The Daily Peel | 2/23/23

Feb 23, 2023 | Peel #405
Give your silver bananas to...

Happy Thursday, apes.
Yesterday was another one of those neck-hurting days from the violent whipping back-and-forth of equity markets. Earnings and economic data continued to roll out and, in line with the *checks notes* everything else in 2023 only confused watchers even more.
By close, US equity indices were dead flat, with the Nasdaq moving up just 0.13% while the Dow and the S&P moved lower by a comparable degree. Yields rose in response to today's Macro Monkey topic (no spoilers), while the USD gained as well.
Let's get into it.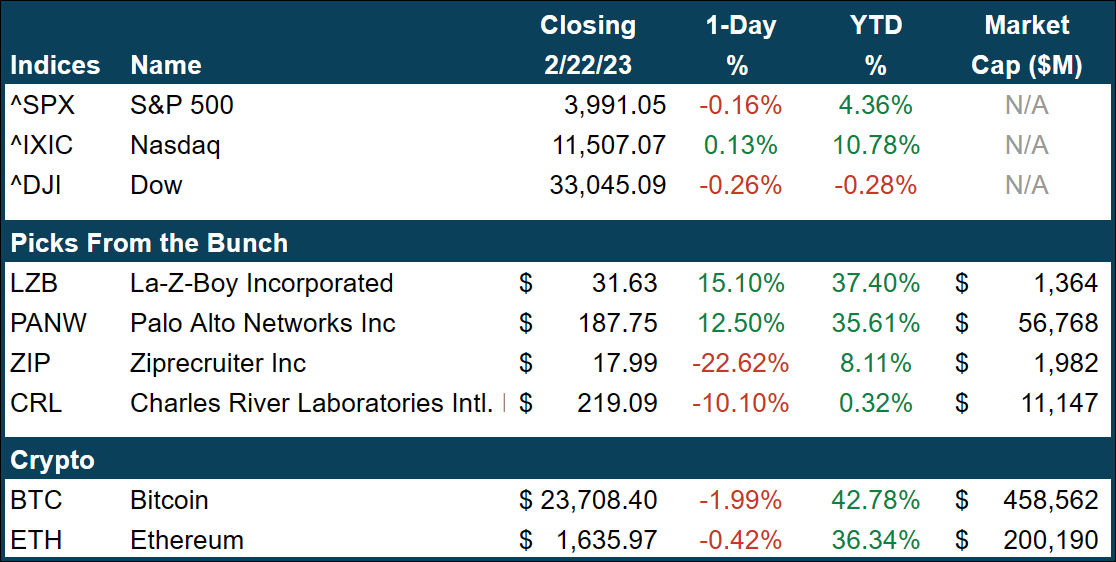 Paradise? No, but Here's a Smarter Way to Manage Your Deals.
What we're supposed to say: The SRS Acquiom suite of M&A solutions can take you and your clients from pitch book to post-closing yadda yadda. Our experienced team will deliver unbiased and precise support across this, that, and everything else.
What you really need to hear: SRS Acquiom is one big solution to help you get every little part of the deal done right without fantasizing about your resignation letter the whole way through. Our private client portal, virtual data room, and more equip you to open things up strong, close them up strong, look great to your clients and colleagues, and get on to the next thing. There are plenty of specifics we can provide, and that's what our website is for.
We Got the Receipts
Like scrolling back in the group chat to put someone on blast or going back to check the tape after a BS foul call, the Fed has officially released the receipts from their latest FOMC meeting. Finally.
The Federal Reserve Meeting Minutes, aka the Fed Minutes, are generally released a few short weeks after any given FOMC meeting to give us some insight into the decision-making processes behind these obviously flawless geniuses steering this $23.3tn ship. It's one of Mr. Market's favorite events, and boy, did this one fail to disappoint.
Volume was higher than usual, but the conviction behind that volume was far from it. The roller coaster that your portfolio rode yesterday was largely driven by these minutes, and as the main US indices finished mostly flat, the only thing that was clear was that the message was decidedly unclear.
First and foremost, FOMC officials appear just as confused as the rest of us. The overarching message was basically JPow saying, "yeah, inflation is starting to retreat, but idk if it's enough to make me stop with these rate hikes."
One of the most important and defining parts, however, came rather early in the doc as officials made clear that "Almost all participants agreed that it was appropriate to raise the target range of the federal funds rate 25 basis points…" and that reducing hikes to this level would serve to "determine the extent" of further hikes.
Further, officials continued to get creative with their phrasing to say essentially the same thing they've been saying for quite a while. Notably, "...participants generally noted that upside risks to the inflation outlook remained a key factor shaping the policy outlook." Gee, thanks!
Mr. Market did get a little spooked with some turn of phrase, however, including "Even so, participants agreed that, while there were signs that the cumulative effect of the Committee's tightening of the stance of monetary policy had begun to moderate inflationary pressures, inflation remained well above the Committee's longer-run goal of 2% and the labor market remained very tight."
To translate, the minutes above basically tell us that JPow and the homies are seeing some sign that inflation is receding, but a lingering and extremely tight labor market is adding quite the challenge to getting inflation back to 2%. See what I mean? It's the same old song and dance.
Part of the reason why the market likely reacted in such a way is due to the wide range of varying interpretations from these minutes. Sure, never are the Fed Minutes perfectly clear, but this discussion seems to be purposely vague and, tbh, a little sus.
Lastly, the minutes also go to show that it's not just you, me, and your broker that are taking after a certain Richard Linklater movie in this economic environment. For now, the market seems to expect the Fed to continue to hike in 25 bps increments, with rates peaking later this year. According to Fed Governor Bullard, 5.375% is a solid guesstimate for the target rate. According to the bond market, that maxes out at 5.12%. It might not seem like a lot, but that spread implies we're at least one 25 bps hike out of whack.
Let the games begin.
La-Z-Boy ($LZB) ↑ 15.02% ↑
Despite their best efforts, La-Z-Boy ain't fooling us. According to the last quarter's numbers, this team is anything but lazy. You, on the other hand, who bought their chairs, probably are lazy.
No worries, though; I'm cracking a cold one in my own chair right next to yours, especially if I held this stock yesterday, as shares soared over 15% yesterday.
The furniture maker dominated expectations on both the top and the bottom line, stepping over analysts' models as the company dunked all over guesstimates.
Palo Alto Networks ($PANW) ↑ 12.50% ↑
It really is the best of times and the worst of times for cybersecurity names. Cyber defense is top of mind for companies everywhere, forcing them to open their wallets to players like Palo Alto Networks, but then again, one bad hack could literally end civilization as we know it.
But hey, high risk = high reward, and yesterday was all about the reward for this…not-Palo-Alto-based…cybersecurity stock. About 20 mins south of Palo Alto in Santa Clara, CA, Palo Alto Networks was raking it in last quarter.
The firm reported a sizable EPS beat, taking home $1.05/sh, while analysts were only looking for $0.78. Sales beat, too, as cyber-safety has become the MVP of keeping CEOs and CTOs awake at night.
Just goes to show that despite our labeling of it as the "tech sector," there are about a billion ways to look at the space. Yeah, digital ad spending might slow in a recession, but if you were a CEO, would you ever stop paying the guys and being glad to keep your data safe?
ZipRecruiter ($ZIP) ↓ 22.62% ↓
It's not often you see stocks fall this far, this fast. I mean, this company lost over 1/5th of its value in a…zip. (You're welcome for that, btw. Feel free to use it among your friends.)
Anyway, ZipRecruiter tumbled off a cliff despite earnings coming in nearly 2x expectations at $0.17/sh, with sales topping expectations mildly as well.
But, no matter how good you did last quarter, Wall Street only cares about the 20-23% dip in YoY revenue expected in this upcoming quarter. Like Chair Powell, management is blaming the overly tight labor market, citing decreased listings for white-collar jobs, especially those at SMBs, amid what ZipRecruiter called a "macroeconomic slowdown."
Whether it's big facts or a cheap excuse, Mr. Market clearly didn't care, sending shares off to one of their worst-ever trading days.
Charles River Labs ($CRL) ↓ 10.06% ↓
First, they took their name from one of the worst-smelling bodies of water in the US. Then, this pharma co decided to translate that smell into yesterday's share price performance. In short, Charles River stinks.
At least one part of yesterday's earnings report really stunk. It wasn't performance, with both sales and EPS topping expectations. Guidance was far from thrilling, contributing heavily to yesterday's downturn.
But the worst part, especially to apes like us, is the news of a DOJ subpoena to investigate the firm's treatment of "non-human primates," aka monkeys/apes, in their research lab. Just…wow.
If you were on the fence about buying, maybe yesterday's discovery that not only do they treat you apes poorly but your portfolio, too, will put a nail in the coffin.
Government to the Rescue?
We often talk about how it's literally impossible for any non-trillionaire to purchase a home in the US in recent years. Well, apparently, the higher-ups in DC are listening (as expected) and have decided to do something about it.
According to the homie Freddie Mac, the average 30-year fixed mortgage payment across the US right now is $3,048. Now, averages are easy to distort from the higher end, but the latest data on the median payment from government sources sits at $1,672 from full-year 2021. Going off this less-than-ideal data, let's see what's going on.
Yesterday, the White House, along with the Federal Housing Finance Agency (FHFA), announced plans to reduce frictions for first-time home buyers as costs have soared in recent years due to both price and rate hikes. But how much is the big announcement expected to save these buyers?
About $800/year. While that's nothing to scoff at, that ~$66.67/month equates to approximately 4% of the median payment or 2.2% of the average. Thanks, Joe!
Yeah, that's not gonna help too much. The government recognizes that home ownership is one of, if not the most, fundamental building blocks of the US economy writ large, allowing things like penalty-free withdrawals to retirement plans for first-time home purchases.
But this, this right here, does next to nothing. However, we often say it's not about the level but the direction. In other words, it's not about this one change to obscure federal mortgage insurance and reinsurance laws to lower costs that matters; what matters is that the federal government felt this was something that needed to be done.
There was scarce circulation among media outlets and the rumor mill more in general for anything in terms of assistance to home buyers like this rule change. Nothing was mentioned in the very-recent State of the Union address on the subject, but this is confirmation the government is at least aware of the issue.
We'll see if any more legislation, hopefully, something a little more meaningful, of course, arise in the coming months. For now, we'll stay observing the incentives and behaviors of participants in the market, like buyers, builders, and brokers. Stay tuned.
The big question: Will the federal government or any state/local government take continuing action to assist home buyers? How will this impact the anomalous state of the housing market today?
Yesterday - I have an eye but cannot see. I'm faster than any man alive and have no limbs. What am I?
A hurricane.
Today - It's 100 bananas off the Hedge Fund Interview Course for the first 15 correct respondents. LFG!
A man forgot the secret code to open his locker. But he remembers the following clues: Fifth number plus the third number equals fourteen. First number is one less than twice the second number. Fourth number is one more than the second number. Second number plus the third number equals ten. Sum of all five numbers is 30. Can you find out the secret code to help him out?
Shoot us your guesses at [email protected] with the subject line "Banana Brain Teaser" or simply click here to reply!
"I invest in anything that won't be destroyed by inflation." - Michael Jordan