MARKETS
U.S. markets: It was the most Monday-ish Monday. On the heels of more U.S.-China drama, all three major indexes suffered their largest daily percentage drop this year. The Treasury market flashed its loudest warning signal since 2007, too.
Trade: Contributing to the market's nosedive was a report that China asked its state-owned enterprises to stop importing U.S. agricultural products.
Crypto: Anarchy in the markets is sometimes great news for your Coinbase account. Yesterday afternoon, bitcoin prices shot past $11,800 after gaining more than 14%.
Want Morning Brew Daily Served Fresh to Your Inbox?
Drop Your Email Below...

CURRENCIES
Yuan a Currency War? You Might Just Get One.

The tightly controlled Chinese yuan was allowed to weaken past the symbolic 7-to-1 level against the dollar for the first time since 2008 yesterday. A new chapter in this epic economic battle has begun.
Because the People's Bank of China (PBOC) keeps a tight leash on the yuan, the central bank's decision to allow the currency to sink past that 7-to-1 threshold is interpreted by some as an opening salvo in a currency war-and a clear signal that Beijing isn't backing down in the trade war with D.C.
About 7-to-1: Crossing that level is like hurtling the fourth graders in red rover. China had for years defended the barrier with aggressive policy even as the dollar strengthened. But now, as a WSJ China policy reporter put it, the "gloves are off."
Why it matters
When currencies weaken significantly versus the dollar, goods in their home countries become more competitive in the global marketplace.
In a tweet yesterday, President Trump said China was engaging in "currency manipulation."


After months of punting on that label, the Treasury Department late yesterday designated China a currency manipulator and called on the IMF to "eliminate the unfair competitive advantage created by China's latest actions."
Over in Beijing, Chinese officials insist this was the market's doing, not the PBOC's. The central bank blamed "protectionist measures and expectations of further tariffs against China."
This is not good for anyone
China's move could force other countries to devalue their own currencies, which would hamstring global growth across a number of fronts. In the U.S., relative dollar strength could undermine economy-boosting strategies like last week's Fed rate cut.
Looking ahead...in 26 days, President Trump's 10% tariffs on the remaining $300 billion of Chinese imports will go live. The trade war ceasefire is off, and Beijing looks ready to use its currency as a weapon in the dispute. If the yuan continues to sink, expect more retaliation from D.C.
FOOD
Tyson Likes Its Lawsuits Alfredo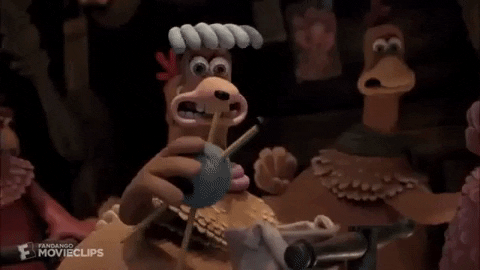 Tyson Foods said in a regulatory filing yesterday that it received a grand jury subpoena from the Justice Department.
For those of you who didn't take the bar last week: This means the Justice Department is expanding its criminal investigation into the company. The DOJ's probe is focused on whether Tyson, the biggest meat producer in the U.S., colluded with other large producers to keep chicken prices artificially thigh.
The DOJ first announced its investigation on June 21. Before that, restaurants, retailers, and consumers had accused Tyson and other producers of price fixing in lawsuits. Tyson denies the allegations and said it's cooperating with the investigation.
Watergate, but for chickens:
Plaintiffs have said Tyson, Pilgrim's Pride, and others coordinate their prices through a production benchmarking service called Agri Stats.
While the data producers provide to Agri Stats is anonymous, the plaintiffs say it's detailed enough for them to coordinate production plans accordingly.
+ While we're here: Tyson shares (+5.10%) hit an all-time high yesterday following a strong earnings report.
INTERNATIONAL
Hong Kong in Chaos
A general strike paralyzed much of Hong Kong yesterday, escalating tensions in the global financial hub.
Thousands of employees including teachers, civil servants, aviation workers, and finance workers called in sick or took a day of leave to object to what they consider an undemocratic system and unaccountable police force. Occupying roads and malls, some protests have devolved into violent confrontations.
Zoom out: The demonstrations began in June over a now-suspended extradition law, but as the summer's progressed the protestors have begun targeting Hong Kong's political system and police force more generally.
The city's chief executive Carrie Lam condemned the protestors in her first public remarks in two weeks yesterday. It worked about as well as telling an angry person to "calm down" ever does.
By the numbers:
Police said they've arrested 420 people (plus at least another 82 yesterday) and fired 1,000 rounds of tear gas since protests began.
Bottom line: This is the biggest crisis in Hong Kong since it was transferred from British to Chinese rule in 1997.
BANKING
What Is Going on at HSBC?

Yesterday, HSBC (-3.48%) reported profit and revenue growth for the first half of the year...then dropped the hammer:
Europe's largest bank by assets unexpectedly ousted CEO John Flint after 18 months. Culture-focused Flint reportedly clashed with HSBC's data-driven chairman, Mark Tucker, and Coach Carter wasn't around to smooth things over
HSBC also announced plans to cut about 2% of its global workforce as it navigates an "increasingly complex" global environment.
What's so complex? London-headquartered HSBC generates about 80% of its profit in Asia and counts Huawei as a major client-so it's juggling Brexit and the U.S.-China trade war at the same time.
Tucker said "a change was needed" for HSBC to confront those geoheadaches quickly. That's why soft-spoken Flint's headed for the exit and cutbacks are focused on senior executives.
Big picture: While earnings were "solid" by most measures, HSBC is feeling the pressure. Wall Street has started to wonder why a bank so focused on fast-growing economies in Asia can't post stronger returns.
+ Pop quiz: What does "HSBC" stand for? If you have no clue, reply to this email with a guess. The answer is at the bottom.
MEDIA
All the Mergers That Are Fit to Print
The parent of GateHouse Media put on its robe, ventured out to the driveway, and agreed to buy Gannett (+2.70%) for about $1.4 billion. The deal combines the top two newspaper companies in the U.S.
Gannett, which is responsible for the USA Today outside your hotel room, is the country's largest publisher by circulation. GateHouse reaches more than 22 million people per week with 156 dailies and hundreds more community newspapers.
Zoom out: The rise of the internet and digital advertising have created a winner-take-all environment in the industry. While a few national giants have flourished (WaPo, NYT, WSJ), many local and regional publications have been devastated. According to the WaPo, from 2008–2018 newspaper jobs declined at a faster clip than coal mining jobs over roughly the same period.
Looking ahead...news industry analyst Ken Doctor predicts more consolidation among papers. He says the GateHouse/Gannett merger isn't the "checkered flag at the end of the race. It's more of a starting gun."
WHAT ELSE IS BREWING
IBM (-4.41%) and several other corporations launched a blockchain network to improve supply chain management.
8chan, the online message board where white nationalist gunmen had been active, suffered sporadic outages a day after Cloudflare stopped providing protection services.
Victoria's Secret hired Valentina Sampaio, its first openly transgender model.
Video game publisher Take-Two (+6.58% after hours) raised its full-year revenue forecast thanks to titles including NBA 2K and Red Dead Redemption 2.
Barneys New York is reportedly prepping a bankruptcy filing in a deal that would allow the retailer time to look for a buyer...but would force it to close most locations.
BREAKROOM
Big Tech Wiki
Rank the following Big Tech companies by traffic to their Wikipedia pages over the last two months: Microsoft, Apple, Amazon, Facebook, Netflix, and Google.
Want Morning Brew Daily Served Fresh to Your Inbox?
Drop Your Email Below...

Breakroom Answers
Big Tech Wiki
1. Facebook 2. Google 3. Netflix 4. Amazon 5. Apple 6. Microsoft (source)