Headline of The Year | The Daily Peel | 12/28/22

Dec 28, 2022 | Peel #367
Silver banana goes to...
Happy Wednesday, apes.
It was a great day yesterday unless you're anything besides a value stock. Markets broadly sold off as the fat guy in the red suit didn't get investors nearly as merry as hoped.
Inflation has spiked energy prices, so even if you got nothing but coal this weekend, at least now you finally have some cheap energy.
Let's get into it.
Elon Musk's AI-Enhanced Monkey Stock Pickers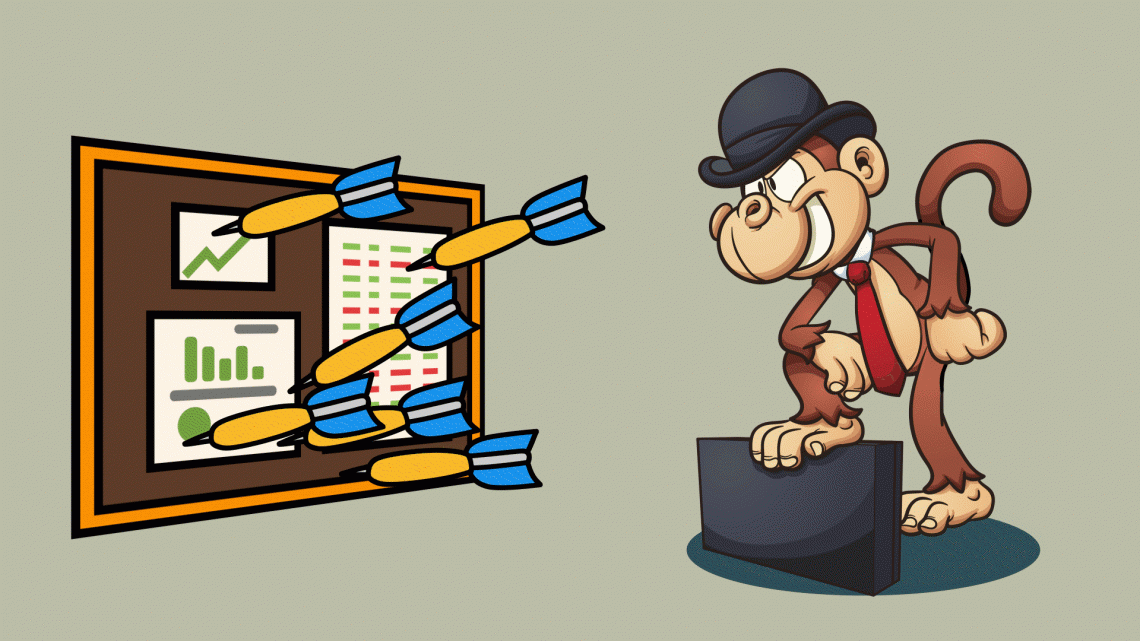 We've all heard the (true) story of the blindfolded dart-throwing monkey that got better returns than stock-picking pros. You may have also heard that Elon's Neuralink is equipping monkeys with intelligence-enhancing brain implants (Also true). So, is it really soooo crazy to think this could all be his evil plan to "outsmart the market"?
You be the judge. What's clear is that the unpredictable stock market can make anyone go bananas. But there are alternatives. In fact, as stocks and DeFi crashed, one investment platform had 3 recent exits, realizing: +13.9%, +17.8%, and +21.5% net returns each.
It's called Masterworks. They're unlocking the $1.7 trillion high-end art market for investors like you. Now, nearly anyone can invest in shares of multi-million-dollar art by names like Banksy and Picasso. Why art? Well, contemporary art prices:
Outpaced the S&P 500 by 131% over the last 26 years.
Have the lowest correlation to equities of any asset class, according to Citi
Beat gold, real estate, and stocks in inflationary periods historically
Daily Peel readers are invited to skip the waitlist with this exclusive link. It's so easy, a monkey could do it.
See important Regulation A disclosures.
PCE Calls for Peace
Early data shows the war on inflation just might be a winning effort. Because they love to be quirky and different and confuse everyone that's not a Ph.D. economist, the Federal Reserve's preferred inflation measure is not real-time data or CPI or anything like that, it's a little thing called the Personal Consumption Expenditure index, or PCE.
PCE differs from CPI in that it considers price levels from the perspective of consumers and businesses. In that sense, it's worthwhile.
But just to make things even quirkier, JPow and the gang choose, for almost no valid reason, to strip the cost of food and energy as well. That metric of PCE minus food and energy is what people are referring to when they say "the Fed's preferred inflation reading." Tell me about it.
Now that we got that out of the way, we can all rest assured as "the Fed's preferred inflation metric" slowed in the month of November, rising just 0.2% monthly and 4.7% from this time last year. Still far above the targeted rate of 2%, but hey, a win is a win.
Markets didn't have a major reaction in either direction. That's not due to a lack of importance of the metric compared to something like CPI but rather is likely due to the sheer confusion this data release carries with it.
Inflation is slowing, but markets are far from sure if this means one of the following:
JPow will ease up
JPow will think, "this whole raising rates super high super fast thing is working very well," and cause continued/extended elevation of the economy's base rate.
Nevertheless, one thing that was clear was that spending has largely shifted from goods to services. Good spending dropped across the economy by ~$60Bn, but you know Americans are never gonna stop swiping their credit cards, so services spending rose $80Bn to make up for it.
Generally, the Fed is thought to have more control over service-based inflation than goods. That's mostly because service inflation is primarily wage driven, and with the Fed having far more sway over labor conditions than the price of oil or any other commodity, the hope is that we're getting closer to the nail in inflation's coffin on both the current level as well as the source of future inflation.
I know; two pieces of good news in a Macro Monkey about inflation is almost unheard of in 2022. Just to burst your bubble a little bit, I'll just add that this slowdown in PCE coincides with far weaker-than-expected retail spending for the holidays. It's not all sunshine and rainbows, but it's not the eye of the storm anymore, either.
Casino Stocks ($WYNN, $LVS) ↑ 4.47%, 4.17% ↑
Gambling on casino stocks paid off big yesterday, with names like Las Vegas Sands and Wynn Resorts getting dealt a royal flush. Each rose roughly 4% - 4.5% on an otherwise dreary day on Wall Street.
Like a lot of macro investing this year, it was all about China. The continued relaxation of Zero C-19 policies frees up travel into the world's most populous nation, and that, of course, includes the global gambling capital of Macau.
With mandatory quarantines all but eliminated, investors are betting big that betting will come back big in the region. The more Macau exposure these stocks had, the better their day was yesterday.
Alibaba ($BABA) ↑ 4.90% ↑
Alibaba and other Chinese tech names can, too, thank President Xi for a stellar day yesterday.
Along with names like JD.com (+4.18%) and Tencent (+3.9%), the big tech gang over in China had a helluva day as optimism reigned supreme on-yup, you guessed it-continued Zero C-19 relaxation.
In this case, however, the optimism comes from anticipated economic growth now coming faster than expected. There's no direct benefit necessarily like for the gamblers described above, but less C-19 equals faster growth for the economy, which equals good news for big tech names. Although, that very well could prove to be much easier said than done.
Coinbase ($COIN) ↓ 8.00% ↓
The DeFi market wasn't on the naughty list this year; it was the naughty list. And unfortunately, prices haven't yet felt the full impact of Santa's wrath.
Alongside price action across the digital currency market yesterday, DeFi exchange Coinbase saw shares tumble 8% to close at its lowest price ever. In other words, Mr. Market has never been more bearish on the exchange (or perhaps the entire asset class) than it is right now.
Contagion risk is the primary concern. FTX was described as "the JP Morgan" of DeFi, and SBF the Warren Buffett, so considering those factors, it's no surprise investors aren't willing to take Coinbase CEO Brian Armstrong at his word.
Greedy when others are fearful, or fearful because others are greedy? Place your bets now.
Tesla ($TSLA) ↓ 11.41% ↓
I really tried to avoid it, but dammit, Tesla just keeps sh*tting the bed day after day, once again leading the laggards within the S&P 500.
Shares dipped nearly 11.5% yesterday on an announcement that the company's largest production factory, based in Shanghai, will be closed for business until at least January 2nd. China-based EV maker Nio (-8.2%) had a rough day, too, on similar supply chain snags.
Platinum Banana: Headline of The Year
It's about that time again, apes. Welcome to the second annual edition of the Platinum Banana awards, Wall Street's favorite and most highly anticipated celebration of white collar sh*tshows and shenanigans for the previous year.
We'll have three of these "Oscars of Wall Street" awards to hand out this year, beginning with today's announcement of the winner of the Platinum Banana for Headline of the Year. With no further ado, the first lucky winner of an enviable 2022 Platinum Banana award is…
"The Battle of Interest Rates vs. Inflation"
I mean, what else could it have even been, right? When assessing the slew of applicants for the Peel's highly esteemed awards, one of the top factors we consider in selecting a winner is their impact on markets, economics, politics, and psychology throughout the year. In 2022, inflation and rates took up more mental real estate than Kanye West did to Pete Davidson.
It's an easy winner, in other words. Inflation came to play in 2022, showing up with its best performance since way back when your dad was bumping Bon Jovi in his non-EV car with a (formerly) full head of hair blowing in the wind. Good times…
But it sure didn't make for a good time in 2022. Gas prices and wages were two of the most notable inflation-caused spectacles of the year. The average price for a gallon at the pump briefly crossed $5 back in June, causing everyone to wonder if they'd ever be able to drive again and forcing big dawg Biden to dump barrel after barrel into the market.
But despite inflation's strong performance, it did have one worthy opponent willing to risk hell and high water to beat the gradual increases in the cost of living. His name? None other than Jerome "JPow" Powell.
Standing at 6'0 tall and clocking in at like 170 lbs of pure inflation resentment, JPow led his team at the FOMC on the fastest and highest rate hiking spree in Central Bank history. As a result, recent indicators like November's inflation prints indicate Powell and the FOMC battalion just may pull a W out of this mess.
Still, we're right now sitting through the tail end of a year that saw an increase of >4,600% in the effective federal funds rate. Borrowing costs have been brought to their highest level in over 15 years on the back of 7 consecutive rate hikes, 4 of which were jumps of 75bps.
It was a battle as epic as that of Gilgamesh of Achilles, and we still don't have a clear winner. Some say we're past the peak, while others speculate inflation is hitting us with a fake-out move and will return in force come next year. Whatever your take on it, I hope you're positioned for it.
Congrats to rates and inflation on a stellar 2022. I think I speak for all of us when I say I really hope you don't win again in 2023.
The big question: Who will ultimately win this macroeconomic battle of the ages between inflation and rates? And just how violent will this war become?
Yesterday -
Every dawn begins with me
At dusk I'll be the first you see
And daybreak couldn't come without
What midday centers all about
Daises grow from me, I'm told
And when I come, I end all cold
But in the sun I won't be found
Yet still, each day I'll be around.
What am I?
The letter D.
Today - It's 100 bananas off the PE Master Package for the first 15 correct respondents. LFG!
What makes this number unique: 8,549,176,320?
Shoot us your guesses at [email protected] with the subject line "Banana Brain Teaser" or simply click here to reply!
"When you've got 10,000 people trying to do the same thing, why would you want to be number 10,001?" - Mark Cuban