Just Shut Up? | The Daily Peel | 2/8/22

Feb 8, 2023 | Peel #395
Silver banana goes to...
Happy Wednesday, apes.
Phew, you're alive; glad to see you survived yesterday's violent ride. Equity markets bounced around all day, opening lower, followed by a JPow-induced spike up, then equally down, only to finish the day decidedly in the green. Only loser sectors like real estate, utilities, and staples finished in the red following the Chair's comments. Bonds got in on the fun too, sliding up and down like a game of Angry Birds only to finish barely changed. It was a fun one, and it's time to take a look.
Let's get into it.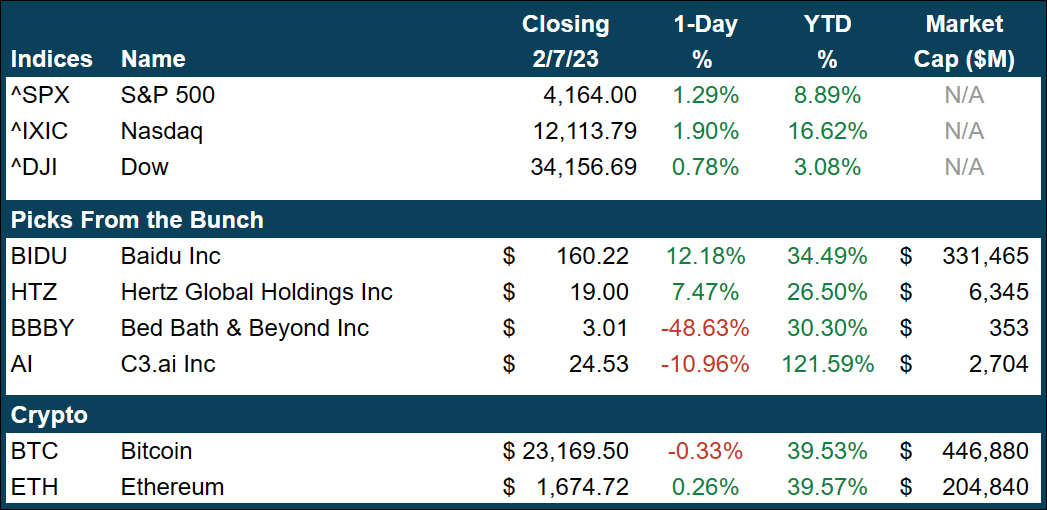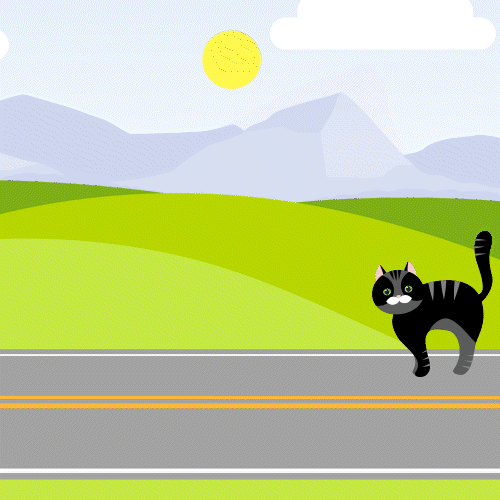 The Dead Cat bounce is old news, now we're confronting the evolution: The "Flat Cat" Landing.
Translation: while the markets try to rally, Powell isn't taking his foot off the rate hike pedal (we like to think he drives an '82 'vette)...
So how can you avoid getting pancaked like poor Mr. Mittens?
This art investment platform's last three exits delivered +10%, +13%, and +35% net returns. And no, 35% returns is NOT a typo. In fact, Masterworks has had every single one of their exits to date deliver positive returns to their investors, even through 2022's record rate hikes.
You see, the art market is way less affected by macroeconomic swings than stocks. Meaning you don't have to worry if JPow is in the mood for some reckless driving.
Masterworks is helping over 620,000 people unlock the $1.7 trillion high-end art market, so investors like you can diversify with pieces from names like Banksy and Picasso. No wonder offerings have sold out in minutes.
Fortunately, you're a Daily Peel reader, so you don't have to worry about that. You can skip the waitlist with this VIP link
JPow Speaks…Again
Can this guy just shut up? Markets are more than volatile enough with JPow yappin' it only 8 times a year, and as far as I'm concerned, we're about to OD on vol anyway.
But if he insists on speaking, I guess we'll listen. Fed Chair / God King Jerome H. Powell took the stage at the "Economic Club" of Washington to give markets as much of a scare as the first episode of The Last of Us. If your neck hurts from all the whiplash, just know we feel your pain too, apes.
Just looking at a chart of the S&P yesterday gives the whole story. Right off the bat, it was a party. See, the market was likely anticipating JPow to be super-mega-hawkish after last Friday's jobs report, but right off the bat, he set the tone for a dovish-leaning conversation.
To say it was a friendly environment for Powell is an understatement. Not only is he like the all-star quarterback and the head cheerleader combined with that audience of economic nerds, but the interviewer himself is a bit of an old friend.
Duke University's Board of Trustees Chair and billionaire David Rubenstein asked the questions, and this guy also just happened to found the Carlyle Group, JPow's employer from 1997-2005, where he worked as a Partner. Maybe that had him feeling calm, or maybe it's not that deep (*shrugs*).
But Rubenstein still did hit him with the hardest question of the day right off the bat. Essentially he asked Powell if the FOMC would've raised rates more last week if they'd had the January jobs data in advance. In response, Powell put on a masterclass of saying nothing by saying something, with the most important lines being:
"...we didn't expect it to be this strong…"
"...shows you why this will be a process that takes a significant period of time."
After this, the questions got a lot easier and certainly easier to rehearse answers to. Powell essentially tried to keep up the same message from Wednesday while markets expected him to come at it with a more hawkish tilt, hence the spike in $SPY following the speech.
Other important bars JPow spit were essentially just like, "yeah, you can copy my homework, but just change it a little, so it's not the exact same." Key messages included:
It will take a "significant period of time" before inflation is squashed due to the continued labor market strength shown Friday
There remains a "long way to go" for the "disinflationary process" to complete
"React to the data," "a bumpy road," and "more work to do." You get it...
A new message of the same old stuff probably summarizes it best. Still, we did get a little something when Powell made clear where his disinflationary focus is. With services making up over 50% of the US economy, JPow mentioned that what he wants to see most is a slowdown in service costs, particularly those related to housing.
But even that's a stretch, as this was pretty much the consensus assumption anyway. A few things we did learn, however, is that Powell does enjoy a nice bike ride, a cool mystery novel, and of course, playing the guitar. Good stuff!
Expect more of the same leading up to the March meeting. Markets are still pricing in rate cuts later this year and beyond, as indicated by the yield curve, so we'll see who blinks first.
Baidu ($BIDU) ↑ 12.18% ↑
Maybe back in 2020 the Fed should've just announced they were launching an AI chatbot too. Seems to be a far better money printer than JPow.
Following its American rivals Google and Microsoft's Bing (lol), the "Chinese Google" known as Baidu announced plans to soon launch an AI chatbot of its own.
Wenxin Yiyan, the name given to their bot, will launch this March. Unlike Bing and Google, however, it remains unclear whether Wenxin will be integrated into the existing search engine or become the main character of its own thing.
Kind of like NFTs in 2021, announcing an AI project at literally any company seems to be the new hack for a double-digit single-day gain. Only this time, the bots in question have an actual use case beyond embarrassing yourself on Twitter.
Hertz Global ($HTZ) ↑ 7.47% ↑
Joining The Blind Side and Average Joe's Gymnasium as one of the greatest comeback stories of all time is your boy Hertz Global. Shares in the car rental company were left for dead in mid-2020, and now, they've got $6.35bn to their name.
Amid all the wild sh*t that's happened since then, we'd forgive you if you forget the epic story of Hertz's 2020 bankruptcy. But that's old news anyway, as the company reported stellar earnings yesterday, posting EPS of $0.50, beating expectations despite blowing it on revenue.
It's a two-part story: the car market is coming back from the brink as travel is even more back than ever before, according to the company. Plus, it doesn't hurt that Hertz is leaning into the EV wave investors are pouring money into hand over fist.
Bed Bath & Beyond ($BBBY) ↓ 48.63% ↓
Yup, that's more like. Bed Bath & Bankrupt is back in its home on the "Rotten" side of the Peel for now, but even with bankruptcy in question, you never know. After all, just look at Hertz!
This absolute joke of a stock and whole comedy special of a company utterly cratered yesterday, losing nearly 50% of its "value" on the completion of its stock sale.
$225mn more shares worth of Bed Bath were sold, with another $800mn in future installments planned. Whether that comes or not isn't the main problem, it's mostly about diluting shareholders into holding water.
But still, as optimistic as they are, the retailer's board expects this "lifeline" can grant them the runway to execute their "turnaround plan." Whether that lifeline remains that way or becomes a noose instead is unclear. Stay tuned.
C3.ai ($AI) ↓ 10.96% ↓
On the other side of the AI coin is poor, sweet little C3.ai. This (formerly) somewhat unknown small-cap name has absolutely burst into the limelight of late. I mean, with a ticker symbol like that during the ChatGPT boom, is anyone surprised?
Well, turns out (former) shareholders were surprised by yesterday's news, at least. The Redwood City-based firm came out and reminded everyone, just a few weeks before their earnings announcement on March 2nd, that they're still hot garbage at making money.
"We know ChatGPT is cool, and our ticker is literally AI, but c'mon guys, chill," said the company whose stock had soared 150% in little more than a month. Chilling out investors during a run like this is rare, but potentially prudent leading up to a call where analysts already expect triple the losses from last year.
State of the (Dis?)Union
Wow, that one was spicy. As American politics has (apparently) gradually become one of the most entertaining facets of pop culture these days, President Biden's State of the Union certainly lived up to the hype.
Big Dawg Biden came out flexing, swinging, and ready for all the smoke. There was so much heckling I thought I was watching an SNL skit. Of course, we're not here to focus on the politics of it (because gross), but let's find out if we can make money off of it, obviously.
Putting the beef aside, Joey B spent a lot of time reminding us of the passed and planned legislation his administration and Congress are (allegedly) focused on. Some of the most notable for your portfolio include:
Whole lotta shoutouts and "mild exaggerations" about the strength of the US economy
The Infrastructure Investment and Jobs Act - $1.2tn over 10 years
The CHIPS and Science Act - $280bn over 10 years
Big Pharma Bills: Capping insulin costs at $35/month for Medicare patients, allowing Medicare to negotiate drug prices, etc.
15% Minimum Corporate Tax
For an 80-year-old, he sure is a good hype man (for himself). In general, the President doesn't have quite as much influence over the US economy as one might assume. It's difficult to put a % on it, but monetary policy is outside of their control, economies tend to perform cyclically regardless of political regime, technological innovations come and go, legislation can take years to materialize, etc., etc., etc. It's a $25tn ship; it takes a whole lot to do anything to it.
Buuut we wouldn't be talking about it if it didn't matter. The goal of this legislation is semi-fold and somewhat unique by industry. For pharma, it's quite honestly a nightmare. These companies have grown largely used to their cost structures, and the legislation above could certainly disprove disruption.
On the tech side, the spending overall is meant to incentivize prioritizing investment in the United States, largely with the goal of "securing the supply chain" if that's truly possible. As an added benefit, government investment can drive innovations, particularly in things like chips and software. Unfortunately, there are utterly 0 promises, though.
And, of course, the Big Boy that is the IJA has countless hyped-up goals we could discuss, but the overall idea is to modernize US infrastructure. Fingers crossed, it helps, but only time will tell.
Lastly, it's gotta be noted the main objective here. I don't know if you've heard, but the US government kinda likes to spend money. These levels of spending approaching an incoming debt ceiling debacle is sure to spur Kevin McCarthy's newly inherited pot. Moreover, the national debt is well in excess of levels ever previously imagined, and if you'd like something to freak out about for the day, here's a reminder of how much we owe.
As stated, there was a whole lot more going on that you just had to be there or have to watch later to appreciate. For better or for worse, it sure is entertaining.
Yesterday - What has a head, a tail, is brown, and has no legs?
A penny.
Today - It's 100 bananas off the PE Master Package for the first 3 correct respondents. LFG!
There are 10 boxes in front of me. In nine of them, the coins weigh 10g, and in one of them, the coins weigh 9g. You can take as many coins as you like out of each box. How do you find the box with the lighter coins after weighing the coins you took just once?
Shoot us your guesses at [email protected] with the subject line "Banana Brain Teaser" or simply click here to reply!
"I don't care half so much about making money as I do about making my point, and coming out ahead." - Cornelius Vanderbilt