Will Britain exit the EU?
As Varoufakis and Tsipras move from one failing debt negotiation to the other, UK plans upon the much anticipated referendum on continuing its affiliation to the Euro. The idea of a 'Brexit' was the key agenda of competing parties in the recent election. With the motivation behind the same being liberating UK from political interference and immigration policies leading to disproportionate allocation of resources to immigrants from member countries.
Estimating the economic impact of an exit from the Euro has been a controversial topic since the counterfactual would imply considering the world minus the Euro. The following graphic from The Economist demonstrates the economic benefits accrued due the formation of the union. Although the estimates seem significant it can always be argued the European countries would have been on a higher growth trajectory after the depression and the world war.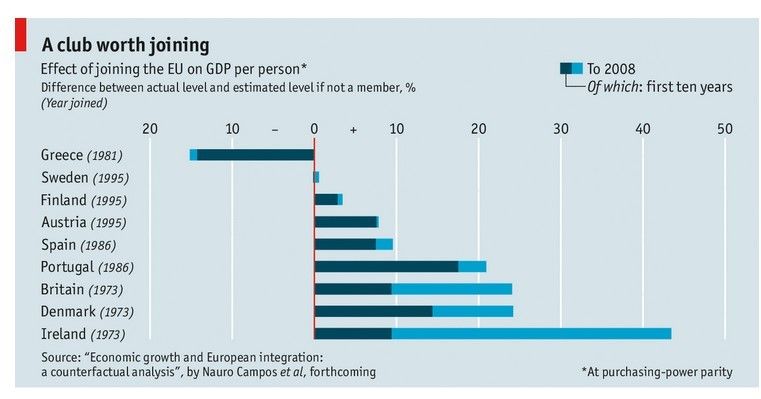 The image has been sourced from the Economist
While political parties argue in favour of a Brexit by stating gains from lower immigration and direction of resources towards Britons, the UK has benefitted largely from low cost access to the European markets. Breaking away from the Euro could also dampen trade partnerships and related economic gains.  
As discussion around the referendum advances, the economy witnesses heighted policy uncertainty. This was particularly relevant as rating agency S&P on Friday (06/12/2015) cut its outlook on UK government debt down by a notch to "negative" from "stable". One of the fundamental concerns of breaking away from the Euro is the stability of the pound and the potential to attract foreign investment.
While Cameron and other politicians argue that the "Brexit" would enhance interactions with rest of the world the answer is far from ambiguous. The open economy structure of UK has been nurtured well so far under the Euro set up with higher inflows of low cost capital and skilled labour. 
Other rating agencies echoed similar sentiments last week when Moody's warned that mistimed referendum would magnify economic uncertainty. Both Fitch and Moody's has downgraded UK government debt in 2013 and S&P's recent downgrade raises concerns around stability.
The question at hand is a difficult one to answer and it seems as if the country stands to lose from detaching itself from the monetary union.
So what are your thoughts?
The content for the blog has been sourced using:
S&P cuts UK outlook amid EU referendum warning , Why, and how, Britain might leave the European Union , The benefits of Brentry