I'd like to start this thread to assimilate compensation numbers for associates in PE megafunds and MM funds.
Base + Cash bonus + stock bonus + any carry if offered.
Private Equity Associate Compensation
Starting a career in top private equity fund is a goal for many young financiers. There are two ways that most people get into private equity firms. One, after a successful two years as an analyst at a top investment bank. Two, as a post-MBA candidate. This is why associate level pay is more relevant than analyst pay. So let's take a look at compensation at the first year associate level. The funds listed below are all Mega-funds. The funds have been ranked by total average compensation. If you would like company and group-specific compensation data, please visit the WSO Company Database.
The Carlyle Group

Average Base: 190.0
Average Bonus: 160.0
Total Average Compensation: 350.0

Apollo Global Management

Average Base: 161.7
Average Bonus: 167.5
Total Average Compensation: 329.2

Warburg Pincus

Average Base: 160.0
Average Bonus: 160.0
Total Average Compensation: 320.0

Advent International

Average Base: 140.0
Average Bonus: 140.0
Total Average Compensation: 280.0

Kohlberg Kravis Roberts (KKR)

Average Base: 116.7
Average Bonus: 151.7
Total Average Compensation: 268.4

TPG Capital

Average Base: 119.0
Average Bonus: 148.5
Total Average Compensation: 267.5

The Blackstone Group

Average Base: 106.3
Average Bonus: 117.5
Total Average Compensation: 223.8
The information used to compile this list is from the 2018 Private Equity Industry Report. The report includes compensation data from 138 private equity firms.Remember that the compensation you are accustomed to hearing for top performers in the top groups in New York is well above the average for cities around the world. The compensation average graphs are a global average which includes regional cities and groups that bring the average down.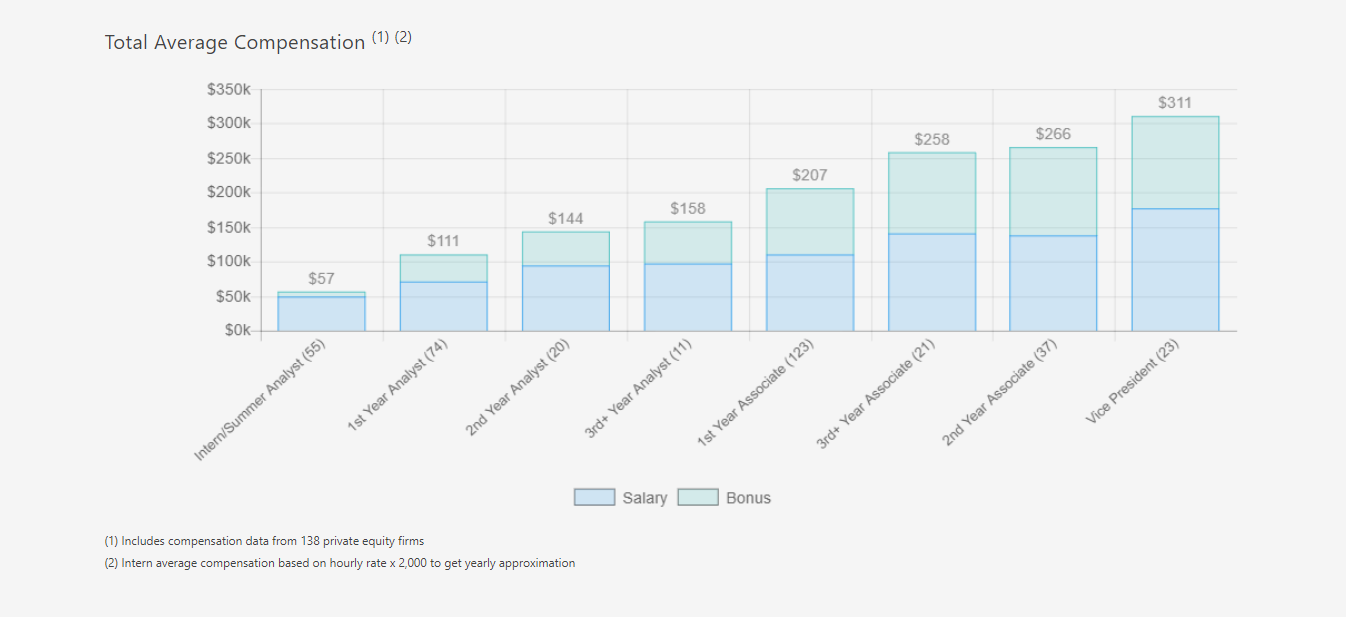 Interviewing for Private Equity Jobs?
Want to land at an elite private equity fund? Try our comprehensive PE Interview Prep Course. Our course includes 2,447 questions across 203 private equity funds that have been crowdsourced from over 500,000 members. The WSO Private Equity Interview Prep Guide has everything you'll ever need to land the most coveted jobs on Wall Street.
Private Equity Interview Course
2,447 questions across 203 private equity funds. Crowdsourced from over 500,000 mem.
9 Detailed LBO Modeling Tests and 15+ hours of video solutions.
Trusted by over 1,000 aspiring private equity professionals just like you.