Read between JPows lines | The Daily Peel | 8/20/21
Silver Banana goes to...

Market Snapshot
There was a bit of a scare in the markets yesterday as the Fed minutes revealed that JPow and crew may begin tapering asset purchases in 2021. The S&P and Dow both fell 1.08% and the Nasdaq 0.89% as a result of the news. Let's get into it.
Macro Monkey Says
What You Doin' With All That Cash? – Mr. Krabs is living out his wildest dreams with all the extra cash that companies have lying around. Rather than stuffing it in their mattresses however, most non-underwater-burger-restaurant firms are trying to find the right balance between capital expenditures and share buybacks. To shareholders, it doesn't matter. The massive cash cushions large companies are sitting on is giving Tony Robbins-level confidence to investors. Enough to quell fears of the Delta variant. With last year's buybacks as cancelled as David Dobrik, they're coming in hot in 2021. Long story short, buybacks are back.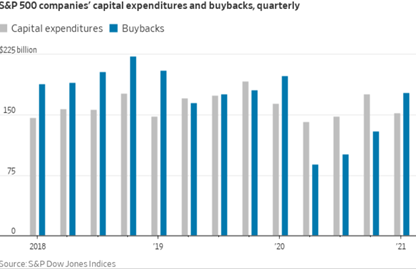 Better Together? – Just as the U.S. government finally decided to regulate giant quasi-monopolies and big boi mergers, another one has been announced. CME group has made a $16bn all-stock buyout offer of Cboe Global Markets. If you trade futures, options, or volatility products, pay attention. CME is the world's largest futures exchange and provides mainly commodity options contracts while Cboe operates equity options and notably, the VIX indices. If this merger goes through, Chicago has a new giant in their midst, handling a huge amount of the world's financial derivatives market. Let's make some bets - will President Joey B and the gang approve?
Oh come, all ye Doge faithful. And celebrate the great Cuban Musk Crypto Revolution.
Shares of the canine-coin bolted 16% Monday after Cubes emphatically declared to the world "Dogecoin is the strongest cryptocurrency."
Hallelujah.
But buyer beware, there's a problem. And it goes against our own investment thesis: Dogecoin is too volatile to be money.
Imagine if the U.S. Dollar lost 70% of its value after one SNL episode...
That's why our money is in hard asset classes like art:
Contemporary art prices appreciated 14% annually from 1995–2020
That's 174% higher than the freaking S&P 500 total return over the same period
Art has shown resilience in inflationary periods, better than gold AND real estate
The only problem? You need hundreds of millions to build a real portfolio of art.
Enter Masterworks.io.
They've fractionalized multimillion-dollar paintings by the blue-chips: Banksy, Basquiat, Kaws, etc.
So you can invest in art at a fraction of the normal purchase point.
Want in? Use our special Daily Peel link to skip the waitlist.*
*See important disclosures
What's Ripe
Lowe's ($LOW) – Rumor has it that Lowe's is considering a name change to Highe's after yesterday's performance, where shares jumped 9.6% on a pleasantly surprising earnings report. The home improvement company beat across the board, posting a 5.8% EPS beat, despite decreases in same store sales. Being Home Depot's little brother, Lowe's fell hard Wednesday when HD's earnings didn't excite traders, likely adding fuel to yesterday's gains. The comeback just proves that smaller can in fact be better.
1-Month Volatility – Stocks in the recently elevated volatility camp have been performing well of late, especially yesterday. According to Bloomberg, 1-month vol was the largest factor in outperformance yesterday, driven by names like $HOOD, $SAVA, and $GLXY. Option writers and holders are loving it, seeing premiums rise, while option buyers might be deciding to give it some time. Be it as it may, all signs point to gambling away your life savings.
What's Rotten
Target ($TGT) – Like Lowe's, Target crushed it's earnings report. Unlike Lowe's, and more like a screaming toddler, the market couldn't care less about logic. The (almost) everything-retail store also beat across the board, posting a 7.8% EPS beat and even grew same-store sales by 8.9%. However, growth being slower than it has been over the past year appeared to be a non-negotiable for traders, sending shares down 2.8%.
Cybersecurity – Basically, the current state of cybersecurity sucks. It is so trash that cybercrime is projected to cost the world $10.5tn by 2025, cost large companies $25/minute, and has caused 80% of senior IT pros to admit their firm is susceptible to attack in 2020. In the latest massive breach, T-Mobile has been ransacked and just so far 40mm people have been affected and had their SSN is compromised.
Thought Banana:
Dorsey Might Be Right – Nowhere but the digital currency realm could a story like this be found, but a hacker that exposed a flaw in the Poly Network and stole $600mm has been offered their Chief Security Advisor position. In the olden days, people lost hands for stealing, now they get job offers. However, it does make sense for the firm, as this hacker clearly knows a thing or two about network security, on top of knowing how hackers think about these things. Further, all but $33mm has been returned so far and Poly has no plans to pursue litigation, even offering $500,000 as well. With hackers and hackees coming together, maybe Jack Dorsey was right and crypto really can bring world peace.
"We don't prognosticate macroeconomic factors, we're looking at our companies from a bottom-up perspective on their long-run prospects of returning."
– Mellody Hobson
Happy Investing,
Patrick & The Daily Peel Team
Was this email forwarded to you? Sign up for the WSO Daily Peel here.