How the Fed Can Fix the Economy

Points)
on 4/26/12 at 6:59pm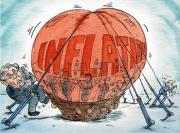 The recent back-and-forth between Paul Krugman and Ben Bernanke illustrates that there is no definitive answer to this issue. Krugman argues that Bernanke is unwilling to try any policies that aren't absolutely guaranteed to work. In other words, he's shielding the Fed from criticism and political backlash.
The Fed is supposed to pump up the economy when it's running too cold, with unemployment high and inflation low. That's where we are right now, in the Fed's own estimation. Yet the most recent minutes, from March, show Fed officials unwilling to take any further action to boost the economy.
Krugman's answer to the problem? Raise inflation expectations.
I agree, to an extent.
Here are some key points supporting and criticizing the case for greater inflation, followed by my own analysis of its possible effects:
Benefits of greater inflation:
Krugman says: Inflation would lead people to spend faster to beat rising prices, thus boosting demand and reducing unemployment.
Corporations are sitting on a large hoard of cash. Inflation would act as a spur to investment by giving businesses and consumers less incentive to sit on their money.
Modest inflation could help reduce the real value of debt.
Downsides of greater inflation:
Bernanke says: Inflation could hurt the Fed's credibility as a force for stable prices, which could give the Fed less flexibility in the future.
Inflation would decrease the purchasing power of the dollar and is especially hard on retired people, who rely on fixed income. This is important as Baby Boomers begin to retire.
See my comments below
My thoughts: I agree with some of these points and have issues with others. Specifically, I think the Fed could be taking more aggressive action. Bernanke's policies have prevented a double dip recession, but they haven't exactly jumpstarted the economy. I'm not saying I could have done a better job, but I am saying perhaps Bernanke 10 years ago could have. I also agree with Krugman that while raising inflation expectations risks damaging the Fed's credibility, the risks of losing some credibility pale beside the risks of inaction.
However, I disagree that inflation will necessarily eat away at debt. Suppose, for example, that households do not see their nominal wages rise along with the general rise in prices. This could limit consumption and act as a tax on income. Moreover, people don't always respond to greater inflation with greater spending. In many cases, households will cut back on expenditures in anticipation of expected higher prices.
Bernanke hasn't done a terrible job at the Fed by any means, and he's obviously in a difficult position right now. It's also easy for Krugman to criticize when he will not have to directly answer for the extra risks involved with raising inflation and overseeing the economic well-being over 300 million people. Still, Krugman raises some good points.
If you were Ben Bernanke, what would your next move be? Keep inflation low, or raised expectations for future prices? Would you pursue QE3?
Should we be looking to fiscal policy rather than monetary policy to solve our current unemployment problem?
See my WSO blog
"The only thing that interferes with my learning is my education." Albert Einstein