London Bankers Ball Out: £71,000 Bar Tab
Pages
Sales & Trading - Other - Retired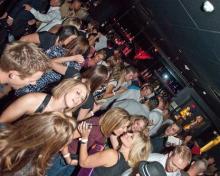 A few years ago it was commonplace to see horrendous bar tabs wracked up on a Tuesday night at Scores, but 2008 brought an end to all of that. However, it appears nine London bankers are bringing sexy back. During their company Christmas party on the 8th, they amassed an impressive PS71,000 ($111,500 USD) tab at The Rose Club (receipt after the jump). At one point, they even made it rain PS50 notes in the club.
Even more impressive is what they spent the money on. Sure, they had the obligatory Dom Pete, but they only bought six magnums of that swill. The bulk of the tab came from the purchase of 24 Methuselah of Ciroc Vodka at PS1,850 a bottle. That's 38 gallons of vodka. Between nine guys and their dates (and presumably dozens of new friends at the bar).
You want to know what really sucks? After leaving an PS18,000 ($28,275 USD) tip, the club didn't even waive the PS15 cover charge per person. What's that all about?
Sounds like a great party to me. What are the chances American bankers are going to best this tab this holiday season?
The WSO Advantage - Land Your Dream Job
Upcoming Events
Dec 2 2015 - 8:00am

to

Dec 3 2015 - 8:00am

Dec 2 2015 - 8:00am

to

Dec 4 2015 - 5:00pm

Dec 3 2015 - 8:00am

to

Dec 4 2015 - 8:00am

Dec 3 2015 -

7:00pm

to

8:00pm

Dec 4 2015 - 8:00am

to

Dec 5 2015 - 8:00am
Poll
Long term, which career path interests you the most?
Accounting
1%
Asset Management
10%
Commercial Banking
1%
Consulting
4%
Corporate Finance / Strategy / Development
9%
Entrepreneurship
6%
Equity Research
3%
Fintech
2%
Hedge Fund
18%
Investment Banking
9%
Investment Advisor / PWM
1%
Private Equity
16%
Prop Trading
2%
Real Estate
6%
Sales & Trading
3%
Venture Capital
7%
Other Finance Role (academia, non-profit, government, legal, etc)
1%
Other - Non Finance
2%
Total votes: 1242