US Ambassador to Libya Assassinated
ST
)
on 9/12/12 at 7:46am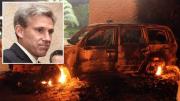 I'm going to keep this short because I know there's no way I can print what I really think without inciting a flame war of epic proportions. J. Christopher Stevens, the U.S. Ambassador to Libya, was murdered by Muslim extremists in Benghazi today. Protesters stormed the US Consulate and burned it to the ground. Stevens was suffocated in his car, and the three diplomats with him were shot to death.
This is in addition to the attacks on the U.S. Embassy in Cairo yesterday.
How should the U.S. respond?