Your competition's not as tough as you think

IB
Points)
on 9/19/12 at 12:30pm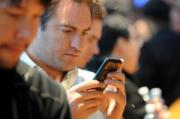 Every year around this time, some young monkeys hop on the forums and start moaning about how bad this year is for recruiting. You guys think it's bad? You ain't seen bad unless you've seen 2001, 2008, or 2009. But nevertheless, your auntie has good news. I recruited all last week, and let me tell you: the competition out there right now doesn't look as tough as you guys think it is. Here are the real gems from my week recruiting at our top targets:
Candidates who stare at or lengthily check their phones while talking to recruiters. If you aren't going to make eye contact with me, at least have the basic human dignity to stare at my boobs like the rest of the candidate pool. If you can't find something about me or my firm to stay interested in for ninety seconds, then the feeling is probably going to be mutual.
"Hi, my name is Brian, I'm an English major, blah blah, and I don't need a Visa." Thanks, Whitey McWhiteboy -- I'm not sure I would have noticed your glaring whiteness had you not pointed it out to me. While it's true that roughly 85% of the 200 people in this room are Asians that aren't native English speakers, and thus you actually are a bit unusual here, I'm slightly alarmed that the most positive spin you could think of was the fact that you were born on these shores. How about your Excel skills? Or do you do any cave diving?
A girl in a sleeveless red cocktail dress with a deep slit up one thigh. This was completely surreal at 10:30 in the morning at a career fair. I really hope L'Oreal gave her a job, because otherwise she's gonna have to be a bar hostess.
Communications majors with 3.3 GPAs. Really? That communications coursework is too heavy-duty for you to squeeze out a 3.5? Is that Powerpoint formatting a little too hardcore for you?
A guy wearing so much aftershave it literally made my eyes water. This was in one of those little tiny interview rooms. I literally cut the interview short by ten minutes because I couldn't handle being in the room with the guy any longer.
Men with facial hair. Dude, you're 21. You're 130 pounds soaking wet. You probably grew this thing to try to prove to the girls around you that you have in fact gone through puberty. But all it means is that you're going to get no girls and no jobs. And it ain't Movember yet, so listen up and mow it down.
Bright pink/purple shirts. I'm not talking pastel, I'm talking bright like 1980's bright. (This was specifically on Indian males. Is that a thing?)
Two-page resumes. Please. You haven't even done anything yet.
Explaining a weakness on their resume the moment they hand it to me. You really want to make sure that the first thing I pay attention to on your resume is the turd? Save it for the interview.