Justin Combs (Son of P.Diddy) gets 54K Scholarship to UCLA - People say he should give it back?

IB
Points)
on 6/1/12 at 6:00am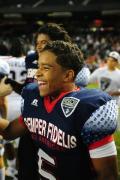 From CNN:
Justin Combs worked hard in high school to improve his football game and earn a 3.75 GPA . He recently received a $54,000 merit-based scholarship to UCLA, where he'll play football. In April, Forbes named Justin Combs' dad, Sean "P. Diddy" Combs, the wealthiest artist in hip- hop. Some say the family should return Justin's scholarship, arguing that Combs should pay for his son's education and taxpayer money should go to students with greater financial need. Other say Justin Combs earned the scholarship through his grades and athletic ability, and deserves to keep it.
I say he earned it and is trying to make his own name and get out of his fathers shadow. STFU and let him keep it. Thoughts monkeys?
source: http://ocnnreport.com/2012/05/31/diddys-son-justin-combs-critized-over-54k-ucla-scholarship/
"Look, you're my best friend, so don't take this the wrong way. In twenty years, if you're still livin' here, comin' over to my house to watch the Patriots games, still workin' construction, I'll fuckin' kill you. That's not a threat, that's a fact.