Unemployed: What should my next moves be?
Points)
on 2/14/13 at 1:00am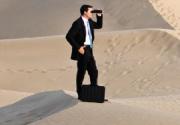 So I was told late last week that my company was going to be downsizing at the end the coming month and most of us are getting laid off. This wouldn't be as big of a deal if I hadn't just graduated this past May. I'm from a semi-target, had a high GPA, and the finance company I'm working at has given me decent enough experience.
My question is now that I can see my possible future, what's the best way to react. The way I see it I have 4 options if I get let go.
1. Apply to jobs and wait it out until I come across something that I think would be a really good fit for me.
2. Take the fist semi-relatable job that I get accepted to and stay with that for a year or two.
3. Take the first semi-relatable job, but keep looking for a job that would be a better fit.
4. Work for my father while I search for the ideal job. It wouldn't be exactly related to my field but I would still get good experience and it would be easier to switch out when I find my ideal job.
Any thoughts on what would be my best move and which I should avoid at all costs?