Chips and 40 Yards | The Daily Peel | 12/8/22

Dec 8, 2022 | Peel #354
Happy Thursday, apes.
Was anyone else way more bored than usual yesterday? Markets had a pretty mid day, with every single S&P sector range-bound between +/- 0.9%. That's pretty lame, but thankfully we did get some entertainment, like in the names below.
Meanwhile, bond yields and the dollar did absolutely nothing to up the excitement.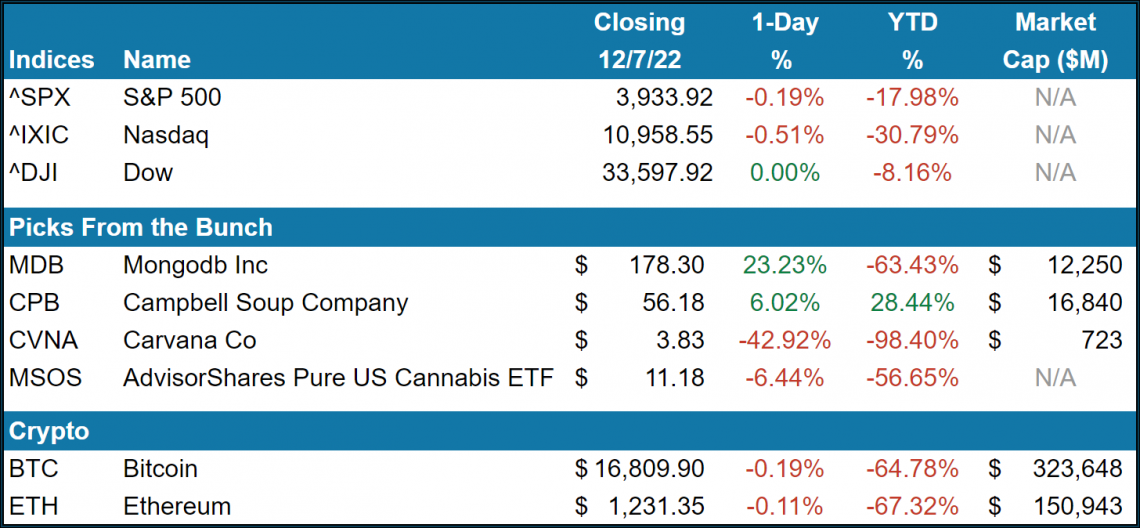 Talk the Talk of IB With Our M&A Modeling Course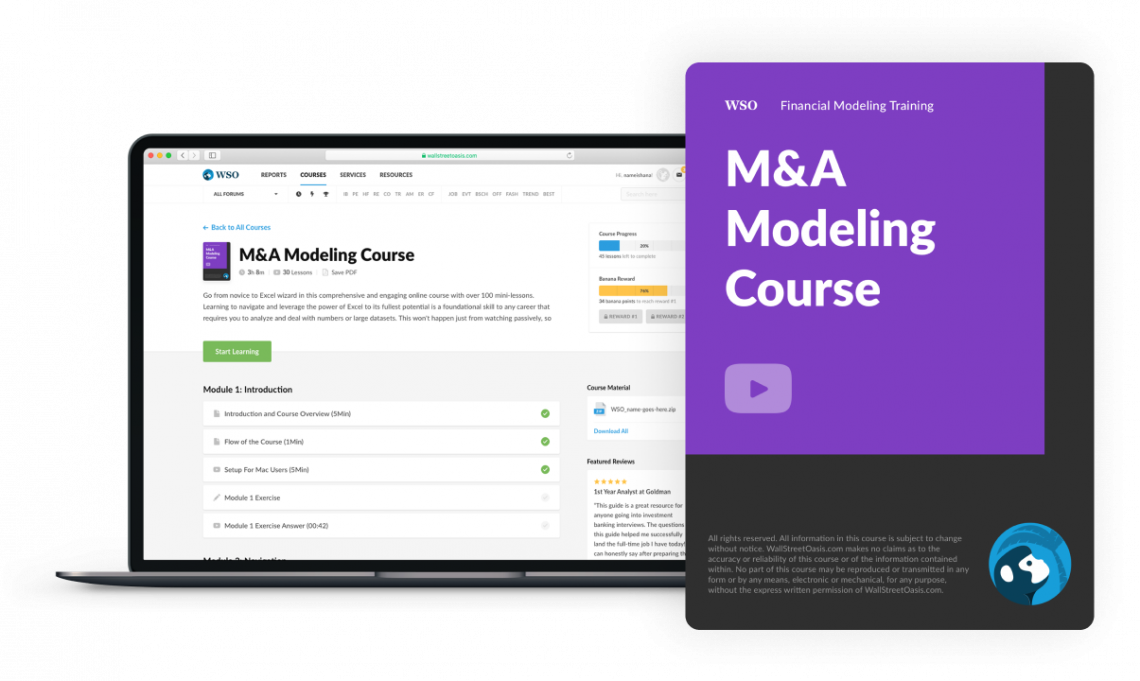 Imagine if Nike saw big growth potential in $120 yoga pants and decided to acquire Lululemon.
How would it go about deciding what price to pay? What would the process look like from start to finish? Who are the players involved?
Unless you've been in the heat of a deal before, it's hard to get a good grasp on these questions…until now.
WSO's M&A Modeling Course walks you through the above scenario and teaches you the tools of the trade in the process. Take a peek into the modeling requirements of a deal like this, how it's different from other types of mergers, and what the buy side cares about vs. the sell side.
This course is absolutely jammed to the gills with good stuff that'll help you land a gig on Wall Street. We know Peel readers will get a ton of value out of it, so we want to give out access to our Accounting Foundations Course for the first 50 Peel readers to sign up in the next 24 hours. That's an insane amount of value that you can't afford to pass up.
Walk into any room with the confidence that you know your sh*t. Do your future self a favor and sign up today.
2 Years Later, China Finally Takes the L
It's okay, China; you're not the only one. The world's largest, strongest, and final holdout in the battle against C-19 has finally joined the rest of the world by admitting defeat.
Except, don't be thinking Xi stood out there and said, "Yeah, the virus won…a bunch of you are about to die." Instead, Xi and the CCP basically said, "we're not going to trap you in your house for days/weeks at a time anymore."
The nation announced the official beginning of the pullback of China's now-infamous zero-C19 policy. The policy did an undeniably incredible job of quelling cases out the gate. But since then, economic woes and a desire for freedom of movement have started to take primacy two years later.
Is it a coincidence that China waited until after Xi's securing an unprecedented third term? Is it a coincidence this comes just days after nationwide protests?
Probably not. And what's almost definitely not a coincidence is this change of pace emerging while the Middle Kingdom's economy starts to show signs of undue pain.
For starters, recent reports showed that both the nation's exports and imports contracted at the fastest rate in multiple years last month, falling 8.7% and 10.6%, respectively. Needless to say, that was much higher than expected.
Adding to the pain, this data comes to light just a month after consumer spending in the world's most populous country surprisingly contracted by 0.5%. All in all, a series of reports highlighting broad-scale economic pain has largely driven China's government to the realization that a large-scale relaxation of C-19 rules is well overdue.
The scary part now is what happens to the healthcare system. You can be about as certain as with anything that cases are about to rip in the wrong direction.
With less than two-thirds of the elderly population fully vaccinated and an already (mildly) stressed hospital system, we can only hope that things don't turn out as bad as they could. But then again, they'll probably just build 50 brand-new, state-of-the-art hospitals this weekend, anyway.
Shoutout to the Peel readers there. Let us know how things turn out on the ground!
MongoDB ($MDB) ↑ 23.23% ↑
Translation: Anytime you see "adjusted" earnings, that's Latin for "bullsh*tty accounting gimmicks at play." Proceed with caution.
Still, Wall Street don't care. MongoDB reported a relatively solid earnings report yesterday, with GAAP (aka real) EPS coming in at a $0.17 loss, right in line with expectations, and a sizable beat on the top line with YoY growth of 47%.
The flint fueling the fire of the stock, however, was that "adjusted" earnings figure, which happened to come in as a surprise profit. At the same time, the firm raised expectations going forward, sending the stock on a ride.
Campbell's Soup ($CPB) ↑ 6.02% ↑
And now, for a company that's the exact opposite of MongoDB, your favorite flu-medicine provider also posted some knock-out earnings yesterday.
Campbell's Soup shares gained over 6% on a 16% EPS beat while raising expectations at the same time-aka the best recipe for a stellar day.
The results were largely boosted by a little thing called inflation, as the company cited "strong pricing" as a large driver for their results. Congratulations, your pain is their success.
Carvana ($CVNA) ↓ 42.92% ↓
Carvana, at this point, is living proof that just when you think it can't get any worse, it does. Shares broke through the floor yesterday, plunging nearly 43% after already falling well over 95% this year.
There's one thing on everyone's mind, the scariest word in all of business: bankruptcy.
The shitco's creditors collectively signed an agreement with the firm to work through proceedings to semi-ease Carvana's debt load. It's basically a pre-bankruptcy in the Street's eyes. But hey, they still have to fall 100% more to hit zero.
Weed Stocks ($MSOS) ↓ 6.44% ↓
This is your PSA to go buy more weed (legally, of course) because these companies really need your "help."
That's especially true after yesterday. Shares around the industry tumbled on news that highly anticipated regulations allowing federal financial institutions to provide banking services to the cannabis industry basically went up in smoke yesterday.
Dems were seeking to sneak this provision into an omnibus-style package, but unfortunately for the stoners in the crowd, Republicans noticed, and boy, were they not having it.
Taiwan <> Arizona
Chips and salsa are great, but I bet you'd rather have chips and $40bn. Hang on; we might be talking about slightly different chips here.
If you want chips and salsa, you can go to basically any Mexican restaurant anywhere in the world. If you want chips and $40bn, you gotta go to Arizona. And that's exactly what the world's largest chip maker, Taiwan Semiconductor Manufacturing Co (TSMC), did this week.
Okay, we already knew that TSMC was going big in Arizona with plans to build its first US-based foundry there. But this week, at the company's "first tool-in" ceremony, CEO C.C. Wei said, "hold my f**kin' beer."
The Taiwan-based chip maker has announced a tripling in its future investments for US-based semi manufacturing. By 2026, TSMC will (aka "might") have turned that $40bn in cash into a whole lot of semiconductors.
Plans include production of 3nm chips, which, in 2022, are sittin' pretty at the top of the semi stack. But by 2026, who the hell knows what kind of innovations will have emerged? It very well could turn out to be like producing Oldsmobiles in one of Tesla's gigafactories.
But still, that might not even matter. The real story here isn't necessarily a $40bn chip investment on its own; what really matters is the fact that semi manufacturing is moving to the US-and potentially even more important, moving out of China and Taiwan.
Geopolitical tensions over the region of the world responsible for a vast majority of arguably the world's most important technology has officially tipped the scales in favor of domestic manufacturing, outweighing cheap labor and lax (at best) worker treatment.
Now, we wait. We have 4 whole years until the plant actually starts doing anything. In the meantime, we'll keep our fingers crossed for more to come.
The big question: Is TSMC's $40bn investment in US-made semiconductors a one-off or a sign of a major change in the business of geopolitics?
Yesterday - You measure my life in hours, and I serve you by expiring. I'm quick when I'm thin and slow when I'm fat. The wind is my enemy. What am I?
A candle.
Today - It's 50 bananas off the WSO's M&A Modeling Course. LFG!
How is seven different from the rest of the numbers from one to ten?
Shoot us your guesses at [email protected] with the subject line "Banana Brain Teaser" or simply click here to reply!
"Patterns of price movement are not random. However, they're close enough to random so that getting some excess, some edge out of it, is not easy and not so obvious-thank God. God probably doesn't care. Thank whoever." - Jim Simons
Happy Investing, Patrick & The Daily Peel Team
Was this email forwarded to you? Sign up for the WSO Daily Peel here.