In The Face! | The Daily Peel | 4/25/22
Futures looked relatively mixed Friday morning, but then markets took a significant downturn. Both oil and gold retreated, and the 10-year yield was down slightly. Satoshis are back below $40k, and I don't have a lot of good news for you on this final Monday of April.
The Dow was down 2.82%. The S&P lost 2.77%. The Nasdaq lost 2.55%. If you like the color red, Friday was a nice day for you.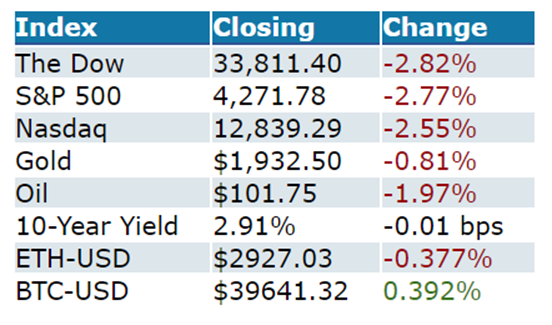 Find your flow-state with Magic Mind. Their scientifically-developed blend of matcha, nootropics, and adaptogens is this century's answer to coffee. Get "dialed in" with Magic Mind and crush your to-do list in half the time. 
Save 15% with exclusive code WSO15
Let's get into it.
Accelerating Capex and Waning Demand - Most of you are actually really smart, so I don't want to insult your intelligence by belaboring the definition of capex.
I'll be brief: capital expenditures are a form of investment to buy stuff that will benefit the company beyond its current reporting period or tax year. 
Capex usually occurs in an environment where companies see a need to prepare for future demand. Recently, we have seen accelerating capex, particularly amongst S&P stalwarts who stockpiled cash early in the pandemic. 
Comparatively speaking, this extra cash on hand burned a hole in many a CFO's pockets.
Last calendar year, we saw booming capex across all industries with the expectation that demand will continue to increase in the coming quarters. This was a double-digit percentage increase over 2020, and this year, we expect a 6.1% increase over these levels.
The problem this year: these flaming piles of cash are powering significant capex investments that might be better spent elsewhere. I'll explain.
There is a whisper on the street of an r-word in 2023. Nonetheless, Jimmy Chill said that if we have one, it will be short and not painful. Given how right he is about future events all the time, it probably guarantees a soft landing.
If there's a recession or if the economy still grows but consumer sentiment absolutely $hits the bed, demand will curb. 
The demand environment that capex-ers initially predicted might never materialize, and the consumption landscape following a recession or an economic contraction will look different. These capex projects probably won't have the same effect on future revenues because of this discrepancy. 
A recession can force a company to burn some cash to stay afloat in an uncertain operating environment or in one that's downright unfortunate for their business model. 
We might see a pullback in capex as management teams notice that consumers are starting to feel the value of a dollar decrease or that they've started to worry a little more on the margin about where their next dollar is going to go.
The would-be capex-ing corporations might sacrifice investment now to hold on to some cash for the future, depending on their worldview. This could have a significant ripple effect in the economy given the levels of capex in 2021, 1Q2022, and for the rest of 2022. 
Whether it was that three-hour stretch in the library that retaught you a semester's worth of material or that late-night session building your model, you know the feeling of doing your best work free from distractions. We call that the flow-state. 
Magic Mind exists to help you access that flow-state more often. It's a 2oz shot with 12 scientifically-proven active ingredients that get you "dialed in", not "wired". It's like a mellow, natural Adderall that comes in a shot. 
Try Magic Mind risk-free (no-question refunds for first orders) and see why entrepreneurs like Justin Kan and entire groups at Goldman rely on Magic Mind every day to do their best work. 
Kimberly-Clark Corp ($KMB) - Kimberly-Clark had a great trading day on Friday, particularly on a down day for the broader markets. The consumer products company gained 8.13%, while the S&P shed almost 3%.
$KMB had a stellar quarter, and the street loved its updated full-year guidance. 
Electronic Arts ($EA) - We're covering $EA in this edition of the DP, not just because its shares were up 3.52% on Friday but also because we'd really love to see the next $GME or $AMC.
Apes, is it time to stand strong? Is it time to do that diamond hands $hit again? Am I just stirring the pot? 
The primates at WSB started to buzz about $EA a while ago, but the chatter didn't seem to gain the traction we needed to watch this one go to the f*cking moon. I'll leave you with this last piece of advice: IT'S IN THE GAME.
Healthcare ($RYH, $HCA, $ISRG, $UHS) - Healthcare took an absolute beating on Friday, contributing to the broader sell-off. The Invesco S&P Equal Weight Healthcare ETF $RYH was down 4.35% Friday.
Labor costs are going up for healthcare providers. This is bad news for the objectively most expensive and arguably least efficient healthcare system in the world. 
Names like $HCA, $ISRG, and $UHS got crushed, down 21.80%, 14.34%, and 13.96% respectively. 
BTFD?

Caterpillar Inc ($CAT) - After a losing week, shares of $CAT dumped another 6.55% on Friday. Kind of a bad way to go into the weekend looking like the airplane guy after Mike Tyson was done with him.
Caterpillar is usually a low volatility name, and its share price has been steady for the last year compared to the rest of the market. It was only down 3% or so going into Friday morning for the preceding 12 months.
Caterpillar is on deck to release earnings later this week on Thursday, and investors appear to be predicting updated guidance and so-so earnings. Hopefully, this $CAT can recover and help buoy the DJIA in these recent waves of volatility.
The 6-Figure Job Myth - For decades now, there has been this ongoing, farcical expectation of "making it" once you finally take home six figures in compensation from your job. I'm here to tell you that this is purely a myth.
Let's think about this for a second. Do you know anyone who lives in LA, NYC, Boston, or really any major city and thrives on $100k these days? 
For those of you doing the hourly math, $100k is basically $50/hr based on a 2000-hour work year. 
If you live in NYC and make $100K, think about your marginal tax rate. Right now, you fork over 24% to the IRS, then another 6.33% to the state, and another 3.876% to the city. Then, you're forking over 6.2% for social security and 1.45% for Medicare. 
Add them all up, and it ain't pretty. 
Sure, you get some deductions, which preclude the government from squeezing you just a bit, but this working man's salary in the city doesn't go that far.
If my math is right, when the dust settles, you're looking at around $2600 bucks every two weeks. I dunno about you, but when I hear $100k a year, I think it's going to be a lot more than that.
The average rent in Manhattan is over $4k a month. Lucky for you, hot water is included in your rent because of government overreach, but when it comes to your electric bill, you pay 40% more than the average cost of utilities in the rest of the country. 
Do you like to go out to eat? The cost of going out in NYC is more than double the national average. If you live close to your office in Manhattan, you've hit the jackpot: it's probably the most expensive place to grab a bite to eat in the North East.
Add in a cell phone, internet, your Ubers, and your nights out, and it looks like you might want to start thinking about roommates or even a fake marriage (not financial advice).
Now consider the greatest tax: inflation. It has been eating away at this $100k myth ever since it started to gain popularity in the last century.
The funny part about this myth is that we, as humans, have an innate tendency to attach meaning or value to a specific number. This financial line in the sand allows us to feel secure and boost our self-esteem.
Well, I have news for you: it's probably time to move the target. If our wallets continue to get pillaged by the macroeconomic environment, maybe we'll write about a $150k salary myth next quarter.
"It's stupid the way people extrapolate the past – and not slightly stupid, massively stupid."  - Charlie Munger