Often Referenced, Rarely Read | The Daily Peel | 1/5/23

Jan 5, 2023 | Peel #372
Happy Thursday, apes.
Congratulations, team, we just clocked our first official up day in 2023, and the S&P is now officially up for the year. We'll see how long that lasts, but for now, enjoy the W. Mr. Market apparently decided risk is kinda cool again yesterday, with stocks rising basically across the board. Meanwhile, energy commodities gained with only natty gas killing the vibe. At the same time, the dollar was slightly higher as yields moved a lot to do a little.
Let's get into it.
Make Money in Real Estate Like the 1%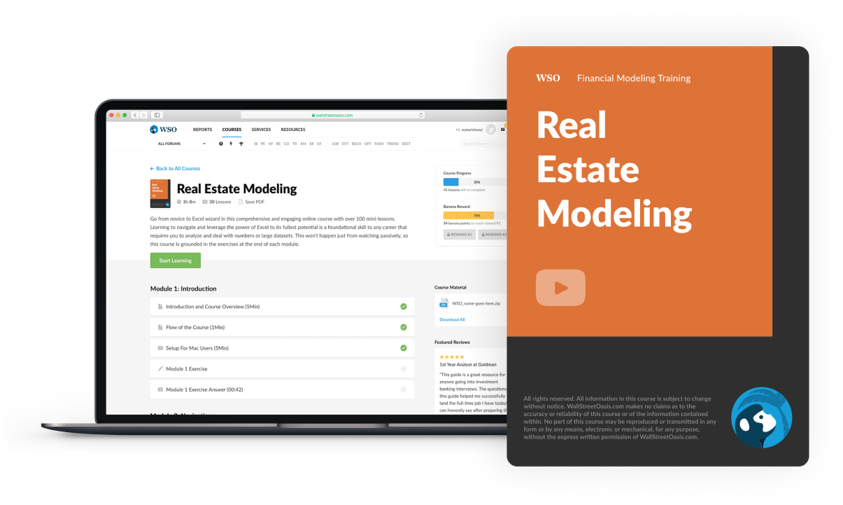 Passive income is all the rage on TikTok these days. This magical stream of money that builds while you sleep, day after day, seems too good to be true.
Passive income can come from a bunch of different places, but real estate might be the king of them all. Returns tend to be stable, and in the right market, can provide equity growth along with checks coming in every month.
Breaking into the industry is the tough part-unless you rub elbows with the 1% of the 1%, you'll need a broad toolkit to prove you have what it takes.
That's where WSO's Real Estate Modeling course comes in. Whether you're looking to manage office buildings or oversee a residential portfolio, we'll teach you the tricks of the trade. Packed video lessons range from the basics of multifamily modeling to the nitty-gritty of GP vs LP equity.
Since we've got a soft spot for Peel readers, we're also giving out free access to our Powerpoint Course for the first 50 Peel readers to sign up for the RE course by the end of the day. Don't let this fall to the bottom of your to-do list, spots are filling up fast.
Sign up today and get in on the greatest wealth building machine of all time.
Wait Just a Minute…
JPow demands your attention. Yesterday, the often referenced but rarely read minutes from the Federal Open Market Committee's (FOMC) last meeting dropped, giving us all another way to seem smart in front of our friends.
The minutes from December fit a similar vibe as the one set by Chair Powell immediately following the latest rate hike, where he made continuing hawkishness as obvious as the sun in the sky.
But, then again, this is also the man who "assured" us that '22s hikes wouldn't include any bumps larger than 50bps. Despite solid attempts at Fedspeak, JPow often tells it in a way that real people can actually understand, which often gets him in trouble.
To get specific, let's check out a few key turns of phrase:
"No participants anticipated that it would be appropriate to begin reducing the federal funds rate target in 2023."
"Recent data suggested that real GDP growth in the second half of 2022 was stronger than previously expected, but economic growth was still forecast to slow markedly in 2023 from its second-half pace."
"...risks to the inflation outlook were becoming more balanced"
While that's just a light dusting of this 12-page, single-spaced, double-sided, deliriously boring read, it's a decently okay summary of the general *vibe*, which is really all your portfolio cares about.
FOMC officials took the chance to double down on the need to maintain a tight policy for longer than may have previously been expected. Rate hikes weren't all it'll take, but keeping those rates high is crucial in killing the structural nature of inflation.
Moreover, while participants didn't seem to anticipate wide-ranging employment cuts, there certainly was a more than healthy appreciation for slowing GDP going into this year. 2022 ended on a high note, with upward revisions to GDP throwing a party for a few days, but JPow and the gang are still doubling down on a period of slower growth in the near future.
And while the Fed Minutes do give us a glance into the psyche of the Central Bank, they're faaaar from gospel. The Minutes are a prime example of what we call the Fed's tool of "forward guidance," which is essentially just the Fed telling us what it's *thinking* about the future.
More than anything, forward guidance gets most of its benefit by inducing new changes the Fed would like to see in the future. In other words, if the Fed says, "we're gonna keep rates higher than Wiz Khalifa," the market will adjust accordingly rather than panicking once the move is actually made.
It's a way to temper Mr. Market. Does it work? Kinda, sorta, not really…but it's something!
We'll see how it goes, but one thing is confirmed: 2023 will be a fun ride.
Alibaba ($BABA) ↑ 13.01% ↑
Pigs are soaring through the skies of China today as President Xi Jinping did the impossible-chilled out a little bit on tech companies.
Ant Group, a massive fintech "startup" 33% owned by Alibaba and also founded by tech beast Jack Ma, got the thumbs up from China's top banking regulator to expand its capitalization by $1.5bn, a doubling from current levels.
It's not so much the 'what" that matters here but the "what next." Expanding their registered cap is cool and all, but it makes little difference, and certainly far too little to send the $275bn Alibaba up 13%.
Still, it's what this signals that investors took to heart. Xi and the CCP have implicitly indicated that the series of monstrous crackdowns on these firms might be cooling off a bit.
Coinbase ($COIN) ↑ 12.20% ↑
It's not often that you see a $50mn fine cause a share price to rally by double digits…but then again, it's not often to see a firm as downbad as Coinbase.
Shares fell a disgusting 85% in 2022. In 2023, investors decided to stop shooting themselves in the face and have sent shares up over 6.5% already, with all of that gain coming yesterday.
Basically, Coinbase was on the naughty list for a bit as NY State sued the firm for egregiously bad KYC/AML policies (aka the boring sh*t banks do to make sure you're not laundering money). Instead of a lengthy and expensive court battle, the parties settled on a $100mn settlement.
$50mn will be paid as a fine, while another $50mn will be earmarked to get on Santa and NY State's nice list this year, aka to strengthen internal compliance programs.
Microsoft ($MSFT) ↓ 4.37% ↓
Fee, fi, fo, fum-the giants are tumbling. On Tuesday, it was Apple, and yesterday was Microsoft's at the woodshed.
The titans of big tech have been highkey beefing with 2023 thus far. Yesterday alone, Microsoft managed to eviscerate $80bn largely thanks to the analysts over at UBS.
Over in Zurich, the team at UBS is essentially calling cap on the market's thinking that Azure is as cool as AWS. As a result, the stock faced the dreaded downgrade from Buy to Neutral and had its price target cut from $300 to $250.
Datadog ($DDOG) ↓ 4.34% ↓
Good news, bad stock. That was essentially Datatdog's day yesterday, as investors could do little more than screech in frustration at an apathetic Bloomberg terminal.
But for real, Datadog's news feed was almost all good yesterday. Analysts at Wedbush, Stifel, and Oppenheimer all came with upgrades, "Top Pick" labels, and downgrades of competitors (*cough cough* MongoDB).
But still, shares sold off in a tizzy. The real damage done was likely to the mental health of those poor analysts as the market did the literal opposite of their recommendation.
Sometimes the market is weird. There's a lot that can go unnoticed and large sellers tend to be sneaky. Hopefully, Datadog will be okay; after all, they do got that dog in 'em.
VC = Very Crying
I'm so glad venture investors made such ungodly amounts of money over the past few years. They'll need every dollar bill they can get to dry their tears.
Private markets tend to move a bit slower than their public brethren. The lack of continuous/daily pricing means there's a lot less news to make pundits on CNBC act like it's the Super Bowl every damn day.
But, for most venture-backed firms, the quickest and easiest way to the fattest paycheck is to eventually go public. However, that comes with a catch. If a VC sees one of their portfolio companies going public at a discount to its last private valuation, that's like Alabamans seeing 'Bama not make the playoffs.
So as you can probably guess, the chart above brings the exact opposite of cheer to Silicon Valley.
While the markets are different, the drivers are largely the same. Inflation, rate hikes, alleged recessions, and global macro tom foolery weighs heavy here as well. But much of the selling here is friendly fire, with the promise of multimillion-dollar exits in public markets replaced by pay cuts, layoffs, and embarrassment among their high-school friends.
Many companies use stock-based compensation as a way to attract top talent. They give employees shares at dirt cheap prices set to vest over generally a few years, with the goal being to unload those shares at the (presumably higher) IPO price.
But, with the torrent of hiring over the last few years met with a stampede of layoffs over the last year, the game is changed. At layoff, most employees see their shares vest in 60 days, essentially forcing them to sell at similarly low prices.
And it's like, what do you expect? You want laid-off employees to hold? Well, they don't have an income anymore, and I'm pretty sure even tech nerds need to eat, so it's not exactly rocket science.
In fact, rocket science appears to be the only sector not totally eviscerated in private markets thus far. Just look specifically at SpaceX. Despite the catastrophe of Tesla and Twitter of late, Musk still zigs while everyone else zags (and I just blew my chance at probably the first ever Peel to not mention Elon…get 'em next time).
The big question: With the IPO market (and VCs) at their most depressed in 20 years, will this discourage tech innovation over the long term?
Yesterday - What kind of running means walking?
Running out of gas.
Today - It's 100 bananas off the WSO's Real Estate Modeling Course for the first 10 respondents. LFG!
I am taken from a mine and shut up in a wooden case, from which I am never released, and yet I am used by almost everybody. What am I?
Shoot us your guesses at [email protected] with the subject line "Banana Brain Teaser" or simply click here to reply!
"I can calculate the motions of the heavenly bodies, but not the madness of people." - Isaac Newton
Happy Investing, Patrick & The Daily Peel Team
Was this email forwarded to you? Sign up for the WSO Daily Peel here.