SuperAds | The Daily Peel | 2/9/22
Silver Banana goes to...

Market Snapshot
Shoutout to small caps, cyclical, and tech stocks. As the reasons the market gained yesterday, you the real MVPs. It's been a while since we've had an all-green day, but yesterday was one, as the Nasdaq led with a 1.28% gain while the Dow followed, gaining 1.06%, and the S&P rose 0.84%. 
BallStreet is a free-to-trade prediction market giving away $50,000 for The Big Game. Download and sign up to trade the game live as you watch. Click here to trade.
Let's get into it.
Macro Monkey Says
Housing - I assume Fannie Mae is somehow related to Uncle Sam, so let's make this easy and just call her Aunt Fannie. Great, now that we got that settled, a few days ago, Aunt Fannie dropped the latest report highlighting consumers' views on the housing market. According to the giant mortgage lender, Americans aren't dreaming of homeownership nearly as much as they once were.
The median selling price of a home in the U.S. right now is roughly $408.1k, just below the all-time high of $411.2k, set way back in Q3 2021. For reference, the peak median sales price of U.S. homes during the GFC era was $257.5k. 
Please, resist the urge to go all Michael Burry on me (if you can), and let's take a look at the current state of the market because this time, things just might be different.
Within that report from Aunt Fannie, America's agreement with the statement "it's a good time to buy a home" has plummeted across every age group. In fact, Americans think now is such a bad time to buy a home that this past month's survey reached a record low 25% of people that agree with the aforementioned statement. 
Meanwhile, 69% of consumers think now is a good time to sell, with the most pessimism concentrated in the 18-34 demographic, clocking in an insane 83% on respondents who said, "now is a bad time to buy a home." 
Basically, U.S. citizens are not vibing with the housing market in the least bit, all while the average 30-year mortgage rate still hovers around record lows, currently sitting at just 3.55%. 
So what's the issue? Well, as pointed out earlier, prices are very, very high. Realistically, there is an army of reasons as to why prices have spiked so much, but the fundamental story is the same as would be for any other asset: there simply is not enough supply to meet the demand. 
Following the GFC, homebuilders were terrified, and thus new housing stats sank precipitously over the following years. The U.S.'s supply of housing has not at all recovered from this, and with recent demand spikes brought on by 1) demographics (aka, millennials actually buying homes now) and 2) C19-induced WFH, the imbalance has led prices to an all-time high, giving middle fingers to first-time home buyers. 
As with anything in economics, who knows what could happen down the line. Although, with the current rate of housing starts across the nation, don't get too excited for a price collapse anytime soon.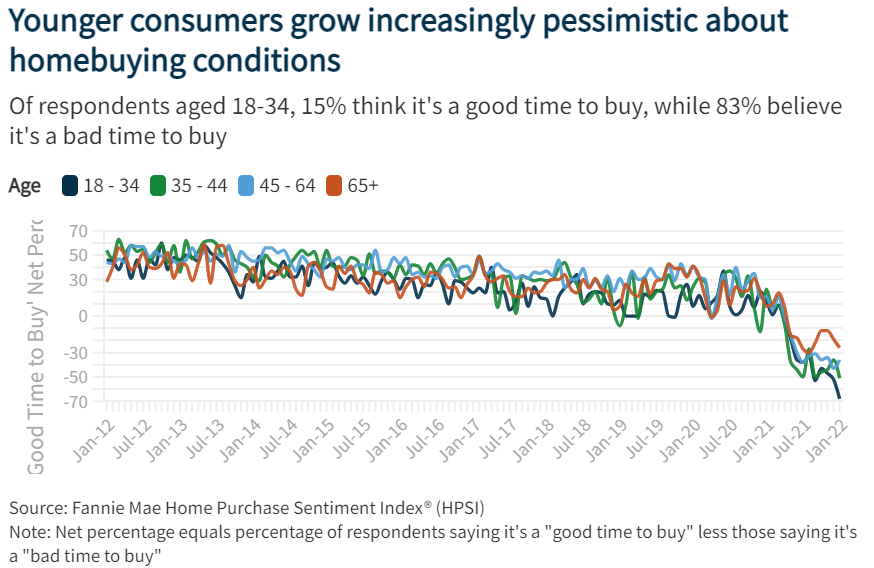 SuperAd Prices - Fun fact: Superbowl ads have outperformed the S&P 500 over the past year. What does that mean? Well, the S&P 500 over the past year has returned ~14.4%. Meanwhile, Superbowl ad space has jumped 18.2% since Tom Brady (the GOAT) utterly smoked Pat Mahomes last year.
And if you think that's good, wait until you hear about the kind of gains you can make trading football. That's right - you can officially trade football games now. But then the question is, can you outperform Superbowl ads themselves?
That jump in ad space price is the highest ever, bringing the price tag for a 30-second slot during the game to about $7mm. Every year, there are somewhere between 80-90 ads that run during the Superbowl, meaning NBC can expect to pocket in the range of $560m-$630m over just a ~4hr period. 
Sound ridiculous? Yeah, probably because it is. Raking in well over half-a-billion dollars in a span of time that encompasses ~0.045% of the year… Not bad at all. 
Every year, the big networks (CBS, FOX, & NBC) take turns airing America's most-watched sporting event. In 2022, it's NBC's turn, and they must be pretty happy about it. 
Already, a bunch of ads set to run during the game have been leaked, and the lineup looks pretty damn entertaining. We'll see Seth Rogen and Paul Rudd chow down on some Lays chips, Guy Fieiri is gonna pound some Bud Lights, and a sloth will get a well-deserved taste of Flamin' Hot Doritos. Stay tuned. 
Watch The Game, Trade The Game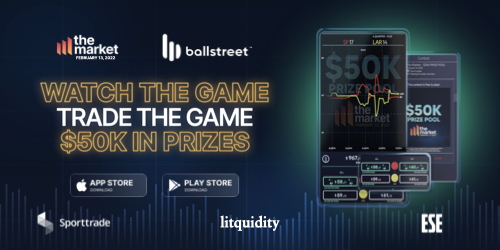 The stock market sucks lately, so trade football as you are watching The Big Game live on Sunday February 13th.
BallStreet is offering a $50,000 prize pool in its FREE-to-trade experience, "The Market". 
The game is simple, teams will trade from 0 to 100. Winning shares value at 100 and losing shares expire at 0. 
Markets update every 1 second. Best P&L wins.
Click here to trade the game
What's Ripe
Chegg ($CHGG) - Not knowing the answer to the question of how to please investors, Chegg Chegged it, and boy, did it work. Shares in the edtech / legalized cheating website soared 16.0% on one hell of an earnings report. 
The firm, who shot themselves in the foot at the end of the previous quarter by giving utterly abysmal guidance, did a lot better than they and Wall Steet expected.
Earnings came in on top, registering adjusted EPS of $0.38/sh against the $0.31 expected, while top line revenue also surprised to the upside, hitting $207.5mm on $195 expected. So now investors and college students alike have much to thank Chegg for. 
Peloton Interactive ($PTON) - In maybe the worst 50% rise in stock market history, Peloton was back on top of equity markets yesterday. 
Shares have catapulted in recent days, but things are still a sh*tshow. Yesterday, CEO and founder John Foley, who holds controlling shares via a tiered voting system, announced his resignation as CEO and will become executive chairman. 
This comes just weeks after activists started calling for his departure, but they got much more than that as Peloton will also be cutting 2,800 jobs. Doesn't sound like a 25.3% day, but like we always say, the market is weird. 
What's Rotten
Moderna ($MRNA) - Wall Street played nice with Moderna while they were busy literally saving the world, but as the pandemic has begun to wane, that story has changed. 
Shares are down nearly 69% (nice.) since peaking in August of last year, and yesterday took out another 4.3%. 
This time, the biotech darling is likely trading in concert with vaccine-buddy Pfizer's weak earnings report. But hey, that's what true homies do. When one gets down, the other does too. 
KKR & Co. ($KKR) - A kingpin of the private equity landscape lost a piece of their crown yesterday. In fact, KKR lost exactly 6.2% of its crown following yesterday's ugly earnings release. 
Well, actually, earnings did damn well, delivering after-tax Q4 earnings of more than double that of last year over the same period. But shares still ate dirt, largely attributable to two key factors.
A decline in investment income.
Profit-taking in fear of WTF happens when JPow pumps rates in March.
Thought Banana
Nice Try - Nvidia came close to losing its Arm last week, but this week, it's officially been amputated. Not that anyone ever actually thought this was gonna go through, but the Nvidia-Arm deal is certified deceased.
No one is surprised… like, at all. $NVDA even finished the day up a decent 1.5%. While the deal would've been sweet for Nvidia if allowed to go through, the firm is left relatively unchanged and finds itself back at square one. 
Softbank, unfortunately, was looking for a fat bag of cash in exchange for its Arm holdings, so the real loser here is just our boy Masa Son, Softbank's infamous CEO, who likened himself to Jesus Christ. 
The winners, on the other hand, are antitrust regulators. Being a global firm that produces some of the most important pieces of equipment in the world, the deal needed to pass not only U.S. regulators but also their counterparts in the U.K., E.U., and China. 
No one was letting this go. But now that regulators like the FTC seem to have gotten their fangs back, we'll see if any other massive deals get blocked (looking at you, Microsoft) or if we can expect new anti-trust regulations soon. 
"All self-help boils down to 'choose long-term over short-term.'" - Naval Ravikant
Happy Investing,
Patrick & The Daily Peel Team
Was this email forwarded to you? Sign up for the WSO Daily Peel here.