The Scrooge Rally | The Daily Peel | 12/27/22

Dec 27, 2022 | Peel #366
Welcome back from the Holidays!
It's time to put down the eggnog and rum because the casino (ahem, market) is open and back, ready for business!
Although Christmas is over, the search for Santa continues as he seems to be MIA this December, a month that historically brought joy and cheer in the form of stock market rallies. While December as a whole looks grim, maybe Friday's rally is a sign of what's to come?
Stocks ticked slightly higher on Friday, which did little to prevent a third straight week of equity declines. Economic data continues to be a head-scratcher, as weak data sparks recession fears, while strong data sparks Hawkish-Fed fears, leaving equity markets with whiplash going back and forth.
Let's get into it.
Make Money in Real Estate Like the 1%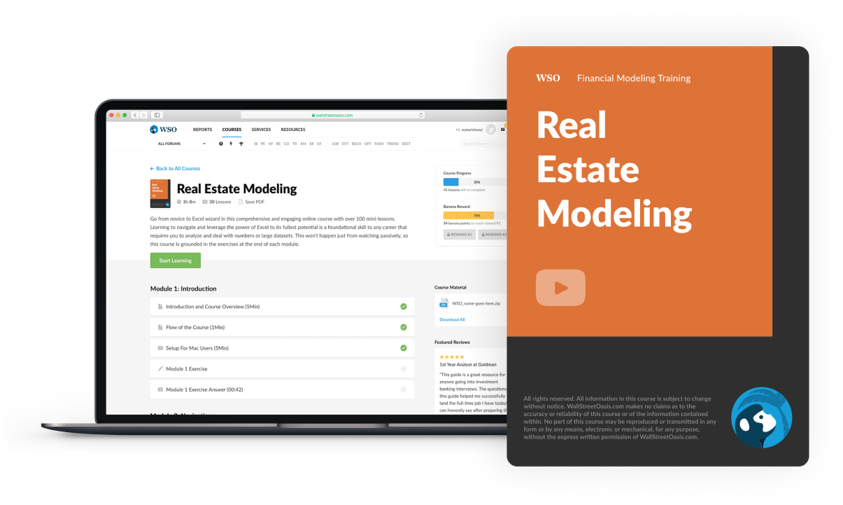 Passive income is all the rage on TikTok these days. This magical stream of money that builds while you sleep, day after day, seems too good to be true.
Passive income can come from a bunch of different places, but real estate might be the king of them all. Returns tend to be stable, and in the right market, can provide equity growth along with checks coming in every month.
Breaking into the industry is the tough part-unless you rub elbows with the 1% of the 1%, you'll need a broad toolkit to prove you have what it takes.
That's where WSO's Real Estate Modeling course comes in. Whether you're looking to manage office buildings or oversee a residential portfolio, we'll teach you the tricks of the trade. Packed video lessons range from the basics of multifamily modeling to the nitty-gritty of GP vs LP equity.
Since we've got a soft spot for Peel readers, we're also giving out free access to our Powerpoint Course for the first 50 Peel readers to sign up for the RE course by the end of the day. Don't let this fall to the bottom of your to-do list, spots are filling up fast.
Sign up today and get in on the greatest wealth building machine of all time.
The Magic 8 Ball Says…
It's that time of the year when Wall Street analysts reflect on their economic and stock market anticipations from December 2022 and make their predictions for 2023.
Admittedly, it's an exercise that involves peering into the future with opaque-tinted glasses. Nobody last year would have scribbled down in their new 2022 planner events like the war in Ukraine, an ongoing oil crisis, and stubbornly high inflation (ok, maybe that one was obvious).
With the S&P down almost 20% and the Nasdaq over 30% for the year, we are all more susceptible to any inkling of optimism that might leak out from the major Wall Street banks, so let's dive into some informed clairvoyance.
In the short term, the macroeconomic picture looks grim as consumers and companies will continue to cut discretionary spending and investments, according to JP Morgan. However, the silver lining is that once the Fed raises rates to a level that tames inflation sufficiently, they predict the S&P could rise 8% by the end of 2023.
Morgan Stanley is a bit more conservative, predicting that the S&P will end at or around the 3,900 level, basically flat. This wouldn't be too bad in this environment. Likewise, Goldman sees stocks continuing to slide in the first half of the year and eventually ending in the flat to slightly higher range.
One bright spot for the market in 2023: Fixed Income. While bonds were a losing trade in 2022, they could be the biggest winners of 2023 as the Fed becomes less hawkish. Vanguard predicts bonds could return between 4-5%.
We can all agree that 2022 was a rough year that we would like to put behind us. While I'm sure 2023 will bring its fair share of unexpected twists and turns, it will be a nice sigh of relief to start with a blank slate next week.
Energy Stocks ($XLE) ↑ 3.19% ↑
Energy has been crushing it all year and again lit up last week as Friday's top-performing sector.
With winter storms raging across the US and millions being left without power, heating and electricity prices were driven up.
Cannabis stocks ($MJ) ↑ 1.63% ↑
The Cannabis-tracking ETF enjoyed a leafy high in what has been a brutal month for the industry as two more states legalized the sale of recreational cannabis.
Rhode Island began sales to adults over 21, and Missouri set out a plan to enable growers to produce their own marijuana crops.
While individual states are ramping up production, the biggest roadblock for the industry is that it remains illegal at the Federal level, and that likely will not change anytime soon.
AMC Entertainment ($AMC) ↓ 10.39% ↓
While APE stock is going to the moon, AMC is coming back down to Earth.
I'll spare you the details and not revisit the convoluted restructuring that AMC put in place involving its APE shares, but just know that AMC looks to be on the red carpet to become a penny stock.
Mission Produce ($AVO) ↓ 15.20% ↓
Avocado producer Mission Produce took a sharp turn lower after reporting earnings that missed on both the top and the bottom lines.
Avocado prices were sent soaring earlier in the year when imports from Mexico were blocked. Now, with imports flowing back in, prices for avocados are 35% below where they were last year.
This has led to declines in revenue across the entire industry. Mission Produce reported a loss of $42mn and had one of its worst performing days as a public company.
Bah Humbug Rally
It appears that Santa failed to show up this December. Maybe inflation is hitting him as hard as the rest of us, forcing him to cut back too.
What I'm referring to is the well-known "Santa Rally," which is the observable pattern of increasing stocks for the month of December, particularly during the week leading up to Christmas.
While the pattern has been observed for many years, the term was first coined in 1972. Based on historical data, the S&P rises during the last 5 trading days of the year over 75% of the time.
This phenomenon has many potential explanations, but they are all mostly theoretical and include the following:
Investors buying stocks to position themselves for the January effect: Stocks tend to outperform slightly in the beginning of the year as traders get back to their desks, flush with cash after the holiday break.
Lighter volumes and lower overall market participation: This makes sense. Because volumes are so light, at worst, the market should trade sideways. Small buy orders can have an outsized influence over the market.
Slowdown in tax-loss harvesting: Tax-loss harvesting is this neat little trick that investment funds use to offset their losses. It involves selling out of their losing positions for the year, which reduces taxable capital gains. Investors usually spend early December either selling to lock in profits or for tax-loss harvesting. Once this slows down, the market usually gets a boost.
Other miscellaneous theories include broad investor optimism fueled by the holiday spirit, people spending their holiday bonuses, and the fact that institutional investors are nowhere to be found, which leaves the market in the hands of retail investors, who we all know are HODLers.
It's all coming down to the wire, with only 4 trading sessions left in the year and the S&P down 5.7% for the month. Could Friday's performance spark a last-minute rally, or would that be too much to expect of 2022?
Friday - How can you throw a ball as hard as you can, only to have it come back to you, even if it doesn't bounce off anything?
Throw the ball straight up in the air.
Today - It's 100 bananas off the WSO's Real Estate Modeling Course for the first 10 respondents. LFG!
Every dawn begins with me
At dusk I'll be the first you see
And daybreak couldn't come without
What midday centers all about
Daises grow from me, I'm told
And when I come, I end all cold
But in the sun I won't be found
Yet still, each day I'll be around.
What am I?
Shoot us your guesses at [email protected] with the subject line "Banana Brain Teaser" or simply click here to reply!
"Investing is a business where you can look very silly for a long period of time before you are proven right." - Bill Ackman
Happy Investing, Patrick & The Daily Peel Team
Was this email forwarded to you? Sign up for the WSO Daily Peel here.